'Ambassadors' help older residents in once-troubled Macon neighborhood
After her nephew was sent to prison, Sundra Woodford felt a "higher being" was calling her to help the young men of Lynmore Estates.
Woodford found out that residents of Lynmore Estates were concerned about the young men and boys living in the neighborhood once known as the "Peach Orchard." 
"They really wanted their boys, their youth, not to be the kind of statistics that we see on the six o'clock news," Woodford said. 
This inspired Woodford to create the Lynmore Estates Youth Ambassador program, in partnership with her job with Habitat for Humanity, in hopes of changing how those young men are perceived. 
"I want people to see that, you know, not all males who fit this demographic are doing the same thing," she said.
The main goal was to give the young men activities to occupy their time.
"These boys, these men, need something constructive to do," Woodford said. 
Woodford also learned many older residents were unable to do their yard work, or needed help with home maintenance. 
"This was a way to coordinate an intergenerational project that would give the boys an opportunity to learn some new skills and it would address those structural issues that some of the senior residents were not able to afford," Woodford explained.
The improvements the ambassadors made included outdoor work such as painting, gardening and weeding, but they also worked inside to give the senior citizens important upgrades to help their everyday lives.  Armed with screwdrivers, wrenches, and hammers the ambassadors lowered handles on doors and cupboards, eliminated trip hazards, installed bathroom handlebars, and repaired wheelchair ramps.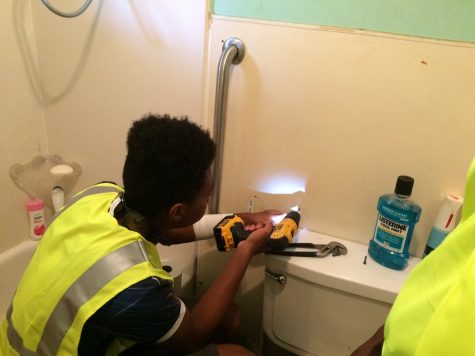 When Millie Jackson's husband fell ill, the ambassadors came to her aid and painted her Lynmore Estates home and took care of her yard.
"They were very well-mannered men, and I appreciate what they did for me," Jackson said.
She said the ambassadors are a friendly group in the neighborhood. 
"If they walk past the house they'll wave, throw up their hands, speak to me, ask how I've been doing," Jackson said.
According to Jackson, many seniors are scared to come out of their homes due to what possibly lurks in the abandoned homes in Lynmore Estates. To her the ambassadors' dedication to the community is admirable.
"When we have clean up those young men get out there and help us pick up trash and everything, they don't grumble," Jackson said.
To her, this makes them stand out from other teenagers. 
"You just tell them what goin' be did and, 'Ok, we'll be there,'" Jackson remembered them saying. "They don't change their tune and that's what I love about them." 
Leadership in the neighborhood agrees with Jackson. 
"When it comes to doing what they need to do within or outside the neighborhood they are so great," said Ernestine Thomas, president of the Lynmore Estates Neighborhood Association. "The Lynmore Ambassadors do a lot in the neighborhood." 
Thomas also sees a transformation in the young men. 
"It just amazes me how they grow so fast, they've matured, they're so intelligent," Ernestine Thomas said. 
Ambassadors like Jordan Smith recognize that the program has helped them develop into outstanding citizens.
"It has transformed my life in many ways. It's saved me from numerous amounts of trouble I knew I'd get myself into if I wasn't occupied doing something in my community," Smith said.
The list of projects Smith has completed is extensive and includes things many people don't learn until they own their own home – including installing shower heads and changing the oil in a lawnmower.
"Before joining, I'd use tools around the house but they weren't as complex as the ones used in projects with my fellow ambassadors," Smith said. 
To Smith, the program is much more than something to fill his time.
"Not only has it kept me occupied, it has also provided me with financial and educational benefits," he said.
Smith thinks the projects he does for seniors are important.
"It's important to us to help senior citizens because they've been around longer than we have. They've done more in my community than anyone and for that they deserve the utmost respect from us," Smith said. 
Smith isn't the only ambassador who sees the benefits of participating in the program.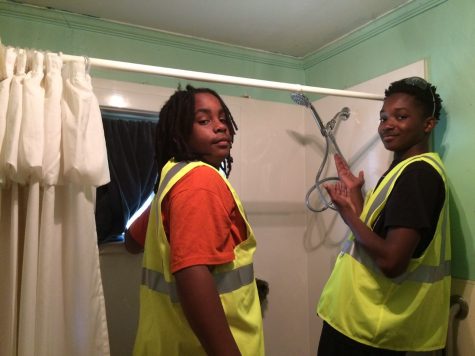 "It helps us stay off the street and encourages us to help other senior citizens around our community and around Bibb county," ambassador Camryn Collier said. 
Collier has benefitted from the lessons and skills gained through his work.
"It teaches us different situations that we learn later on in our life," he said.  
The residents assisted by the ambassadors are quick to praise Woodford, the program, and the young men.
The ambassadors are only becoming more rare with time, but that doesn't dishearten Woodford.
"I am so proud when I tell people I started out with ten and now I'm down to four. And they're like, you know, they have this resigned look like, 'yeah at least you tried', but it's like, no, it's for good reasons that they're no longer part of this program," Woodford said.
Most of the graduates from the ambassador program have gone on to the military, often with letters of recommendation written by Woodford. 
She said the young men need people.
"They don't have anybody or don't have many folks, who are willing to take a chance and work with them, and to work with them through these projects," Woodford said.
Through her work Woodford has provided multiple resources and role models for these young men, and for that, the community is extremely thankful.
Now, she is looking to help the community create their own version of the program.
"I can take this model and work with the other neighborhoods in this community," Woodford said. 
She predicts the work will help Macon for the better.
"If we can replicate this across our communities, I can see it changing the hearts and minds of a lot of folks, including the participants," she said.
Jackson thinks communities need more programs like the Lynmore Estates Ambassadors.
"If we had more young men like them it would be better in every community out here," she said. "Crime would be down."
For Jackson, the ambassadors are a source of pride.
"I'm proud of them, proud of them for finishing school, proud of them for making something out of themselves," she said. 
The Ambassadors initially were alarmed when Woodford announced she would no longer be working with Habitat for Humanity.
"When she said that, it kind of hurt us," Collier said. "But, we actually got over it and we was like, no matter what, we know she never going to leave us, like as a family." 
Collier was right. 
"I told them, 'No, I'm still going to be with y'all and y'all still can do this work even if Habitat does not continue this program,'" Woodford said. "You're still already doing this stuff. You're still supporting your senior neighbors. You're still assisting with the neighborhood cleanups, you're still doing stuff." 
The ambassadors are still committed to their community.
"We just want to let her know that don't be concerned about the neighborhood, we'll continue to keep everything in order," Smith said.
Collier echoed Smith's thoughts. 
"We're still going to keep the legacy going on in the neighborhood, so like, doing neighborhood clean-ups and stuff, except her leading stuff like that, we're going to lead it as the Youth Ambassadors," Collier said. 
View Comments (2)