Hospitals report virus response in Macon-Bibb teleconference; Commissioners question 'topless bar'
As the coronavirus COVID-19 threatens Middle Georgia with one case reported Wednesday morning in Houston County, it is no longer business as usual for Macon-Bibb County.
The mayor and commissioners conducted regular meetings by phone Tuesday to limit contact with others.
Mayor Robert Reichert was physically in attendance at Government Center.
He was flanked by the clerk and attorney, but each were sitting a chair away as all the commission seats were empty.
"To kinda separate us by at least 6 feet all while we maintain the functions of local government because this is important, ladies and gentleman," Reichert said in the live-stream on Facebook. "This is not a time to panic but to recognize this is an inconvenience to most of us but to some of us, the elderly and those with medical conditions, it can be a fatal disease."
The pre-commission meeting, which all of the commissioners except Scotty Shepherd attended by phone, began with health briefings.
The North Central Health District public information officer, Michael Hokanson, told commissioners the district is focusing on testing only at-risk individuals while there is limited testing capacity.
Dr. Sanford Duke, of Navicent Health, said the hospital is actively testing for the new coronavirus by following Department of Health guidelines.
"We also have access to commercial laboratories and are utilizing those with great success," Duke said from the podium in Commission Chambers of Government Center. "We have the opportunity to blunt this curve."
Duke spoke the evening before the first case was confirmed in the 13-county health district but warned it was imminent. (That patient is isolated but not hospitalized.)
"It is coming. We are prepared but if we can slow down the spread we can potentially prevent a surge that could strain our medical system," Duke said.
Dr. Richard Rubio, chief medical officer of Coliseum Health System, revealed a 24-hour healthcare referral hotline for those who don't have a regular physician to consult about the virus at 478-746-4646.
Duke mentioned that both hospitals are working together to best care for those who might be affected.
Reichert stressed that the government and hospitals can't do it alone but that everyone must comply.
"Limit your potential exposure and especially curtail any activities where you might transmit the virus to more vulnerable members of the community," Reichert said. "While this rapidly spreading disease may add some difficulties and inconveniences to our lives, it is proving deadly to other people, especially senior citizens and those with underlying conditions."
Many of the operations of the local government are critically necessary to protect the health, safety, security and general welfare of the people and cannot be suspended during this public health emergency.
The mayor and commissioners considered two resolutions to keep services running while much of the community shelters in place.
First, Georgia code allows governments to meet by teleconference as long as the public and media have simultaneous access to the meeting, which the county is doing through its official Facebook page and website. The law also allows for emergency meetings to be called on less than the usual 24 hours normally required for public notice.
Those wishing to be added to the email list of notices can contact clerk of commission Janice Ross at [email protected].
Commissioners agreed that all meetings will be held in Commission Chambers at Government Center and that any or all of the gatherings can be held by teleconference, if a quorum of commissioners is met and the meeting is live-streamed for the public and the media.
Provisions also need to be made for anyone with business before the commission to be able to do so remotely, if they are able.
The county website also spells out how other departments are operating during this time of limited access to buildings.
The approved resolution also gives the mayor power to limit the number of individuals present at any meeting and permits him to modify or cancel these emergency procedures. No public comments were allowed at Tuesday night's meeting.
When it comes to permitting Macon-Bibb employees to work from home, commissioners raised concerns about accountability.
"How are we going to oversee this to make sure people are working?" Commissioner Valerie Wynn asked.
County manager Keith Moffett explained the human resources department is looking to departments where the majority of work is done by computer.
"Do we have to put it in place right now?" asked Commissioner Elaine Lucas, who shares Wynn's concerns.
Commissioner Bert Bivins was ready to proceed.
"Seems we do need to allow it now and review in a couple of months to see if adjustments are necessary. I can see the urgency but I would like a review," Bivins said.
The commission was a few votes short of tabling the measure but decided to refer it to a committee next week.
The proposal would have approved alternative work schedules for county employees.
Under the plan, workers may choose to alter work schedules as long as they are completing 40 hours per week and are present at key times designated by managers.
Telecommuting is also possible for those who are able to work from home or another remote location.
Department heads could deny or limit requests for flexible working arrangements to make sure there is adequate staffing to do the job. Those decisions cannot be appealed unless employees believe they were discriminated against.
Requests must be approved by the department director and the human resources director.
"I'm concerned about finance and payroll. We don't want any hiccups," Moffett told commissioners as some employees now have children home from school and need time to make arrangements.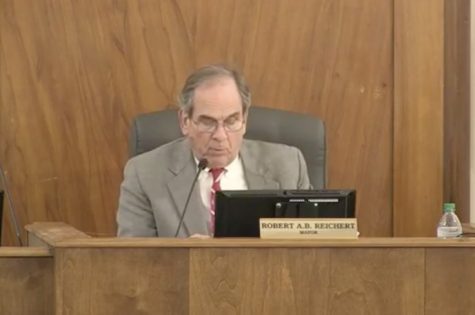 "If they're not allowed to work at home and earn money at home, they're in dire straits," Reichert said.
The meeting by phone was not without its challenges.
During the pre-commission meeting, the mayor read a couple of pending alcohol licenses including one for the Lazy Susan Tapas Bar at 428 Second St.
As the commission was poised to vote, Bivins raised a question.
"You mentioned the topless bar. Can you explain that?" Bivins asked.
"As I understand it, a tapas bar, T-A-P-A-S, is a small plate. It's kind of like appetizers and such as that," Reichert explained. "It's hard for me to pronounce tapas and for you not to think topless. This is not a topless bar but a 'tah-pas' bar," he said, emphasizing the pronunciation.
As laughter erupted, Wynn concurred there had been a misinterpretation.
"I think we were hearing it as topless," she said.
"It's a small plate bar," Reichert chuckled.
The mayor encouraged everyone to stay safe but also support local businesses as best they can.
"Order food to go… take advantage of curbside service, tipping a couple of extra dollars," he said. "Our friends and families rely on you to support our local businesses."
Some downtown metered parking spaces have been reserved for pickup customers at local restaurants.
Contact Civic Reporting Senior Fellow Liz Fabian at 478-301-2976 or [email protected].