Drivers need to be aware of new crosswalk safety measures
New traffic lights over a crosswalk will soon be commanding drivers to stop for pedestrians on Eisenhower Parkway.
On a Sunday evening in May of 2010, 12-year-old Shuntraveious Napier was trying to cross the busy highway from C Street at Murphey Homes when he was hit by a pickup truck.
Shuntraveious suffered a head injury and died the next day.
His death was included in Bibb County traffic fatalities reported to the state for that year.
Communities across the Peach State now submit data to the Georgia Electronic Accident Reporting System, or GEARS.
A review of statistics for the stretch of Eisenhower Parkway led to a recent Georgia Department of Transportation safety audit of the busy thoroughfare.
As a result, the state recently installed a new "pedestrian hybrid beacon" about a block east of Interstate 75.
Triangular clusters of three traffic lights are posted on metal arms that stretch over the lanes of traffic. Two red lights are across the top and a single yellow light on the bottom. The lights remain dark until a person is ready to cross.
"When someone pushes the button, it flashes yellow for a period of time and then it's red and drivers have to stop and the pedestrian can cross," said Nigel Floyd, Macon-Bibb County traffic engineer.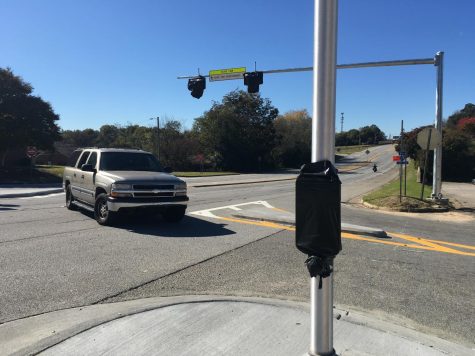 At the new crossing, the lights, buttons and instructive signs are currently covered by black plastic until the public can be educated about how to use the new system, which cost nearly $178,000, according to Georgia Department of Transportation spokeswoman Penny Brooks.
A similar setup is already in operation at College and Hazel streets between Alexander II elementary school and Tattnall Square Park.
Although that crossing near downtown has been up for months, it can be confusing.
"Drivers don't know how to treat them," Kevin Poss, of the county's facilities management department told the Pedestrian Safety Review Board this week. "You treat it like a red light."
Throughout the school day, Alexander II students use the crosswalk for arrival, dismissal and crossing to the park at recess.
Someone pushes the button and the students wait until the traffic lights flash yellow then turn red. When the vehicles stop, the children can cross.
Audrey Dickison typically walks her 6-year-old kindergartener up the sidewalk to the crossing each morning.
"There's usually a crossing guard who makes sure the kids push the button and make sure traffic's stopped.
Thursday, no crossing guard was present but youngsters crossed safely on their own.
One lone young man pushed the button and stood dutifully at the curb. Although a woman who stopped at the crosswalk waved him on while the yellow lights were still flashing, he didn't move until the red lights came on and he got the signal that it was safe to cross.
Samuel Harris, GDOT's Regional Traffic Operations Program Supervisor, said the state conducts at least 14 road safety audits per year with two in each transportation zone.
"What is going on at that location?" Harris said as he explained the process during last month's Vision Zero Workshop at Government Center.
Using analytic software for trends, engineers draft ways to improve the safety of that stretch of road.
"We view what's going on and decide what can be done," Harris said.
After improvements are made, the engineers continue to review crashes at the location to determine if they have sufficiently fixed the problems.
County Commissions are urging Georgia lawmakers to call for further study of the state roads through Macon-Bibb County where the bulk of traffic fatalities have occurred in recent years.
"They are working with us," Floyd said. "The road safety audits, they do work."
Contact Civic Reporting Senior Fellow Liz Fabian at [email protected] or phone 478-301-2976.
View Comments(1)