Macon Sculpture Walk celebrates 6 public works of art
Some First Street shops have a new landmark in downtown.
A giant red and silver metal "X" sits across from the Macon City Auditorium on the sidewalk in front of the 567 Center for Renewal and the Wear thrift shop.
"X marks the spot" is the creation of Alex Mendez of Decatur, Indiana, that was selected for the 2019 Macon Sculpture Walk.
He came up with the idea while reading books about pirate history and treasure maps.
"I think I'm really funny. At least I think I am," he laughed. "I thought it would be kind of a signal for landmarks and important things."
Two of Mendez's sculptures he leased to Macon last year have been purchased and will remain on permanent display.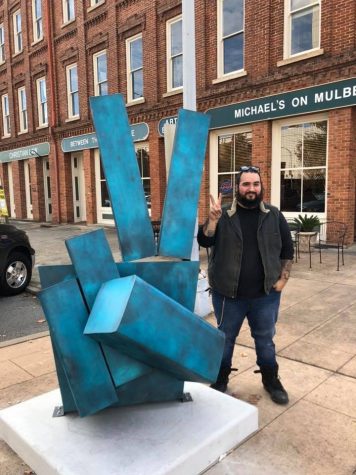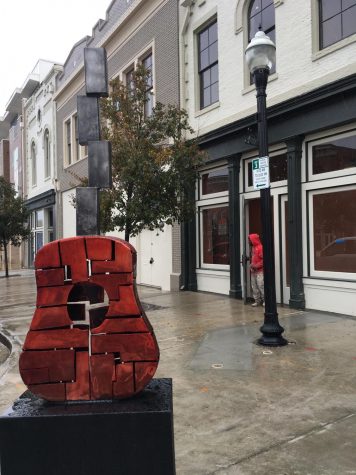 An anonymous donor bought Mendez's "Peace," an abstract hand making a blue peace sign, which will remain at Second and Mulberry streets across from the Bibb County Courthouse. The "Come Together" guitar has been moved from Poplar Street to the front of Capricorn studios currently under renovation on Martin Luther King Jr. Blvd.
As Mendez installed the art in Friday morning's chilly rain, he shared warm feelings for the downtown Macon community.
"This is the best we've ever been received," he said. "We got into town and everybody greeted (us.) We felt like rock stars."
Now that Macon is sold on his sculptures, he applied again to be one of the featured artists of the Macon Sculpture Walk funded through a Downtown Challenge Grant from the Community Foundation of Central Georgia.
"I put my best work into this because I felt like Macon really had our best interests at heart," Mendez said.
Friday night, Mendez and this year's other artists will be at the 567 Center for a reception from 6:30 – 8:30 p.m.
Melissa Macker, director of the 567 Center, agreed she can now tell visitors her office is near the giant "X."
The durable sculptures are designed to weather the climate.
"I've climbed on it, so if it can withstand a 300-pound man, it should be OK," Mendez said.
The Macon Sculpture Walk gets a 25 percent commission on each piece sold and will reserve the money for future artists who are paid $1,500 to have their work displayed for 12 months.
"Macon has a special place in my heart and as long as Macon is doing this program they will always get my best work," Mendez said.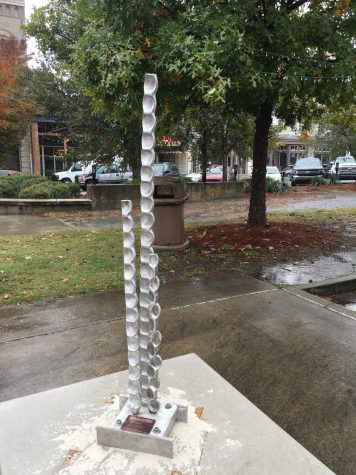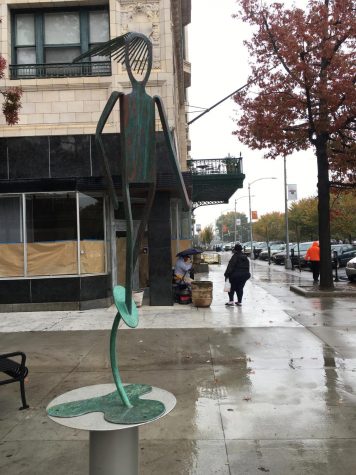 A silver, three-pronged vertical sculpture called "Harmony" is at the corner of Second and Poplar streets and a long-haired walker in mid-stride is perched on a platform in front of the Dempsey Apartment building at Third and Cherry streets. The dancer sculpture that previously anchored the corner was bought by Vein Specialists of the South and moved to the front of the business on Third Street.
Scott Mitchell, chairman of the Downtown Macon Community Association, invites everyone to walk through downtown to enjoy the new sculptures which will be on display at least for a year.
Contact Civic Reporting Senior Fellow Liz Fabian at 478-301-2976 or email [email protected]