Is the Bibb 2020 ESPLOST worth your pennies for education?
Since 2000, people shopping in Macon have been paying a penny on the dollar for capital improvements for the Bibb County School District.
Nov. 5, voters go back to the polls to determine whether to keep paying the extra cents.
"Our hope is that people look at what we've done and what we said we would do we're doing to the best of our ability," Superintendent Dr. Curtis Jones said in an interview with the Center for Collaborative Journalism.
In recent weeks, Jones has been advocating for renewal of the Bibb ESPLOST, or Education Special Purpose Local Option Sales Tax.
Last month, public information sessions were held at Central and Rutland high schools.
Two more meetings are scheduled before the vote on Nov. 5:  Monday, Oct. 14 at Sonny Carter Elementary School cafeteria at 5910 Zebulon Road and Monday, Oct. 21 at the new Northeast High School auditorium at 1646 Upper River Road. Both sessions begin at 6 p.m.
Northeast was one of the new schools included in the 2015 ESPLOST along with a new Appling Middle School currently under construction on the same site.
A checklist of completed projects since 2000 is posted on the Bibb County School District's website.
Co-chairs of the 2020 ESPLOST campaign Cyndee Busbee and Bruce Leicht recently urged members of the Greater Macon Chamber of Commerce to encourage voters to approve the plan.
"All the trust we have built in the school system we stand on but we need you to re-invest," Busbee said at the September chamber meeting.
Leicht believes his own children have benefited from past improvements. Although his youngest will be out of school by the time 2020 ESPLOST dollars are spent, he said the whole community will be enriched by renewing the tax.
"We all know the better a local school system performs the better the local economy performs," Leicht said at the meeting.
One of the goals of the 2020 campaign is to make energy efficient upgrades to existing schools and provide central air conditioning and heating systems across the district.
"With the climate we live in, kids need to be comfortable," Jones said. "You can't work if you're too hot and you can't work if you're too cold."
One of the top goals of the 2020 ESPLOST is to fund security and safety enhancements at all schools.
Although main entry ways to the system's schools now have controlled access, Jones wants to spread that throughout the buildings so that all doors can be automatically locked in the event of an intruder.
State funding provided $30,000 per school which purchased hand-held and box-style metal detectors and students go through random security inspections daily, but that's still not enough, Jones said.
Another main expenditure for the 2020 campaign will be technology upgrades.
The 2015 ESPLOST paid for wireless upgrades, interactive panels and cameras and microphones for each classroom.
Instead of students traipsing to a computer lab or sharing a computer within a classroom, Jones wants each student to have access to a device.
"School is a place where kids need to see what it's like in the workplace and I don't know of a workplace that doesn't have a computer," he said.
He also wants enhanced camera systems and give students the ability to watch recordings of the teacher's class instruction while at home and to keep an eye on the children while they are on the property.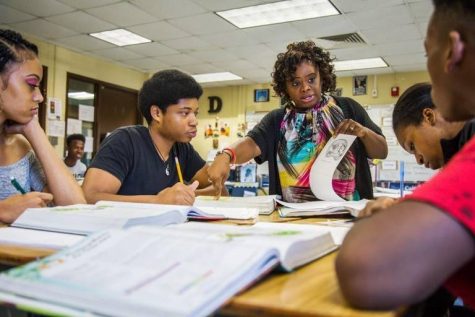 Major building projects planned with an ESPLOST fund renewal include construction of an agricultural arena, likely near Rutland high and middle schools in south Bibb County, and a fine arts facility. Both would serve multiple schools in the district although the location for the fine arts building as not been decided.
Upgrades to the Thompson Stadium on Shurling Drive are also included in the ESPLOST.
Another new school, likely an elementary school, is planned, but Jones explained that the location and type of school will be determined after a state site visit and inspection. Information gathered during the visit will help choose for which project state funds could best be used to match local dollars.
The process can take years. From the 2015 ESPLOST, "Elementary School #4" has recently been identified as a new building to consolidate Riley and Brookdale elementary schools on the site of the old Riley Elementary at 3522 Greenbriar Road. Groundbreaking is set for Nov. 8, said Hannah Jett Theus, communications specialist for the school district.
Taxes are still being collected on the 2015 ESPLOST but the 2010 ESPLOST raised more than $176 million compared to nearly $175 from the 2005 ESPLOST and close to $144 million from the 2000 ESPLOST.
The ESPLOST will be the only issue on the Nov. 5 ballot. Voters must be registered by Oct. 7 and early voting begins Oct. 14 and runs through Nov. 1.
– Contact Civic Reporting Senior Fellow Liz Fabian at [email protected] or phone 478-301-2976.