An Explainer: Parking in Downtown Macon
Downtown Macon recently joined the growing list of cities that no longer provides free parking in their downtown area.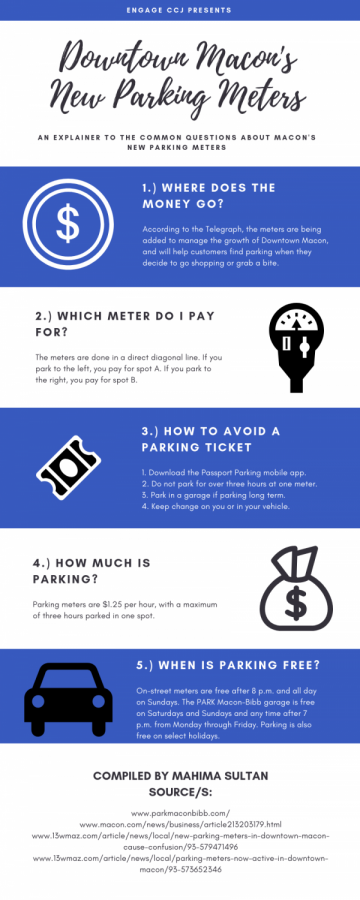 When the new parking meters were introduced in July, people had many questions regarding the meter. And some people are still confused on how to use them correctly. This explainer will answer questions you might have about the new meters and help make downtown parking a breeze.
Where is the money going?
According to a Telegraph article published in June, the meters were added to help manage the growth of Downtown Macon, and will help customers find parking when they decide to go shopping or grab a bite to eat.
Which meter do I pay for?
More than anything, the implementation of the parking meters have left many Maconites confused as to which meter they should pay for.
The meters are done in a direct diagonal line. If you park to the left, you pay for spot A. If you park to the right, you pay for spot B.
How can I avoid a parking ticket?
According to Park Macon Bibb, there are 4 ways to avoid a parking ticket:
1. By downloading the Passport Parking app, you can pay on your phone and receive text or email reminders when your parking is getting close to expiring. 
2. Do not park for over three hours at a parking meter. Even if the meter is paid, you will get ticketed if you park in the same spot for over three hours.
3. If you need to park for longer than three hours, park in a parking garage. The hourly rate is lower and you do not risk receiving a parking ticket.
4. Keep change on you or in your vehicle.
How much does parking cost?
Parking is $1.25 per hour, with a maximum of three hours parked in one spot.
How can I pay for it?
The parking meters accept change and credit cards. 
You may also download the PassportParking app on your smartphone to park, pay and manage your parking.
When is parking free?
According to Park Macon-Bibb, on-street meters are free after 8 p.m. Monday through Saturday and all day on Sundays. The Park Macon-Bibb garage at 440 Mulberry St. is free on Saturdays and Sundays and any time after 7 p.m. Monday through Friday. Parking is also free on select holidays.