More than two dozen neighbors opposing the expansion of a car lot on Hartley Bridge Road led to a standing room only crowd for Monday's Macon-Bibb County Planning & Zoning Commission hearing.
Complaints from the Timber Ridge subdivision combined with the car lot owner's history of zoning violations killed the plans for 4161 Hartley Bridge Road.  
Timber Ridge residents first registered their opposition to Interstate Auto's plans on Aug. 28 when P&Z asked the applicants to revise their design and return.
P&Z initially objected to a planned delivery vehicle exit on Timber Ridge Drive and wanted to see a larger buffer between homes and the business.
Interstate Auto owner Josh Merrell had already violated zoning regulations at his existing car lots by having too many vehicles at 4145 Hartley Bridge Road, the lot adjoining his planned expansion, and his location at 5081 Mercer University Drive.
Zoning inspector Eric White testified that Merrell has been a habitual violator at his other location with cars illegally parked on the right of way.
P&Z denied the application although developer Matt Widner pointed out that the additional 76 parking spaces Merrell intended to add would help them ease over-crowding on the lots.
"There's extensive documentation in this case that the applicant's not going to adhere to Planning & Zoning's regulations," said P&Z Commissioner Josh Rogers. "It almost doesn't matter what the plan says. I mean, I just can't imagine approving something with all the evidence that's in the record shows that no matter what we impose, it's not going to get followed anyway."
Another factor in Monday's denial was the late filing of the requested new layout for the car lot. The new design was emailed after the cutoff for Monday's hearing.
The new plan was presented during the hearing, but residents and commissioners did not have the opportunity to review it beforehand.
Before the neighbors left the meeting, Rogers cautioned them that the Highway Commercial zoning designation of the corner lots at the entrance to the neighborhood could allow a number of other businesses that would not require P&Z approval.
By right, someone could put up an adult entertainment establishment, car wash, cell tower, daycare, lodging, lumber supply store, museum or office, according to the code.
"Everything that's available as a permitted use, somebody gets to buy the parcel and then do, and we don't even hear it," Rogers said. "That's just the reality of what it is and it's the reality of what it was when you bought your parcels in this neighborhood. Y'all are together now. The more you can stay together, the more you can influence that future."
Some of the residents agreed a car lot would not have been a bad alternative, but they did not trust the owner to follow the rules.
New north Macon restaurants
Two new eateries are planned for 4951 Riverside Drive at the corner of Gateway Drive across from the main entrance to the Shoppes at River Crossing.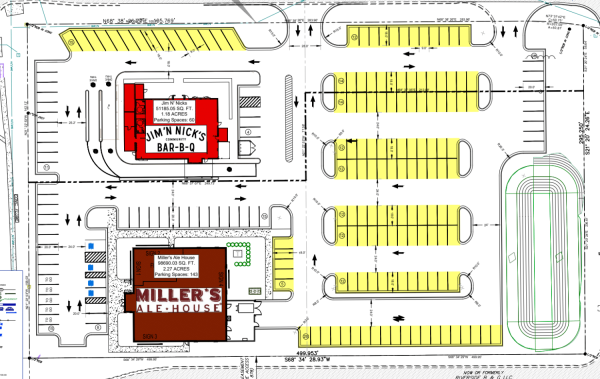 P&Z approved a variance in parking requirements because the owners of Jim 'N Nick's Bar-B-Q and Miller's Ale House believe they will need more parking spaces than Macon-Bibb's regulations will allow on that 3.44-acre parcel that will be subdivided into two lots.
The restaurants plan a total of 203 parking spaces, up from the minimum requirement of 110.
The Commission agreed to permit 140 of those as 9' by 18' spaces, which will accommodate more cars than the 9' by 20' size required in the local code.
Miller's Ale House serves a daily brunch and their "Original Zingers" of "fresh, buttermilk-drenched, boneless chicken tenders." Daily specials include chicken wings, baby back ribs, prime rib and French Dip sandwiches. The full bar offers signature cocktails and more than 35 taps of local, craft, domestic and imported beers, a variety of wines and margaritas.
Jim 'N Nick's menu shows slow-smoked pork, chicken, turkey and beef, plus fried catfish, and features baked potatoes and salads.
New apartments for west Macon
P&Z also approved a new 288-unit multi-family apartment complex with entrances off Thomaston and Tucker roads.
Commissioners agreed to rezone more than 23 acres on two lots at 5817 Thomaston and 1973 Tucker from agricultural to multi-family residential.
Engineer Steve Rowland plans 11 three-story buildings with 24 units each and two three-story buildings with a dozen units each.
Concerns about the possibility of a future widening of Tucker Road to accommodate the growth near the Publix in the Tobesofkee Crossing shopping center led P&Z to request that Rowland shift the buildings about 10 feet farther off the right of way or risk losing part of one of the parking lots in any upcoming road project.
Other agenda items
– Civic Journalism Senior Fellow Liz Fabian covers Macon-Bibb County government entities and can be reached at [email protected] or 478-301-2976.