One of Bibb County's largest property taxpayers is pushing for the county to exempt it from paying.
Coliseum Medical Center, which contributes millions of dollars to local schools and county coffers each year, and Macon Northside Hospital were private hospitals that paid property taxes for more than 50 years. In 2021, the two hospitals – on the east and north sides of town – were acquired by Piedmont Healthcare Inc., an Atlanta-based not-for-profit healthcare system.
The multi-million dollar transaction between Hospital Corporation of America and Piedmont resulted in a change in the hospitals' business model from for-profit to nonprofit. The deal also placed both hospitals under the Piedmont Healthcare system umbrella and rebranded them as Piedmont Macon Hospital Inc. and Piedmont Macon North Hospital Inc.
Earlier this year, Piedmont applied for a property tax exemption for nine properties including the two hospitals it operates as nonprofits on Hospital Drive and Forest Hill Road. That request was denied by the Macon-Bibb County Board of Tax Assessors in a unanimous vote at a meeting in late April.
Piedmont is appealing the decision.
In an emailed statement to The Macon Newsroom, Piedmont Healthcare said it is "confident that we will be able to work with local officials to resolve any questions they have regarding Piedmont's purchase of these hospitals."
County Chief Appraiser Andrea M. Crutchfield said the tax assessor's office has 180 days to work the appeal with an option for another 180-day extension if needed.
Though nonprofit hospitals are eligible for property tax exemptions, the tax assessor's board determined the properties did not qualify for exemption because they are owned by Coliseum Medical Center LLC and Macon Northside Hospital LLC, which are not nonprofits, according to notes from the board's meeting in April.
Piedmont filed an appeal in response to the 2023 property tax assessment notices mailed May 26, Crutchfield said. The nine properties have 2023 tax bills that collectively exceed half a million dollars.
Piedmont Healthcare declined to answer questions regarding its ownership of the land or the for-profit entities that own it.
Publicly available documents suggest the names of the limited liability companies and their related nonprofit entities are used interchangeably.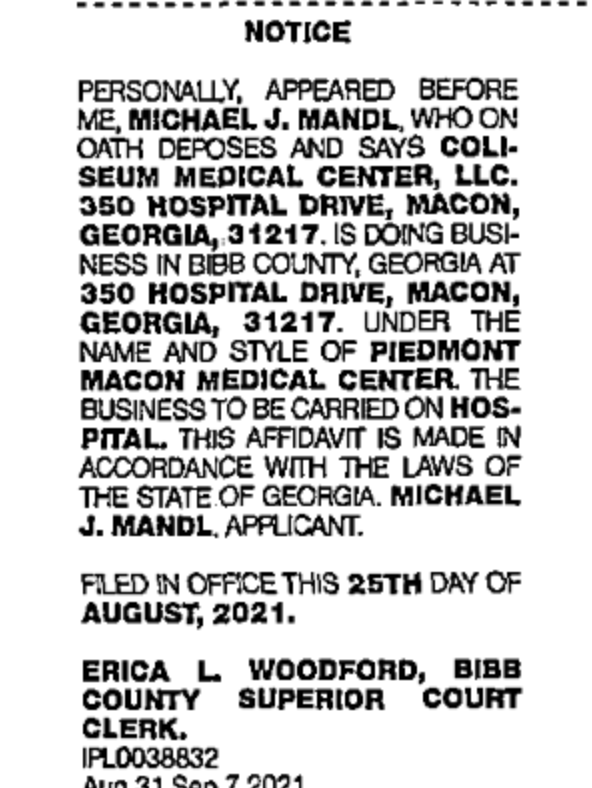 Legal notices filed in Bibb County Superior Court in August 2021 state Macon Northside Hospital LLC is doing business "under the name and style of Piedmont Macon North Hospital," and Coliseum Medical Center LLC is doing business as Piedmont Macon Medical Center.
Piedmont Macon Hospital is described in its annual tax filings as the "tax-exempt parent of Coliseum Medical Center LLC," and Piedmont Macon North Hospital as the "tax exempt parent of Macon Northside Hospital LLC."
Coliseum Medical Centers ranked third on a list of 10 principal property taxpayers to Bibb County Schools with taxable property valued at $40.2 million in 2022, according to the school district's latest financial audit.
Though the business models, names, technological infrastructure and signage have changed since Piedmont acquired the hospitals, many of the same HCA leaders still top the Piedmont hospitals' organizational charts. For example, Stephen Daugherty, former CEO for Coliseum Medical Centers and longtime HCA employee, is now the CEO of the Piedmont Macon hospitals.
Macon's first nonprofit hospital, Atrium Health Navicent, directly competes with Piedmont Healthcare and saves millions each year through property tax exemptions. Atrium Health Navicent also has the advantage of long-term leases with the Macon-Bibb County Hospital Authority, a legal body that functions as the hospital's landlord and has the ability to issue bonds and use eminent domain.
In exchange for federal tax exemptions, the IRS requires nonprofit hospitals to provide "community benefits" in the form of goods and services to improve community health and reduce government burden. However, no state or federal law mandates a specific amount of community benefit that must be provided.
The Affordable Care Act of 2010 required nonprofit hospitals to conduct a "community health needs assessment" every three years to identify strategies for protecting and improving public health.
To read Piedmont Macon's latest Community Health Needs Assessment, click here.
To read Atrium Health Navicent's latest Community Health Needs Assessment, click here.
To contact Civic Journalism Fellow Laura Corley, call 478-301-5777 or email [email protected].