Six years after the Macon-Bibb County Industrial Authority discovered that contractors with family ties to its former chairman allegedly billed for work not performed, no one could foresee the matter would not be resolved. 
The Georgia Attorney General's Office took on the case in 2019 and maintains the "complex case" remains active, but refuses to give further explanation, discuss the potential for charges or if a statute of limitations will expire.  
The allegations came to light in 2017 after the Authority's former chairman and acting executive director Cliffard Whitby resigned following his indictment in an unrelated federal corruption investigation.
Whitby was acquitted in 2018 and unsuccessfully ran for Macon-Bibb County mayor in 2020. In a recent interview, Whitby maintains his reported ethics violations and allegations about the contractors' work are politically motivated.
"In the middle of the 2020 Macon-Bibb election, those connected to political campaigns sought to confuse voters by stoking previously investigated allegations related to my role and responsibilities as the chairman and acting executive director for the Macon-Bibb County Industrial Authority," Whitby said in a statement sent to The Macon Newsroom this week. "It is my belief that this was done to diminish the tremendous success of the authority during my tenure, and to cast doubts as to my fitness."
After Whitby's resignation, the Authority launched an accounting review leading to an independent investigation that noted nearly $1.9 million in suspected over-billing between 2015 and 2017. The contractors were paid a total of  $6.4 million during the Allied project, and the majority of that work is not in dispute.
Though allegations date back to work begun in 2015, the Industrial Authority case still hangs over the heads of Whitby, the contractors and the Authority. 
In recent years, The Macon Newsroom filed multiple open record requests and examined copious documents related to the case. 
In early 2018, after the audit recommended further investigation, the Authority asked local building contractor Warren Associates to review the tasks assigned to the contractors, evaluate the work and the submitted invoices to compile a report. The review concluded there were bills for demolitions on buildings that never existed, invoices for renovations that didn't happen, and other billing discrepancies.
A 2018 demand letter to the contractors for repayment to the Authority only reclaimed $77K that was returned because of a duplicate invoice for the same task. 
Whitby and an attorney for the contractors responded by saying there were "obvious errors in the Warren Report" and that the minority contractors hired to increase diversity were being unfairly scrutinized for their work. 
Initially, U.S. attorneys working the school district corruption case also were looking into the Industrial Authority matter. After Whitby was acquitted in the U.S. District Court in the Middle District of Georgia, the feds turned the Industrial Authority matter back over for local prosecution, but then Macon Judicial Circuit District Attorney David Cooke said he had a conflict of interest. Cooke served on boards with Whitby, who also had contributed to Cooke's election campaign. 
In July of 2019, Cooke asked the Georgia Attorney General's Office to appoint a special prosecutor due to his relationship with Whitby.
The Macon Newsroom's repeated requests for information over the past three years elicited similar versions of the following response received last month: "This is an open, active and complex case, and we continue to follow up on every lead," emailed Kara Richardson, Communications Director for the Office of Attorney General Chris Carr.
Whitby said this week he has never been interviewed by anyone from the Attorney General's Office, GBI, or FBI about this case.
Richardson also said they don't comment on ongoing investigations, including who they do or do not communicate with along the way, and declined to address if a potential statute of limitations could soon expire.
 "Any statute of limitations differs based on the particular crime alleged and other factors. As previously mentioned, this case remains active and ongoing," Richardson stated in the email.
History of Allegations
In August of 2017, Whitby resigned from the Authority after his arrest on conspiracy charges in a public corruption probe dating back to 2012 that involved former school superintendent Romain Dallemand and technology sales to the Bibb County School District.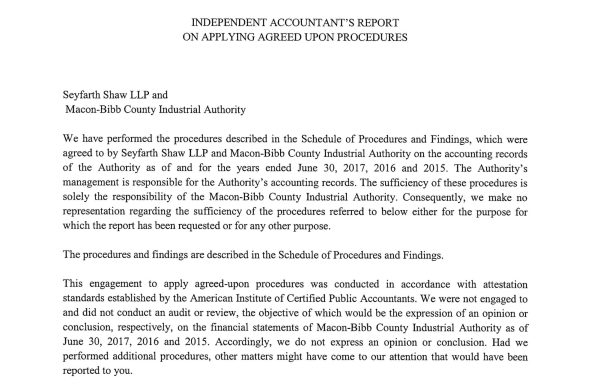 Days later, the Authority hired the accounting firm of Clifton, Lipford, Hardison & Parker to review Industrial Authority vendor files during Whitby's tenure between January of 2015 and June 30, 2017. 
That review showed Whitby violated government ethics codes by awarding contracts to companies employing his brother-in-law, daughter and son-in-law, without disclosing the relationships. 
In a phone interview this week, Whitby said there was no ethics policy in place at the time.
"How could there be an ethical violation where no authority member have ever signed an ethical agreement?" he asked.
The accountants also noted that Industrial Authority employees said all the contractor invoices for work performed at the Allied Industrial Park were submitted by Whitby, approved by him and co-signed by him. Whitby also hand-delivered the Authority checks he co-signed for payment – including the duplicate invoice of nearly $77,000 that was paid from two different Authority accounts a couple of weeks apart. 
"Mr. Whitby subsequently insisted on hand delivering the checks to the vendors. No checks were ever mailed to the related parties," the audit report stated. 
Whitby was acting executive director and chairman of the board when cleaning up the Authority's Allied property at the old U.S. Naval Ordnance Plant became a priority. He hired the minority-owned businesses of WM Construction, Armstead Management, Integrated Technology Consulting, and New Age Concepts and Consulting to do construction and demolition. 
In financial statements signed by Whitby, he did not disclose that his brother-in-law Tyrone K. Lewis was an officer of the Armstead and Integrated Technology companies, and one of Whitby's daughters, Megan Whitby Prater, served as an officer of New Age along with her husband, Dante Prater. Under generally accepted accounting principles, transactions with related parties are required to be disclosed, the audit stated.
Though the audit didn't mention any Whitby familial ties to WM Construction run by Roosevelt Whitehead Sr., invoices for that company's service were often jointly filed with Armstead and New Age where Whitby's relatives worked, according to the audit.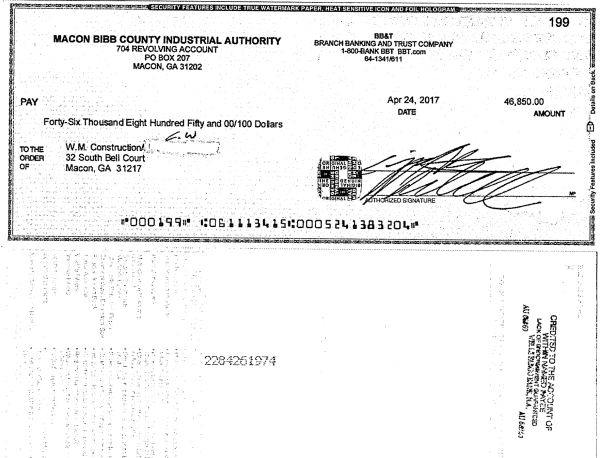 Of the more than 160 invoices sent during the Allied cleanup, only seven were billing for WM Construction alone. Copies of some WM Construction checks included in the audit were clearly marked for deposit only into Whitehead's account.
Checks for the other companies either had no endorsing signature or stamp at all or were designated with a non-specific "for deposit," or "for deposit only."
The audit also showed "very similar" endorsements on checks earmarked for New Age and Integrated Technologies. 
The Authority drafted a contract for the Allied work with WM Construction's Whitehead, who reportedly had done good work for them at the site in the past. The audit revealed that initial contract was later modified to include Armstead Management some time after the Authority's attorney Kevin Brown had reviewed it, but before it was signed by Whitby and Whitehead.  
The audit also showed the invoices from the companies related to Whitby "were of identical style and appearance." 
The audit's summary concluded: "We do believe the matter merits further investigation."
Whitby's response to allegations
Whitby's criminal defense attorney Nick Lotito said in 2018 that the minority-owned companies were referred to the Authority by James Bumpus, who at the time was director of small business affairs for Macon-Bibb County.
The Authority was seeking diversity after an open records request brought to light that there was no evidence the Authority ever sought to hire minority contractors in its 55-year history through 2014. 
Lotito said Whitby made no attempt to conceal that officers of the companies were related to him. 
Four months before Whitby stood trial in the school corruption case, he sent a letter to the Authority in support of the contractors' work after the letters demanding repayment of nearly $1.9 million were sent to New Age Concepts and Consulting, and WM Construction/Armstead Management.  
He alleged "obvious errors in the Warren Report" stemmed from a discrepancy in numbering the buildings at the Allied Industrial Park.
Whitby said Warren Associates' numbering system did not match "the actual matrix implemented by the Authority and carried out by the contractors at the Authority's direction."
Although members of the Authority have publicly said the numbering system was confusing, and some work was done at the complex, the numbering didn't address how the Authority was billed for demolition of buildings that never existed. 
Whitby's May 2018 letter challenged the veracity of the Warren Associates report since he and the contractors were never contacted for explanation by the Authority or during that probe. Whitby also noted he was authorized in 2014 to handle day-to-day affairs for the Authority, and to specifically carry out strategic objectives to "enhance and maximize use of existing assets." 
That task included getting the Allied Industrial Park ready for potential tenants. In Spring of 2014, the site was designated as an Environmental Protection Agency Superfund cleanup site due to groundwater pollution from the old ordnance plant.
Whitby wrote to his former colleagues: "These contractors acted on and performed and completed all work invoiced for according to the Authority's specific direction." 
"Regrettably, the erroneous assumptions underlying the Warren Report has led to baseless demands by the Authority for repayment from these contractors. Furthermore, the disparaging characterization of these contractors in the public has caused them irreparable damage and losses," stated his letter dated more than five years ago. 
Waiting for word
After losing the 2020 run-off for the mayoral election to Lester Miller, Whitby sold many of his Macon-Bibb County properties. He bought a home on the Indian River in Titusville, Florida, and sold his Monroe County residence in the spring of 2021. Whitby's Macon address he used to qualify for the mayor's race, 1825 Hardeman Ave., also changed hands in May of 2021.
In July of 2021, Whitby sold other Macon properties including the Double U Business Development Center at 1680 Broadway for $3.5 million, according to tax records. The family's company Whitby Inc. also was registered to do business in Florida as Whitby Management Inc.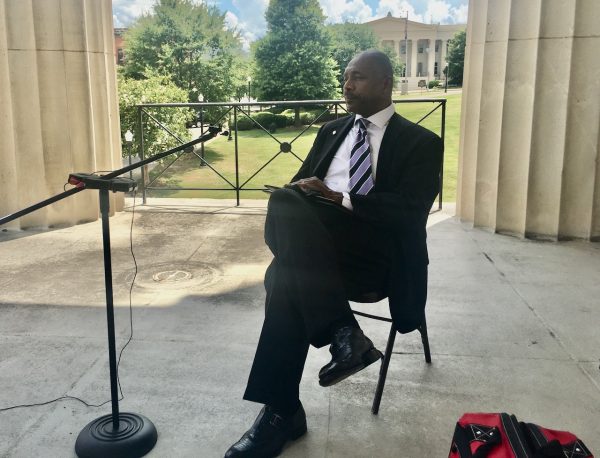 This week, he said  he has other homes in North Carolina and the Bahamas, but he still considers Macon his home. 
"My roots are in Macon-Bibb. I choose to travel, move around, broaden my horizon, but I haven't moved. I'm a registered voter of Macon-bibb County," he said.
He calls the allegations politically motivated with a desire to protect the "status quo" and lack of diversity.
Just five days before early voting began in the 2020 mayor's race, the GBI announced that Attorney General Carr had asked agents to investigate allegations of "theft, forgery and false statements related to the Macon-Bibb Industrial Authority," but Carr made the request more than two months before the news release.
While the release did not mention Whitby by name, it listed Armstead Management, Integrated Technology Consulting, and New Age Concepts and Consulting. 
It is unclear why the GBI issued that release more than 10 weeks after the agency was contacted by the AG's office.
In the final days of the mayoral campaign, Whitby responded to the GBI's announcement with this statement: "Anyone who ever attempts to do anything of substance will always have enemies. In this current political environment, it does not surprise me that after three years some would choose to bring up these old allegations at the Industrial Authority that were fully reviewed previously. To be brief, I stand on the work and achievements that were made under my leadership while at the Industrial Authority. As you know, my platform is on Equity, Balance and Fair-play and this is what this boils down to. I trust that the citizens of Macon-Bibb can see this for what it is – a politically motivated attack."
In response to those demand letters, Atlanta attorney William "Chip" Collins Jr. sent a nine-page letter on behalf of the contractors that stated: "My clients vehemently deny any wrongdoing or that the Authority is entitled to reimbursement of any funds paid to my clients."
Collins did not respond to recent requests for comment from The Macon Newsroom. 
Whitby said recently, "The thing that hurt me more than anything is when you see companies that do everything that we asked them to do. That was these companies. And then you see them maligned in the press. Nobody has printed these companies did nothing wrong. They did everything and went completely by the book and now they're accused of all manner of things."
Since the allegations were raised, Integrated Technology Consulting was dissolved in 2019.
The name of Lewis' other company, Armstead Management, was changed to TL Management & Consulting in April of 2021. 
Dante Prater's company New Age Concept and Consulting was dissolved in October of 2020. Prater incorporated another firm, Primary Colors out of McDonough, in 2019. 
Roosevelt Whitehead Sr., who was doing business as WM Construction, died in October of 2020.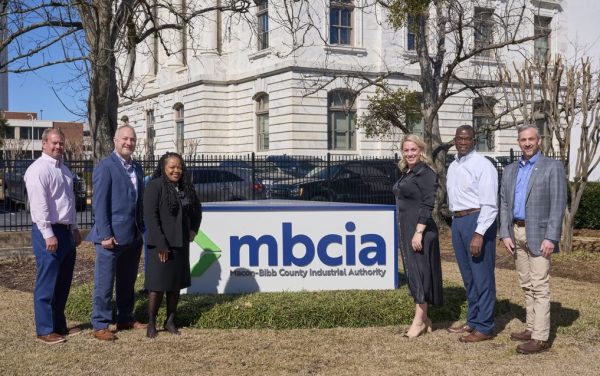 Representatives of the Industrial Authority declined to comment on the pending investigation.
Attorney Brown did confirm the board put in place new policies and procedures in the staff handbook and revised the bylaws in 2018 – actions that include nepotism rules and disclosure requirements.
The Authority continues to strive for the highest level of auditing, compliance and management control each year, Brown said. 
"You've got a good, trustworthy group of folks on that board who work well together, and a great staff," he said. "But trust is also built on having systems in place to make sure trust can be verified. And that's what the authority did."
– Civic Journalism Senior Fellow Liz Fabian covers Macon-Bibb County government entities and can be reached at [email protected] or 478-301-2976.