The engineer for a proposed solid waste transfer station has more work to do before the Macon-Bibb County Planning and Zoning Commission will grant approval for the planned project in the 4300 block of Mead Road.
On June 26, P&Z Chair Jeane Easom suggested moving the actual building where garbage trucks will drop loads as far from the road as the 171-acre parcel will allow, and move the entrance as far away as possible from Lynmore Estates park.
In Monday's P&Z hearing, Hofstadter & Associates Vice President Kelvin Seagraves presented a new map that accomplished half of that assignment.
Seagraves shifted the building to a back corner of the parcel, closest to Broadway, where trash will be transferred to a larger truck for hauling to thelandfill. The new plan left the transfer station entrance directly across from Macon-Bibb County's five-acre park that includes a playground, basketball courts and a walking track.
In the new design, the transfer station will be at a lower elevation than Mead Road and hidden from neighboring properties by the natural buffer of trees.
Attorney John Kennedy, who is representing the applicants and also serves in the Georgia Senate, said they took the commission's desires and concerns to heart.
"This location will literally be out of site and out of sound because of how sound travels," Kennedy told the Commission.
Attorney Chris Terry spoke on behalf of nearly 200 people petitioning against the project, including 190 residents living nearby and 20 other businesses, including Crown Candy.
Terry raised concerns about increased traffic, protection of nearby wetlands and trashing the low-income neighborhood with litter blowing out of trucks and leaking liquid waste.
"They stink. It's trash. You can't do anything about it," Terry said.
Terry also represented Mike Casteel, who operates a transfer station at 4466 Mead Road, about a half-mile away. Last month, Casteel argued a second transfer station on Mead Road was unnecessary.
Terry cited the EPA's stance that waste transfer stations should not be clustered in one area, particularly low-income areas.
"We want to avoid unduly burdening that community, particularly one you're trying to revive," Terry said.
Macon Area Habitat for Humanity Executive Director Ivey Hall said they will soon have a total of 66 homeowners in the neighborhood.
"This is a neighborhood that's worked really hard to come back and putting this there sends it back again," Hall said.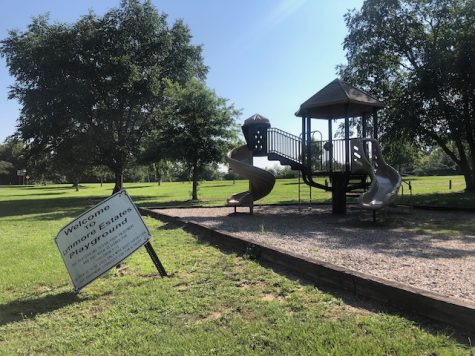 Habitat homeowner Angelia Williams said her two children play in the park and she uses the track for exercise. Bringing a transfer station in would reinforce the perception that it's not a good neighborhood.
"To have a transfer station there would not be a good idea," Williams said.
P&Z Commissioner Josh Rogers said he couldn't see a transfer station being proposed near Amerson River Park, so the same rationale should be applied to the Lynmore Estates park.
"Granted, that park is not our flagship, but that's only because it's in a poor black neighborhood," Rogers said.
He would not support the transfer station near the park, he said.
Kennedy said the station would be cleaned daily and said those complaining about the smell don't understand how the operation will work since trash is not stored there but carted off daily.
P&Z Commissioner Gary Bechtel pointed out that the Commission is working very hard to take all parties into account in evaluating this proposal.
"It's clearly an effort to hear everyone and come to a conclusion that makes sense. Not everyone will agree," Bechtel said.
The applicants, Eberhardt Industries and Mead Road Environmental 2, agreed to take another look at the whole parcel and see if the transfer station could be located closer to Debbie Court where it would be in an industrial area. They are expected to return with a new proposal on Aug. 12.
Unionville clinic, group housing programs approved
P&Z cleared the way for a free medical clinic to operate in Unionville, and gave final approval to the Rescue Mission's expansion plans and the House of R.U.T.H. boarding house for women recovering from substance abuse.
Rev. Henry Ficklin, pastor of Mount Vernon Missionary Baptist Church, said he applied for funding from Congress and secured money through Rep. Sanford Bishop's office. Ficklin wants to use about a half-acre of church-owned property at 871 Pansy Ave. to build a free clinic that would be staffed by medical students.
"Students from Mercer University are looking for a place to have a student-run clinic in a neighborhood where there are a lot of underserved persons," Ficklin told P&Z.
Although P&Z staff initially directed Ficklin to apply for commercial rezoning, they discovered in Monday's administrative meeting that the R-3 residential zoning designation permits a clinic. They chose that option to better protect the neighborhood from future commercial encroachment.
After a state-mandated six-month waiting period, P&Z also took a vote and approved two proposals to provide housing for those recovering from substance abuse.
The Macon Rescue Mission plans to build four new transition houses, two for men and two for women, that allow for up to 240 residents on the nearly 196-acre property at 6601 Zebulon Road.
The new transition homes are part of a two-phase expansion that includes multipurpose buildings, larger retail space and a furniture restoration operation.
P&Z also granted attorney Joshua Hale a conditional use permit to run a home for women in an existing house at 1343 Carling Ave.
The House of R.U.T.H., which stands for Recovery Under The Healer, will be operating as a boarding house for up to 15 women, Hale said.
"We're essentially providing women a sober living environment and access to resources," Hale said. "We don't provide clinical services."
Residents can be sent to other facilities such as River Edge for treatment, and they provide food for themselves, so there's no cafeteria on site, Hale said.
Typically, women reside at House of R.U.T.H. for between nine months to a year, he said.
The applicant for a third planned group home, originally proposed in January for 4528 Cavalier Drive, withdrew the proposal by phone during Monday's hearing.
Other agenda items: