Water Projects Improve Health of Dominican Republic Communities
Mercer On Mission engineering program has assisted for past 8 years
Joana Peterson was scrolling through videos she'd been sent after a day of unexpectedly heavy rainfall. 
She groaned as the videos showed water carrying rock and debris into homes and flattening crops in this mostly agricultural area of the Dominican Republic not far from the Haitian border. The heavy rain also caused damage and destruction to what was already a fragile network of water supply systems. 
Peterson, who is a missionary with the Roman Catholic Church, has been involved in building aqueducts or water systems in rural communities around El Cercado, Dominican Republic as part of her decades of social ministry work in the areas of health, agriculture and education.
"We have a national water authority and they only seem to focus on supplying clean drinking water to the large towns and the large cities," said Peterson, who has been a missionary in the Dominican Republic for 40 years. "So all our small communities, which we have lots of them … they did not have access to drinking water. So we began aqueducts with the people and water systems with the people."
For the past eight years, Mercer University engineering professors and students have also contributed labor, expertise and financial support to these water projects. Mercer's work there was initiated by the late Dr. Mike MacCarthy.
"You come and you participate and your presence helps us do these projects but also your economic presence as well," Peterson said of the Mercer On Mission work. "The difference is that we learn so much from you coming because it's a cross-cultural experience for us."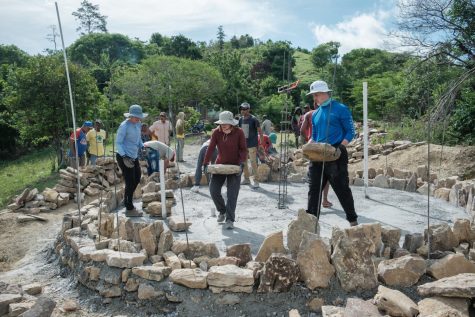 She said people who come to the Dominican Republic are often only interested in investing in tourism and that is a different relationship with the community. 
"(Mercer) works side by side and there is equality so the Dominicans feel like they are not looked down at but they are appreciated because why would foreigners come and pay their own money to come and work side by side," Peterson said. "They really have to stop and think that you are really here for them. And not vice-versa to exploit, but here to work with them and to enrich their lives. And then what happens is you enrich our lives as well."
Over the years, Mercer has helped build eight stone water storage tanks, trenched to add pipes and faucets to households, and tested water for contaminants.
This year Mercer engineering worked primarily in the Sabana Bonita or Beautiful Savannah community in El Cercado to construct a much larger water storage tank. 
"They have water here but the tank only has 3,500 gallons and now the community has grown and there are 88 families here now," Peterson said. "By no means can 3,500 gallons supply the needs of 88 families, so that's why we're adding another tank on this."
The project — led by Dr. Natalia Cardelino, a Mercer engineering professor — will have a lasting impact.
"Rural communities here just have it so much more difficult, so much harder," Cardelino said. "A lot of communities have no water. A lot of communities don't even have electricity. The roads — there are no paved roads to half of these communities that we go to."
The new tank will give students "the experience of doing something like putting in hard work and hard labor to actually see something to completion," Cardelino said. "What we've done is going to benefit a huge number of people."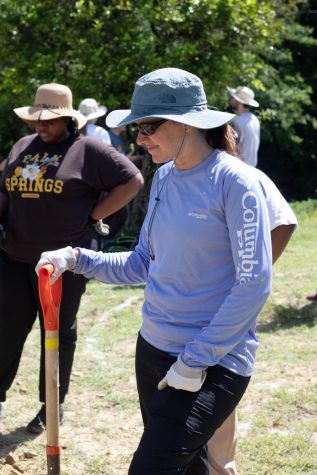 The water projects as a whole have changed the health of people around El Cercado primarily because the water is being treated with chlorine before it runs to homes.
"It's like night and day the difference between parasites, amoebas, dysentery, " Peterson said. "We used to have a lot of dysentery and lots of parasites."
She said the local hospital knows to call her if they start seeing a spike in illness as it usually means a community needs more chlorine pills or forgot to switch them out.
"We have a health committee and they go around every year, two or three times a year and they … would do deworming of the kids and the adults. It's rare that we do that now because the water is really pure water once we have those chlorinators," Peterson said.
In the United States, water is usually drawn from lakes, rivers and underground aquifers. It is treated with chemicals that remove contaminants and sediment, and then typically pumped to a large, raised storage tank or a reservoir, Cardelino said. From there, water is pumped and distributed to homes. 
The average American family uses more than 300 gallons of water a day but in the rural areas of the Dominican, that is closer to 15-20 gallons each day.
Cardelino said in America, water is usually readily available and drinkable and big cities in the Dominican Republic, like the capital city Santo Domingo, also have adequate water access.
"But as soon as you go out to rural communities, you are definitely faced with people that don't have ready access to water," she said. "Even if they do have an aqueduct system, sometimes the water has been shut off for reasons that nobody can understand. It's just very, very different than what we're used to." 
The water systems in smaller, rural communities like El Cercado usually rely on a natural source of ground seep or spring water, Cardelino said. The mountains surrounding El Cercado provide lots of water, but it's not always easily accessible for every community and can be contaminated with waste and nitrates from farming.
"They were used to drinking out of the river water or out of the canal water and there's a lot of contamination," Peterson said. "In the river there's parasites, amoebas and in the canal water it's contamination because it's chemicals from runoff water from farmlands."
The aqueduct systems include a spring box around the source of water to protect it from contaminants. Piping will then run to a water storage tank — usually with just gravity and water flow — and then treatment with chlorination happens at the tank. From the tank, communities will run more piping to faucets that are ideally accessible outside each home.
"Our goal is that every family gets a faucet," Peterson said.
Heramongenes D'oleo is a farmer in Siembra Vieja and said times were hard when there was no water system in his community. 
"Era un tiempo hondón. Aquí no había agua. Y después de eso, esto ha cambiado mucho," D'oleo said.Through a translator, he said they had to walk a lot — traveling two kilometers (1.2 miles) to El Cercado to get water.
All but one of the 57 communities around El Cercado has some form of an aqueduct or water system, but the maintenance needs are constant. 
"When it rains a lot .. several of the water systems have maintenance problems," Peterson said. "Either the spring box gets covered up with dirt or rocks or the pipes break or are carried downstream. So, we're constantly renewing and renovating,  maintaining systems."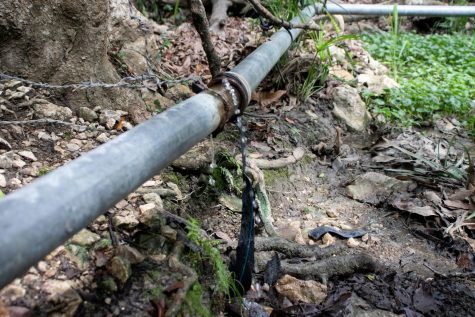 The June meeting of representatives from local water committees was delayed a week because rain made many areas impassable. When the water council did meet, several communities shared they had no water.
In the community of Manyai where Mercer worked in 2022, flooding wiped out two of the main supply pipes and fried the motor in a pump. Other communities lost water when rains buried their spring box under heavy rock. Some communities had older issues including broken supply pipes because of road construction and discoloration. 
The June storm damage sent some Mercer engineering students back to Manyai to help fix the problems.
"We ended up building two columns and doing a crossing over the river so if the river does flood, it won't wash away the pipe that we laid there," Cardelino said. "And then their pump broke and so we also got a new pump for them. So the community of Manyai now has water as well."
In the communities where the social ministry does aqueduct work, the families are expected to contribute labor, 1,000 pesos or roughly $20, and then 400 pesos each year for maintenance.
"In almost all of the cases, the water systems are pretty expensive so we have to find donations for the systems," Peterson said. "In some cases, where it's a repair, (the communities) have their own little fund… and when there are minor repairs and sometimes even major repairs, they come up with the money to repair their aqueduct."
The core of the aqueduct projects are the stone water storage tanks, which are constructed with cement mix, gravel, sand, water, rocks and rebar.
"We first dug a trench for the foundation," Cardelino said about the process."The foundation is made of concrete and some stone. Then we laid the bottom of the tank, which is a concrete floor and then we built the walls."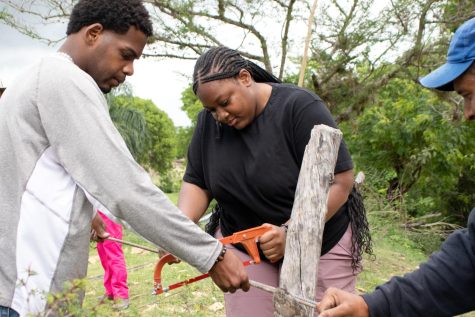 The final steps are to pour concrete for the lid, let the concrete cure and then plaster the inside of the tank. 
"Then it will be ready to fill and hopefully meet the needs of this community," Cardelino said.
Peterson said the stone tanks work best for the communities around El Cercado, and of the roughly 30 stone tanks she has helped build, none of them have ever leaked.
"We used to do these cement ones where you'd roll the cement, then we did block ones but they all leaked," she said. "(The stone) is also less expensive because we have a lot of the raw material right here."
Asebellado Montero, who is president of the Manyai water committee, said before the earlier aqueduct work, the community had no water for 30 years and had to walk or travel on horseback for two kilometers to get water.
"La iglesia, la institución, nos han ayudado con el agua no teníamos de," he said, which translates to "the church, the institution, have helped us with the water we didn't have."
"Y bien, con los estudiantes de que nos han aportado los estados unidos, ha sido excelente," Montero said, which roughly translates to "And well, with the students from the United States, they have been excellent."
Meanwhile, Peterson continues her social ministry work by troubleshooting the next round of needs and said many communities are able to help one another through the water council. 
She moved parishes a few times during her first years in the Dominican Republic, but said she has stayed in El Cercado for 20 years because of the leadership many communities have shown in starting projects for their neighbors.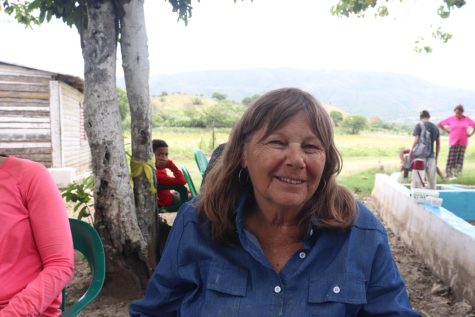 "It just seems like when I try and close a year and say, 'Well maybe next year is my last year,' it seems like some of the projects, some of the advocacy still needs to be done… Peterson said. "I wait for God to tap me on the shoulder and give me my marching orders and at this point, I haven't been tapped on the shoulder although I'm waiting for that."
Taleen Hanna and Maura Rutledge contributed to this story. Special thanks to Samantha Vaquero and Neurys De la Rosa for the translation assistance. Video produced by Samantha Vaquero with contributions from Taleen Hanna, Amelie Horace, Maura Rutledge, Matt Smith, Samantha Vaquero and Kevin White.
Donations to the Dominican Republic health and water projects can be sent via: St. Paul the Apostle Church, ℅ Deacon Ray D'Alessio, 2534 Cedar Swamp Road, Brookville, N.Y., 11545