Concerns over wetland, amenities stall south Bibb subdivision approval
Macon-Bibb County Planning & Zoning commissioners say the housing is needed, but neighbors raised concerns about the planned development near wetlands
Developers looking to build 368 homes off Jennifer Drive have some design work to do to convince the Macon-Bibb County Planning and Zoning Commission it's a viable project.
Monday, HFG Development out of Stockbridge and Rowland Engineering of Macon successfully argued to rezone nearly 79 acres for a residential cluster development near Interstate 75, but they need to address concerns about wetlands, amenity requirements and increased traffic.
In March, the developers withdrew an earlier proposal to rezone the residential parcel to heavy industrial to allow construction of a 450,000-square-foot warehouse. P&Z staff concluded the industrial use was not consistent with Macon-Bibb's 2050 Future Land Use plan for that area.
This week, P&Z commissioners approved rezoning the parcel from the R-1A Single Family Residential District to R-1, which allows for smaller lot sizes and more residential units per acre.
Plans call for 90 townhomes and 278 single-family detached lots.
To qualify for the higher-density zoning, developers must provide enhanced amenities for residents, but the proposal presented this week relies on trails through the wetlands to satisfy regulations.
P&Z Executive Director Jeff Ruggieri said he has been talking with the developers about their options, but didn't think the latest proposal satisfied requirements for higher density development.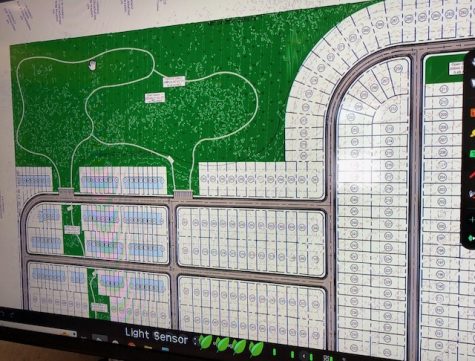 "I don't think this meets this at all," Ruggieri said. "I think it's a cram and jam."
P&Z Commissioner Josh Rogers questioned whether appropriate trails could be built on those wetlands to satisfy the standard for cluster development.
"I'm the one very much in favor of density," Rogers said. "But in this case, it's doesn't meet the standard."
The design presented Monday showed nearly three-quarters of an acre for a clubhouse, pool and park near the entrance, and a trail along undeveloped lots along Rocky Creek connecting to the wetlands on the back end of the parcel.
Rowland argued that the code doesn't specify what an amenity should be.
"It's very vague," Rowland said.
"This is not enough," Rogers answered. "All you've given us is unbuildable lots."
"I agree with Josh. This is not enough amenity space," P&Z Chair Jeane Easom concurred.
Neighbor Richard Windham, who said he was speaking for a half-dozen others who couldn't attend the 1:30 p.m. hearing, said his major concern is the traffic that would be generated by hundreds of new residents. Jennifer Drive already is in disrepair, he said.
Windham, who has hunted on the property, also is worried about flooding. He told commissioners he doubted any type of sustainable trail could be built in the wetlands.
"It holds so much water, some neck-high. It's not usable. No way to be used as a walking trail," Windham said. "We just had an 11-foot-3-inch alligator on the bridge. There's wildlife. There's rattlesnakes. I wouldn't want to build over there down in that swamp."
Commissioners said they recognize the need for more housing and want to give the developers a chance to redesign the project with specific plans for the required amenities.
"I'll admit the trail wandering through the entire wetland might be ambitious," Rowland said. "If you can't stand on it, we can't build."
Rogers said there was no way to grant the conditional use permit required for the development without further study.
"You've got to come back with an amenities package that is reasonable, buildable and maintainable by an HOA," Rogers said.
The developers are scheduled to be back with a new proposal on July 10.
Grant's Lounge gets lit, ATM redo and where Wear goes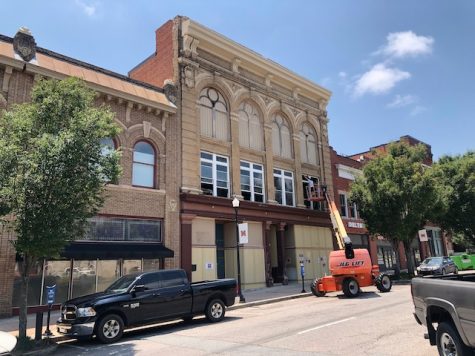 Grant's Lounge will soon show off its renovated façade now that the Design Review Board and P&Z approved new architectural lighting for the nightclub at 576 Poplar St.
Travis Spencer, project manager for RDG Ventures that is restoring the façade of the historic nightclub, said the enhanced lighting was an afterthought once the project got going.
New lights will shine on the columns between the upper floor arched windows and near the entrance. Sconces will light up the first floor façade.
Spencer says the lights can also add some color to the golden brick building between Second and Third streets.
"White, red, blue and green," Spencer said. "Owners will change them some for certain shows, but the standard will be white."
Spencer also secured conditional use approval to create a new home at 502 Cherry St. for the Wear boutique, a thrift store that benefits Daybreak services for the unhoused.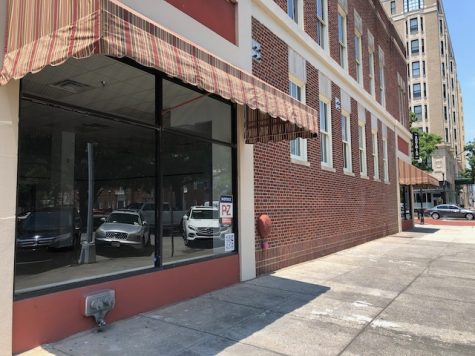 The DRB and P&Z approved a certificate of appropriateness to add a door to the large window facing Third St. behind the Bohemian Den at the corner.
Spencer said Wear will be moving there from its current location at 464 First St.
In Spencer's third application before the commission, DRB and P&Z approved new glass doors for the stairways leading to eight second floor apartments at 362 Second St.
Spencer said the clear or translucent panels will allow light into the stairway.
"It will look a lot better there," DRB's George Thomas said at their June 5 meeting.
Commissioners and Design Review Board members have been wrangling for many months over a new Wells Fargo ATM installed on the side of what is now Baldino's at 596 Cherry St.
The application approved in July of 2021 only showed an ATM design that fell below a stone element on the side of the building. During installation, part of that stone was removed for an unapproved lighted awning and lights added on the sides.
Wells Fargo representatives did not attend Monday's hearing, but P&Z researchers determined the side lights are required for state safety standards, and can remain.
Commissioners ruled the unauthorized awning be removed and the stone element be recreated to comply with the original approval.
In other business
– Civic Journalism Senior Fellow Liz Fabian covers Macon-Bibb County government entities and can be reached at [email protected] or 478-301-2976.