'Naked tourist' pub crawl, Juneteenth parade, French fry fight, Macon music, Bicentennial events highlight summer in downtown Macon
Downtown Macon Community Association's bars, restaurants and businesses want to lure thousands of people to the Central Business District this season
History shows the summer doldrums can take a toll on local businesses, but the Downtown Macon Community Association and other organizations are working to buck the trend with events and promotions.
From the new Great Tiki Crawl to the city's first Juneteenth parade, Bicentennial events to mark the city's 200th birthday, French Fry Fight, Make Music Day and Bragg Jam, there are plenty of activities planned downtown.
One novel idea to introduce patrons to downtown's newest bars begins June 14 at 6 p.m. as Fall Line Brewing Co. hosts the Great Tiki Crawl, turning downtown into a tropical paradise with stops at the new watering holes.
The premise for the Great Tiki Crawl is that patrons are enjoying a little vacation when a "mischievous monkey" steals all their clothes. They set off on a bit of a scavenger hunt to participating establishments and collect essential items of clothing, like coconut bras and grass skirts (that they put on over their clothes).
The $10 ticket covers the cost of items, but the tiki-inspired beverages at each stop are extra.
"The Great Tiki Bar Crawl is not your ordinary night out – it's a legendary journey of laughter, liquid courage, and the bare essentials," promotional materials explain. "Don't miss this chance to reclaim your dignity, one sip at a time."
Tickets are available through Eventbrite.
Honoring history
The same night, Wednesday the 14th at 5 p.m., the Macon 200 Bicentennial Committee is announcing a new anthem for the city with a free concert celebrating Macon musicians and an after party at the Capitol Theatre.
Also, stay tuned for more information on a special event to mark the 200th day of Macon's 200th year on July 19 at 10 a.m. at Rosa Parks Square.
Although plans are still being finalized, the "rain or shine" event is expected to feature the creation of a time capsule and a new historical photo in the park across from City Hall.
The Bicentennial Committee is working to raise $2 million to offset expenses associated with the yearlong celebration and creation of a Bicentennial Park in Mill Hill's East Macon Arts Village.
The 10-day Middle Georgia Juneteenth Celebration marks the day in 1865 when African American slaves first learned of their freedom and left plantations in east Texas – two and a half years after the Emancipation Proclamation went into effect.
Macon's 31st observance begins June 10 with a Pleasant Hill Neighborhood Reunion from 9:30 a.m. to 6 p.m. at 325 Pursley St.
June 17 and 18, Tattnall Square Park hosts the Annual Juneteenth Freedom Festival from noon to 9 p.m. with live music, activities and food trucks.
The Celebration concludes June 19 with a media event beginning at 10 a.m. at Rosa Parks Square, a downtown parade at 11 a.m. and a family reunion fest at Cherry Street Plaza from 1-6 p.m.
Making music in Macon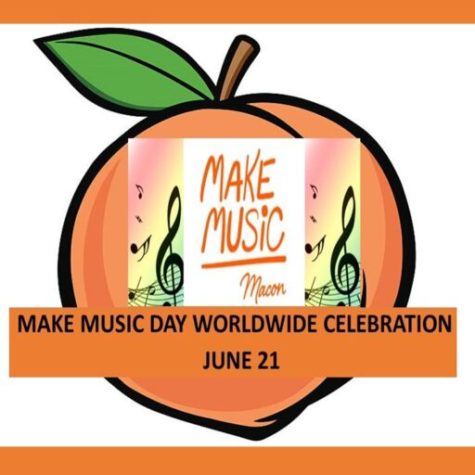 Two days later on June 21, Macon's Gloria Stanley is organizing Make Music Day as part of the worldwide celebration in more than 1,000 cities in 120 countries. Her quest to add Macon to the international celebration began with a Downtown Community Challenge Grant in 2018.
On the summer solstice, Stanley invites the public to enjoy "Fun Time in the Summertime" with a "Peachy, Beachy Downtown Boogie" from noon until 3 p.m. in Third Street Park, Drum Roll and Music Making at the Tubman Museum from 4-5 p.m. and an Open Mic Closing Celebration at the Douglass Theatre from 6:30 – 8 p.m.
The festival is free and open to all musicians. To participate email [email protected].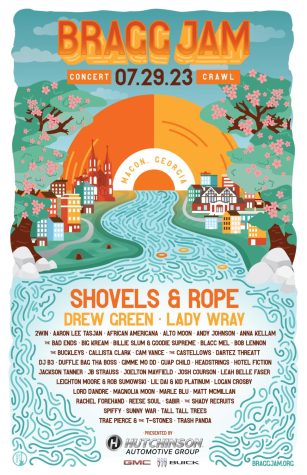 Next month, the Bragg Jam concern crawl brings dozens of bands to town on July 29. Since 1999, musicians have been performing in honor of the late Bragg brothers, Brax and Tate, Macon musicians who died in a car crash in Texas while on the way home from a trip to California.
Although it's a citywide festival, the headquarters for check-in opens at 1 p.m. July 29 at the Blacksmith Shop at 665 Poplar Street and there will be multiple concert venues downtown.
Advanced ticket prices are $40 for general admission and $150 for VIP access and are available through Eventbrite.,
If you can't wait until next month for live music, on Friday, June 9, Boz Scaggs plays the Macon City Auditorium and Kenny Wayne Shepherd is at the Grand Opera House.
June 10, Skynfolks – the "Authentic Lynyrd Skynyrd Experience" will be at the Capitol Theatre and Michelle Malone will be at Historic Grant's Lounge. Early James appears at Grant's on June 28.
Funny business, food fight, confused cocktails
If you're looking for laughs, June 17 brings the Comedy Super Jam Reunion to the Macon City Auditorium.
Back by popular demand, restaurants will square off July 13 for bragging rights in the Downtown French Fry Fight.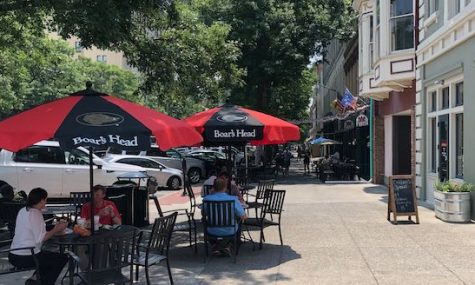 "We ask restaurants to come up with a French fry special… take French fries as a base and build an entree around it," said Emily Hopkins, director of place and Main Street Macon manager for NewTown Macon.
The event was approved for "open container," which means participants can take their alcoholic beverages on the street if they wish to enjoy the downtown parks.
The summer season winds down with "Spirit Forward" featuring specialty cocktails at multiple locations for four Wednesdays from July 19 unitl Aug. 9.
"We will assign participating bars a cocktail and a spirit," Hopkins said. "Every single bar makes the same cocktail."
Not only bartenders are mixing things up. Organizers will designate a familiar cocktail for that day but change the main ingredient to another spirit to give mixologists a challenge to create something special.
"It's really interesting and different to try," Hopkins said. "A way to drive sales to everyone's business and make downtown top of mind."
For more information on events happening downtown, visit NewTown Macon's downtown events page.
– Civic Journalism Senior Fellow Liz Fabian covers Macon-Bibb County government entities and can be reached at [email protected] or 478-301-2976.