P&Z rules owner of historic home must redo 'inappropriate' renovation
Changes made to the old 'Wet Willie' house on Georgia Avenue came without prior approval from Design Review Board and P&Z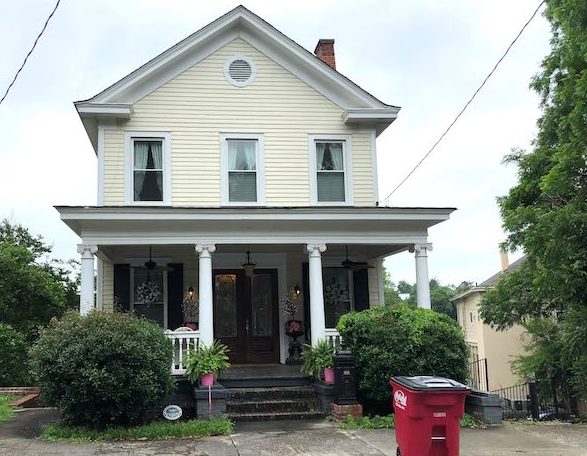 Failing to consult the Macon-Bibb County Planning & Zoning Commission before making improvements to an InTown Macon historic house proved to be a mistake for the homeowner.
Last summer, Forrest Watson replaced the front door and mailbox at 1172 Georgia Ave., what is known on the Macon Music Registry as the "Wet Willie house."  The Capricorn Records Southern rock band rose to fame in the 70s and often opened for the Allman Brothers. The band lived at the house, wrote music and rehearsed at the home which belonged to music executive Bunky Odom, according to the P&Z staff report.
Monday, P&Z told Watson and his adult daughter, Annaliese Watson who lives there, that the new door and mailbox are inappropriate and must be removed and replaced.
Watson said he reviewed design guidelines online and called to inquire, but "did not find out what he needed," and did not realize he had to get prior approval for the work. Since it was during the onset of the pandemic, Watson said he did not inquire in person because he did not know the status of the office during that time.
"They were open and taking applications," P&Z Commissioner Josh Rogers told him.
Without filing an application for a Certificate of Appropriateness and getting approval from P&Z, Watson removed the cracked six-panel door, transom and side light windows and installed modern wood and glass, six-panel, larger double doors. He also bought a Victorian-era free-standing replica mailbox that P&Z also deemed inappropriate for the historic district, and replaced Odom's old metal box that was attached to the porch.
After much debate and presentation of numerous photos of similar double-doors in the neighborhood in the May 1 Design Review Board meeting, the board split 2-2 and sent the matter to P&Z without a recommendation.
Monday, P&Z Chair Jeane Easom explained that the pictures were irrelevant because guidelines dictate houses should maintain their original design, not simply match others nearby. Watson said there were no architectural drawings or other information available so he did not know exactly how the house looked originally.
He tried to argue that the house wasn't listed on the National Register of Historic Places, but Rogers said it was a contributing house in the Macon Historic District, so the same rules apply as individual houses with the designation.
Planning & Zoning commissioners voted unanimously to require Watson to replace the double doors with a single door, reinstall the transom and side light windows, and put back Odom's old mailbox and remove the new one.
From Fading Five to family duplex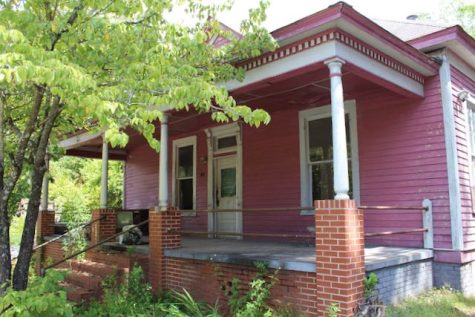 Placing 169 Lamar St. on Historic Macon Foundation's 2016 Fading Five List of endangered properties didn't save the 1908 house, so the foundation is taking on the project themselves.
No one purchased the house in the Vineville Neighborhood Historic District, so the non-profit preservation organization itself bought it in 2018 and will renovate it.
P&Z approved the foundation's application to rezone the property from Historic Residential 1 to Historic Residential 3 to allow for a duplex.
Christopher Haun, Historic Macon's director of construction, said after crunching the numbers they decided their best option was to turn it into a duplex.
"We couldn't get up the money to fix it up as a single-family home," Haun told P&Z.
The organization hopes to receive historic tax credits for the rebuild, so will restore an old doorway  that had been blocked when the front porch was closed in.
"In one of the interior photos of one of the kitchens, you can see the original casing of the door," Haun said.
He presented plans to split the structure into two small apartments – a 642-square-foot one-bedroom studio apartment and a 1,210-square-foot two-bedroom unit.
The derelict property was sold to the Land Bank Authority for back taxes in 2017 and Historic Macon Properties purchased it the following year.
The John B. Brooks House, which was in danger of demolition by neglect, was named for the man who built it in 1908. Brooks later reportedly ran afoul of the city's prohibition laws and was accused of distilling whiskey in 1916.
Proving the merit of PVC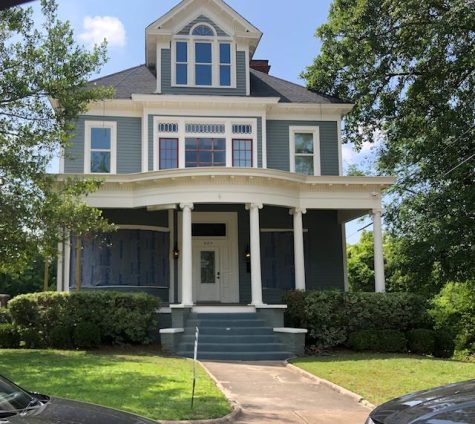 Historic home renovator Jeremy Rosier is looking forward to the day when PVC is included in the list of acceptable materials in Macon-Bibb County historic districts.
Rosier successfully appealed to the Design Review Board in April to use PVC for the base of a porch column at 605 Arlington Place by arguing that old growth wood is hard to come by and treated lumber does not have the same endurance.
"Substitute material is normally used when historic material is no longer available," DRB Chair Will Stanford said last month before approving the limited use of PVC in the column base.
Monday, Rosier was back before P&Z with another application and P&Z endorsed the Design Review Board's May 15 approval of a Certificate of Appropriateness to allow Rosier to put in new windows in the late 19thCentury house.
Although some windows on the side of the house had been inappropriately replaced years ago with vinyl, the board and commissioners required Rosier to use approved materials of either wood or fiberglass- or aluminum-clad for the new ones.
"That's going to look awful," Rosier said.
"I agree," DRB member Carrie Robinson concurred, but the board proceeded as to not repeat the error of a prior contractor.
Commissioners and the DRB also signed off on Rosier's plan to replace an arched window near the peak of the roof with a hand-crafted replica made of PVC.
Rosier, who brought an example of his PVC work in April, would like for P&Z to update its guidelines to include the material when staff reviews and updates the code.
"Don't think we're there yet," said P&Z Assistant Zoning Director Butch Sementilli said Monday.
Opinions seem to be softening on the material, as the DRB approved Rosier's window sight-unseen earlier this month.
"As we have talked about before, PVC is not an approved material in the guidelines," Stanford said. "Wherever, it would behoove us to look at it at a case-by-case basis."
"My only concern is that it will be a slippery slope, I will say, when it comes to the trim pieces where fiberglass is also an option," DRB member Carrie Robinson said.
DRB member Trey Wood agreed with Rosier's premise that today's lumber will not hold up as well, and the new material could prevent rapid deterioration and deserves consideration.
Stanford said during this review period, the quality of PVC craftsmanship will be a determining factor in deciding future applications.
In other business
1712 and 1728 Rembert Ave. – Property owner Aikeem Brabham's request to clear-cut two vacant lots was denied by both the Design Review Board and P&Z as there was no plan submitted for the property. The DRB thought removing the natural tree buffer next to the interstate would be inappropriate and told Brabham to come back when she has a building plan for the lots. Because she had already cleared some debris, underbrush and smaller trees from the lot, the board instructed her to put down seed and straw to stabilize the property and protect against erosion in the interim.
4235 Broadway and 861 Burke St. – Conditional use granted for a truck driving school. Owner Barron Quick said most of the classroom instruction will be off-site, but he plans to use his current truck parking lot for hands-on driving with up to 15 students between 8a.m. to 5 p.m.
5795 Mt. Pleasant Church Road –  Commissioners agreed to allow a manufactured home, with brick under-pinnings on Taylor Statham's family property.
6015 Fulton Mill Road – Stewart David Johnson was granted a variance to create two flag lots on a 60-acre family-owned parcel of land. A flag lot denotes a piece of property with narrow access to frontage on a public right-of-way. The shape of the parcel resembles a flag because of the strip of land that connects the wider property to the road access. A variance is required when the "flag pole" connector does not meet frontage requirements for the district.
– Civic Journalism Senior Fellow Liz Fabian covers Macon-Bibb County government entities and can be reached at [email protected] or 478-301-2976.
Leave a Comment