Historic Longleaf Distillery opening in downtown Macon
Business partners spent nearly five years researching and refining plans for what is believed to be the city's first legal still
The founders of the Longleaf Distillery are not only making history by being the first to legally distill spirits in the heart of Macon, but they are paying tribute to those who have honed the craft through the centuries.
Business partners Will Robinson and David Thompson say history plays a major role in their micro-distillery that will start off producing gin and vodka, and making liqueurs in the old If it's Paper location at 664 Second St. A smaller program for Whiskey, which takes years to age, will follow.
"We do go into a ton of spirit history and stuff," Robinson said. "A lot of our liqueurs are actually based on recipes that we translated from French and Italian that are like hundreds of years old and we're just kind of bringing them back from the dead."
He also plans to develop his own genever, the centuries-old spirit developed in the Netherlands in the 13thCentury that predates gin. Robinson says it is essentially a gin that uses a white whiskey base.
But Robinson also wanted a mission beyond making alcohol, and found it when they named the business. When looking for an iconic Southern moniker, Longleaf fit the bill and defined their greater purpose.
"The world doesn't need more booze," he said. "What do we stand for?"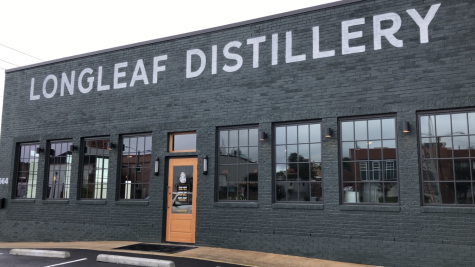 Not only do they want to foster a sense of community in their establishment which nudges the downtown restaurant and entertainment district west of Plum Street, they also want to help resurrect the Longleaf pine.
The sturdy heart pine that built the Robinsons' home and many others in the historic district once dominated 90 million acres of the Southland from Virginia to Texas. Now, only 2,000 acres remain of old-growth Longleaf trees.
The partners will plant a tree for every bottle they sell.
"Not me personally," Thompson joked, as the partners won't be grabbing shovels themselves. They will work with the Longleaf Alliance and the Georgia Forestry Commission on that conservation and planting effort.
The businessmen are somewhat of an odd couple with different tastes.
"It's actually kind of funny. I don't like dark liquor," Thompson said.
"Aww, not yet, not yet," Robinson interrupted.
"I haven't developed a taste for it yet," Thompson clarified. "I'm much more of a gin person, and so we kind of complement each other in that regard."
Robinson prefers whiskey, Amari and liqueurs.
"One of the reasons why we developed so many products in-house is just because we like two different things and they both really work well together," Robinson said.
Their menu board contains Longleaf Vodka and Borrowed Bourbon to start, with coming attractions of Southland Gin, Alba Thistle Liqueur, Venetian Golden Amaro and Heirloom American Whiskey.
The men are also at different stages of their careers – Thompson, a co-founder of Piedmont Construction Group,has more than three decades in the building business; and Robinson is the business manager of the Robinson Home design firm led by his wife, Carrie, who is also a Longleaf partner along with Thompson's wife, Sondralyn.
About a dozen years after college, Robinson has a very diverse resume.
In 2010, he earned his Masters in geographic information systems from the University of North Carolina after graduating from Mercer University in 2007 with a Bachelors in history and anthropology, focusing on archeology. After a stint of making topographical maps for the Department of Defense, Robinson worked in outside sales for an IT company before he and his wife ran a gourmet kitchen store on First Street until late 2016.
In the last five years, both men have delved deeply into the distilling business with Thompson taking gin-making classes in Lexington, Kentucky, and Robinson unlocking the secrets of spirit-making, often by trial and error as he perfects his recipes.
In the spirit of urban renewal and building on downtown's burgeoning breweries, Thompson approached Robinson about working up a business plan for a distillery.
"Then he was hooked," Thompson said.
"Well, it quickly became clear to me that you cannot write a business plan for a distillery unless you know a lot about what you're doing," Robinson said. "You ask one question, and it creates a dozen others. … I mean the learning curve is intense."
Long road to Longleaf
When it comes to explaining Longleaf, there's nothing like it in Middle Georgia.
"It's not a bar. It's not a restaurant. Limited days of service, limited hours," Thompson said. "What the intent is, is that people come here, have a drink or two, hopefully purchase a bottle and then go to dinner at another restaurant because we're not trying to compete with those who are also selling alcohol, too."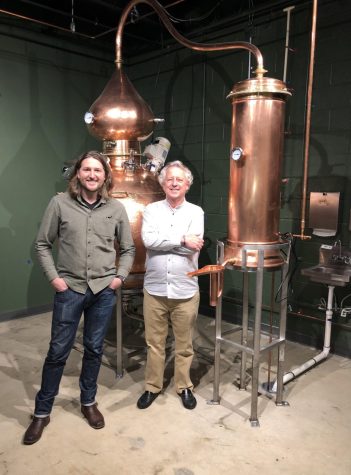 The shiny "Big Richard" Hoga alembic still has a round base leading to an onion-shaped top that connects to a long pipe running into the condensing unit where the spirit is captured. Longleaf's still was hammered out of a single sheet of 100 percent copper and imported from Portugal.
"This thing is about as traditional as it gets. The design hasn't really changed since really about 1300. It's old school," Robinson said. "No controls. It's just a couple of manual knobs and that's it."
Big Richard produces Longleaf's single malts and distilled liqueurs.
"Little Richard," a little test still is in the office where Robinson experiments with smaller batches.
Their other big still that all of their base spirits flows through is a "Hot Rod" from Detroit Still Works that they have named "Rodney Dangerstill."
"We have had too much spare time," Thompson said about their creative nicknames.
The tasting room inside the front door features the bar, tables, outdoor patio and a cozy corner lounge area adorned with an eclectic group of paintings.
Robinson likes to dub the décor as "grandma's house in the mid-70s."
"Yeah, a little bit. You know, nostalgia. I just want it to feel like home, feel comfortable," he said.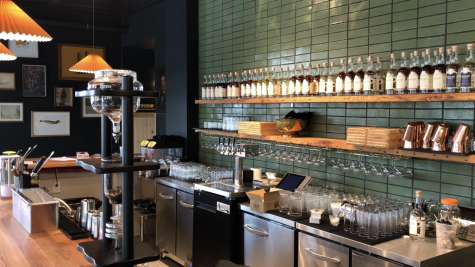 They will have a "snacky" menu, Robinson said, to offer people something to nosh on while sampling Longleaf's current adult beverage offerings that will regularly change.
"At the end of the day, too, we're a manufacturer. That's our No. 1 goal," Robinson said. "And while we do have a really pretty front end that is public-facing and it is community driven, our back-end production environment is all distribution. So, you'll be able to find us in liquor stores and… restaurants throughout all of Georgia soon enough."
The Longleaf partners look back on the COVID-19 pandemic as a blessing that gave them more time to sort out the legalities and necessary safety precautions of operating a distillery.
They hired a special architect out of Colorado to design the establishment and helped educate local officials who never dealt with a distillery before.
There was no category for a distillery business license, or language in the Planning & Zoning codes to address such an establishment.
Under the new designation passed in January of 2022, a micro-distillery is allowed as a conditional use that requires P&Z approval in commercial, wholesale and industrial districts and the downtown central business districts.
Because of safety concerns, a micro-distillery must be at least 200 feet from a residence, which landed Longleaf in Central Business District 2 and encompasses The Medical Center and blocks loosely contained within a perimeter from Ogelthorpe to Fifth, to Plum and First streets.
From the beginning, they worked with the fire department and building inspectors.
"We probably over-designed it for safety," Thompson said.
"It's extremely safe," Robinson echoed.
They also had to navigate the state's rules and regulations.
"An interesting thing about Georgia when it comes to distilleries, is we can only serve spirits that we produce in house, which is tricky," Robinson said. "And that's one of the reasons why we have so many spirits that we have to offer, and we'll be rolling those out over the next year or two."
Bonding with local breweries
Robinson started out trying to develop a full whiskey program, milling their own grain and making mash in-house.
They quickly realized it would take an investment of $10-15 million dollars to pull it off, given the long aging process and need for massive storage space. The zoning code restricts them to 100 barrels, Robinson said.
"We kept running into major logistical issues, like this building is just not set up for that kind of program," he said. "You can either have a big whiskey program and invest millions of dollars into it, or you can be downtown with the community you really want to serve."
Thompson said: "I don't want to compete with Jack Daniels. They got a good head start."
Nor do they intend to compete with the city's downtown micro-breweries, but work with them and contract out for the mash that will be fermented in their basement and distilled in the production room.
"It didn't make sense for us to have a full whiskey program here, but that doesn't mean I can't utilize Fall Line's equipment that's a half a block away," Robinson said. "Because we're all part of the same community, it's not like a rivalry thing."
The distillery will also rely on their customers to fine-tune their flavors and develop new recipes and brands under the Longleaf label. The tasting room will help with research and development of new products.
"You can get feedback instantly," Thompson said.
In his own quest to find the perfect gin, Thompson's learned it's all relative.
"The best is what you as an individual prefer," Thompson said.
Saturday, the public gets its first taste of Longleaf's initial offerings.
The micro-distillery plans to be open noon to 10 p.m. Thursday through Saturday, noon to 6 p.m. on Sundays and Wednesdays, and be closed Monday and Tuesday.
A private room with a view to the production room's two major stills and storage barrels can be used for classes and small gatherings where the public can learn more about distilling spirits.
"Honestly, we've tried to set up our production to not go broke," Robinson said. "It's going to be interesting from here for sure. … I see a lot of good times in the future."
– Civic Journalism Senior Fellow Liz Fabian covers Macon-Bibb County government entities and can be reached at [email protected] or 478-301-2976.