Vineville neighbors oppose The Big House Allman Brothers Museum's new zoning definition
Macon-Bibb Planning & Zoning approved the museum's amendment that could allow special events in the county's historic residential districts
The Allman Brothers Big House Museum Foundation scored a victory with Macon-Bibb County Planning & Zoning to redefine commercial museums in a historic residential zoning district, but its bigger battle with neighbors may lie ahead.
Historic Vineville Neighborhood Association President Will Davis and a few others opposed the amendment during Monday's meeting, but P&Z commissioners unanimously approved the change which they said gives them more, not less, control over what happens on  museum grounds around 2321 Vineville Ave.
Currently, The Big House Museum must apply to for a special events permit each time it holds a concert or other outdoor event on the property, and although local noise ordinances apply, P&Z commissioners have no input in that permit process.
Monday, P&Z changed the Comprehensive Land Development Resolution that governs its actions to allow for a new Conditional Use category of "Museum Commercial" with "social events" in the HR-3, or Historic Residential – 3 zoning district.
Museum Commercial is defined as "a commercial establishment for preserving and exhibiting artistic, historical, scientific, natural, or man-made objects of interest. Such activity may include the sale of objects collected and memorabilia, the sale of crafts work and artwork, boutiques, and the holding of meetings and social events."
The Big House is working on a new landscaping proposal for its neighboring lots. When it submits that application to P&Z, it must apply for a Conditional Use permit under that new commercial museum designation.
When the application is filed, anyone can voice concerns about noise, traffic, parking and preservation of the neighborhood as P&Z considers the request and any restrictions commissioners deem necessary on the hours of operation, number of guests or other stipulation.
'Bigger' house museum
When the museum was first proposed about 16 years ago in the Southern Rock band's old home on Vineville Avenue, there was peace and harmony from most of the neighbors over the plans.
By last summer, the museum's footprint had grown larger after acquiring three more Vineville-fronting properties over the years. Some neighbors became persistent critics of what is now a "bigger house museum," based on the amount of land it controls and announced plans to open the third floor.
When the museum foundation presented new landscape plans last summer, nearly 250 people from 34 states signed an online petition against it.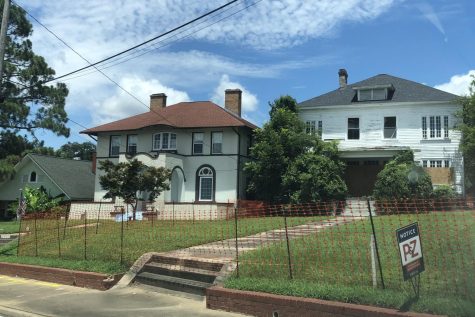 The plans involved demolishing an adjacent house at 2353 Vineville Ave. that originally was condemned by the county's chief building official. Mayor Lester Miller said he rescinded that order "on the advice of counsel" because of the mounting opposition from the neighborhood association and Historic Macon Foundation. Miller wanted all sides to be heard, he said last year.
"I wanted everybody to take a deep breath and give it some time," Miller told The Macon Newsroom at the time.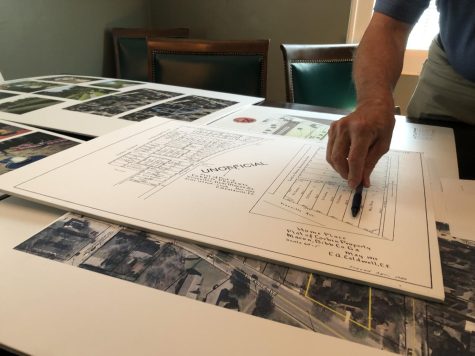 The Big House Foundation treasurer Jim Wells said last September that he felt they got railroaded by the mayor who had "no right, or authorization, or legal standing to do what he's done."
That house proposed for demolition comprised pieces of other buildings on the former sprawling estate of the family of Catherine Brewer Benson, the first woman of 12 to receive her diploma in the original graduating class from Wesleyan College, according to Design Review Board research.
P&Z denied The Big House's application on Aug. 8 to tear down the house and put in a landscaped garden. In the months since, they have been working on another proposal and plan to consult neighbors before submitting an application, Wells said at the P&Z hearing.
Monday, The Big House Foundation attorney Matt Shoemaker said he's been surprised by the neighbors' opposition.
"Because there's a lot of speculation and conjecture about what they may do when there's no history of them doing anything other than what they said they were going to do," Shoemaker said. "It's certainly a community, a residential community where they blend in well with it, and have always been respectful of the neighbors."
Shoemaker maintains that everything the museum has been doing falls under its initial approval as a museum dedicated to the Allman Brothers.
"They have small concerts from time to time. They have certain meetings that are held there. So, really small commercial events. They're not going to change that," Shoemaker said.
Former Design Review Board Chairman Chris Clark, who lives in the neighborhood, submitted a letter to P&Z in opposition of "museum commercial" designation and the lack of information concerning the Big House's future plans. Clark asked the commission to delay their decision until those plans are revealed.
"First, this is a residential district with a museum that was allowed into the neighborhood under an existing Conditional Use… issued with strict guidelines and with an abundance of care and scrutiny by this Commission to protect the neighborhood," Clark's letter stated. "The Big House has not acted as a good neighbor within the district."
Clark attached a 2019 13WMAZ article that reports on the planned expansion of the museum that mentions the venue draws 10,000 fans a year, and quotes Big House Executive Director Richard Brent saying: "With a bigger yard, we can do bigger events."
More P&Z control ahead
Representing the neighborhood association, Davis said they feel the "museum commercial" definition is too broad.
"For example, there are more restrictions and limitations on an antique shop than are present for this museum commercial," Davis said.
P&Z Executive Director Jeff Ruggieri, who worked with The Big House representatives through the amendment drafting process, explained that the designation is purposefully vague to tailor restrictions to specific projects instead of mandating the same regulations for all operations.
P&Z considers all conditional use applications individually, and will review neighbors' objections once the museum submits its next landscaping application, which will require the foundation to apply for a Conditional Use as a "museum commercial" under the new definition.
"Keeping the use a conditional use allows you to look at everything, and hear people's comments, and hear the community, and hear the applicant and try to find common ground for every issue that they have," Ruggieri said. "You can actually put on ground a good project that's specific to the project site itself, but also can include many other conditions that the community or the commission eventually puts on the project."
P&Z Commissioner WyKesia Stafford said the amendment made sense in that light and could actually help neighbors.
"It will allow us to help them put restrictions out there. 'Hey, we're having issues because this is what's happening.' … It does sound like it's opening up the door to be able to restrict what happens out there."
Commissioner Tim Jones agreed.
"My concern with it is that the way it is now, it's open-ended. We have no control, the way I understand it," Jones said.
After the hearing, a handful of neighbors conferred in the hallway expressing their disappointment in the decision to approve the amendment.
Although any new proposal for the property and the museum's expected Conditional Use application as a "museum commercial" will meet P&Z scrutiny, one woman said she didn't trust the commission to make the right decision for the neighborhood.
In January of 2022, a Bibb County Superior Court judge reversed P&Z's rezoning of the old Bennett Estate at 2545 Vineville Ave. from Historic Residential to Historic Planned Development.
In that case, the new owner wanted to open a social club, which would have required another hearing before P&Z for approval. However, the Vineville Neighborhood Association successfully petitioned the judge, who called the rezoning an "error of law" and said the commission was not acting in the best interest of the neighbors.
Historic district needs DRB approval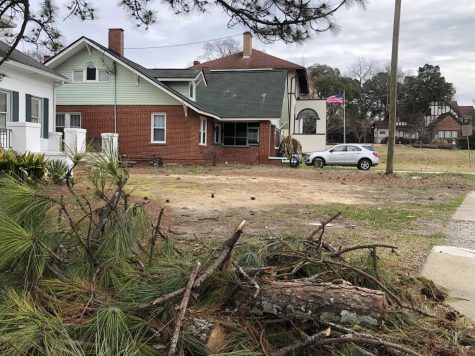 In other matters to come before P&Z, the recent tree removal in front of Multiple Listing MLS at 2385 Vineville Ave. is the latest example of a property owner not realizing Design Review Board approval is needed for landscaping changes in the Vineville Historic District.
Suzanne Beers received a retroactive Certificate of Appropriateness after cutting down two pine trees on the advice of a tree surgeon following a lightning strike.
"We did not realize we were required to do that for landscaping purposes," Beers told last week's Design Review Board, which requested she apply for the COA so that the new plantings could be properly approved in that Vineville Historic District.
A neighboring property owner went to court last week on a similar case and is expected to come before the DRB in the near future.
Although Beers planned to add three flowering cherry trees, the DRB suggested an oak instead.
"I'd prefer not to see cherry trees just because it doesn't have a very long lifespan," DRB's Carrie Robinson said. "I would like to see a tree that will stand the test of time a little bit longer."
DRB Chair Will Stanford agreed.
"I kind of had the same feeling and the cherry tree doesn't have the same canopy. Do something like a live oak… more of an over-story structure," Stanford said.
Other items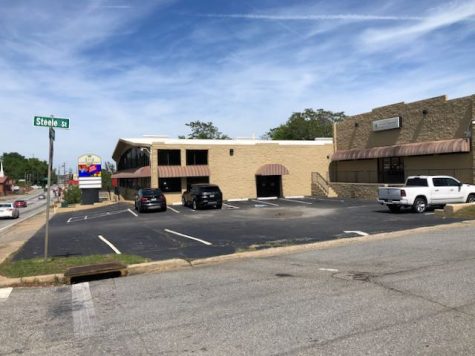 1680 Broadway – Lots of Love Learning Center approved for a daycare in the former home of the Economic Opportunity Council. The center will be relocating from its present location at 1735 Telfair St. Commissioners approved the Conditional Use application as long as children are dropped off and picked up at the back of the building to avoid traffic congestion spilling out onto Broadway.
985 Martin Luther King Jr. Blvd. –  Exterior modifications to the roof, windows and doors are approved for this old 1930 warehouse. Dr. David Cohen plans to build 22 residential units and add windows and a rooftop deck.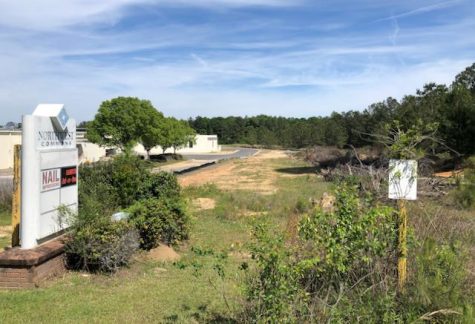 5556, 5564, 5568 Thomaston Road – P&Z approved rezoning from C-4, Highway Commercial, to M-1, Wholesale and Light Industrial and gave Conditional Use approval for 279 storage units on 3.6 acres, including 130 units that are climate-controlled. Applicant Allen Shackelford, of Tobesofkee Crossing, said that when the lots are combined and the storage units are built behind the Northwest Commons shopping center, the business is expected to have a Heath Road address.
185 Stonewall Place – Matt Gilbert's exterior modifications were approved to plans for a single-family house to include adding brick steps with metal railings painted black.
605 Arlington Place – The Design Review Board and P&Z approved Jeremy Rosier's modifications to the windows, doors and front porch of the house built in the late 1800s.
779 Orange St. – Landscaping modifications and exterior repairs of windows, shutters and shingles approved, although applicant Michael Calhoon must work with staff on the final selection of holly species to plant.
3231 Houston Ave. – Conditional Use granted for a new 15,000-square-foot House of God Church assembly hall with 428 seats. Applicant and engineer Steven Rowland will be building on about 3 acres to replace another building that was demolished after a fire.
6050 Harrison Road – Applicant Alexis Austin of Midtown Auto Source was approved for a used car business on a 0.82-acre parcel that was developed as a car wash in 2006. In October of 2020, the same parcel was approved for an event center but it never opened.
– Civic Journalism Senior Fellow Liz Fabian covers Macon-Bibb County government entities and can be reached at [email protected] or 478-301-2976.