New podcast with ties to Macon explores corruption, murder connected to Smith State Prison
Prisons, contraband, corruption, murder: a new Georgia-based podcast with Macon ties has everything true crime fans could want.
But "Prison Town," produced by Mercer University professor and journalist Evey Wilson Wetherbee and The Georgia Virtue's Jessica Szilagyi, is designed to do more than entertain. It's a sobering look at structural issues that plague Georgia's prison system, the ensuing policy implications and the impact of corruption and murder on close-knit communities.
It starts with the January 2021 killing of Bobby Kicklighter, an 88-year old resident of Glennville who was fatally shot in his own home. The brazen murder in the small Tattnall County community caught Szilagyi's attention.
Szilagyi is the publisher of The Georgia Virtue, an online news organization based in southeast Georgia. She'd begun reporting on Tattnall County's three state prisons — Smith State, Rogers State and the-since shuttered Georgia State Prison — in 2017.
The reporting was initially poorly received by the community — as the county's largest employer, the state prison system was not a popular target for a journalist to investigate.
But Kicklighter's murder changed things. A GBI investigation unveiled a connection between his killing, Smith State Prison and a second murder in a neighboring county, authorities said.
The investigations and court proceedings, all covered by Szilagyi, became major news again this February when Smith State Prison's warden, Brian Adams, was arrested by the GBI. Adams, who was fired by the state corrections department, faces RICO charges after he was allegedly tied to a contraband smuggling operation at the prison.
A podcast is born
Wetherbee began reading Szilagyi's reporting in April of 2021.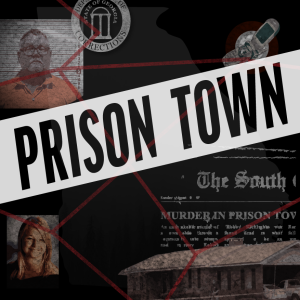 "It was such a bizarre story that I couldn't stop thinking about it," she said. "It illustrates everything we had been reporting on for a year across the Georgia Department of Corrections: understaffing, contraband issues, violence and deaths to inmates who are trying to serve their time and get out of there. I was struggling to find a story that could pull people in to care about the prison system."
Wetherbee reached out to Szilagyi, initially as a character in a documentary film she was planning (one of Wetherbee's recent projects was a documentary on the impact of coal ashon the community of Juliette). The two clicked and began working together on what would become Prison Town.
"We decided to go back and interview people who were there or who could speak to what it felt like at the time, not just what happened," Wetherbee said. "Not that much had changed. When we really started digging into this, the big players were still the big players."
Telling important stories
Both reporters hope the podcast provides context for a complex story and humanizes what can be a fairly sterile process, such as reporting on court proceedings.
"Justice comes to families in two ways: through the court system and through public awareness," Szilagyi said. "That's true of inmates who are harmed behind bars, too. It's all in vain if people don't understand how one problem with a policy turned into two, and this domino effect completely torched an entire system… over the decades.
"You can't build it back until you break it down and show all the ways that they failed to act. There are people who might take some of it to heart because they want to be a part of the solution. I want to cover how they fix it. I would love to be there to write about what [the Georgia Department of Corrections] has done to improve."
Wetherbee and Szilagyi publish Prison Town episodes on Tuesdays, and they're widely available on major streaming platforms like Spotify and Apple Podcast. The podcast has had a largely positive reaction from Tattnall County area residents, they said.
"We're still reporting on it," Wetherbee said, noting they'd recently interviewed the previous warden at the special management unit at the Georgia Diagnostic and Classification Prison and a capital murder defense attorney. "We're definitely going to talk about the economic impact of the prisons and dive into the policy issues related to security, how we understand and think about security in prisons."
They're keenly aware of the gravity of what they're doing, as well.
"I also think it's a huge responsibility," Szilagyi said about reporting on Smith State Prison. "I'm here locally. I don't want to mess up. I know what I'm doing, but it's such a sensitive topic, and I care a lot about the outcome. There are so many other people impacted by it. I want them to be proud of the story and the way it's told."
View Comments(1)