P&Z: Neighbors protest cows; Mercer's dyslexia school; east Macon subdivision changes and 'Glamping' in east Bibb
Macon-Bibb County Planning & Zoning Commission forced to make 'bad decision' for Lizella neighbors who fear livestock will lower property values
A throng of Lizella neighbors wanted the Macon-Bibb County Planning & Zoning Commission to hear their concerns about an adjacent property owner's plans to raise cattle on the 41 acres near Alden Estates off Bethel Church Road.
At Monday's meeting, 17 people signed up to speak in opposition to Rodney Brooks' application to allow a manufactured home with decks to be placed on his land, but their main beef was with the livestock, which is a permitted use in that agricultural zone.
Neighbors also worried about the vinyl-sided house and farm's effect on their property values in a neighborhood of brick homes where most are valued at over $200,000.
Brooks said he plans to build a "forever home" on the property, but didn't expect that to happen for at least five years.
Because all of Brooks' property, the subdivision and surrounding land are zoned agricultural, livestock is a permitted use, which means P&Z had no recourse to deny his plans to bring in about 40 head of cattle.
Commissioner Josh Rogers said this dilemma is another example of why P&Z is revising its zoning codes.
"I do think it's an indictment of the system as a whole and it's another situation where we have to make a bad decision," Rogers said. "I'm sympathetic to everybody. …  We're community volunteers and we're stuck with the laws that are written." 
P&Z's Tim Jones also expressed his frustration and empathized with the homeowners who bought their property thinking other phases of the subdivision would be going behind them, but the housing crisis of 2008 stalled plans for development.
"This is not right," Jones said, before reluctantly voting in favor of the application for the manufactured home.
P&Z Chair Jeane Easom explained that their decision is based on what the law allows in an agricultural district.
"If you live in the country, you get country and cows can be right out your door," Easom said.
Mercer plans new school for students with dyslexia
P&Z Commissioners approved Mercer University's plans to build a transitional school for children in the second through fifth grades who have dyslexia, a language-based learning disorder.
Those affected by dyslexia may have difficulty reading, spelling and pronouncing words.
"These children are tremendously underserved," Mercer University President Bill Underwood told the commission. "There are only two schools in Georgia devoted to students with dyslexia and they're in Atlanta."
The school will be built on about four acres near 1673 Dannenberg Avenue.
Through a generous monetary gift from Hal and Marjorie Roberts, of Lakeland, Florida, the Roberts Academy at Mercer University will strive to be affordable for families looking for a resource for children with dyslexia, according to a November news release announcing the school.
The Roberts experienced the early struggles of dyslexia through their grandchildren and were inspired to build the Roberts Academy at Florida Southern College in Lakeland.
Mercer will build a two-story 18,600-square-foot school that will be modeled after the academy in Florida and is expected to enroll 80 students and employ about a dozen people in the first phase of construction on the ground floor.
If successful, the second floor will be developed to increase the student body to about 150 students.
Robert Reichert, serving as legal counsel for Mercer, said the academy will fit in with the university's college of education and will not only benefit the youngsters dealing with dyslexia.
"The mission is to teach them how to learn, but more importantly to teach teachers," Reichert said.
The school would operate during the traditional school calendar and from about 8 a.m. to 5 p.m. Monday through Friday.
Parking will be shared with the intramural fields next to the dog park as the collegiate athletic events are typically held after 5 p.m.
"This would certainly be a nice addition to the neighborhood," Easom said.
Commissioner Jones added: "I have a comment. Hallelujah."
Groundbreaking is expected later this year with plans to open as early as fall of 2024.
Traffic woes nearly derail major manufacturing site
Plans to develop more than 108 acres of land for a manufacturing and distribution center in the 4500 block of Cavalier Drive left too many unanswered questions for P&Z staff to recommend approval by the commission, but the project will move forward despite concerns of increased truck traffic.
HFG Development out of Stockbridge wants to build two manufacturing or distribution buildings on the property currently owned by Mount De Sales Academy, which has nearby athletic fields. School representatives sent letters supporting the proposal.
Building site No. 1 on the property would feature a more than 1 million-square-foot building with 200 loading docks, 243 truck trailer spaces and 604 employee parking spaces. The second building would be about 180,000 square feet with 74 loading docks, 37 truck parking spaces and 108 employee parking spaces.
Although no business has been identified, the site is being developed for a potential 24-hour operation that would be open seven days a week.
Macon-Bibb County Industrial Authority Executive Director Stephen Adams spoke in favor of the project, which was initiated without authority incentives.
Adams explained that manufacturing and logistics are ideal industries for Macon-Bibb, according to strategy planning studies conducted about 20 years ago that led the authority to aggressively pursue those type of companies as well as aerospace, back office and food processing plants.
"These efforts were intended to prove our fit with these industries so that perhaps one day our resources would not be needed," Adams read from a prepared statement. "We feel this project is that example, and community resources have not been needed to create a product that is available for more of our targeted industries to pursue."
During Monday's pre-meeting of the commission, P&Z Executive Director Jeff Ruggieri mentioned staff concerns about the extra vehicles on Cavalier Drive and the effect the business will have on the Thomaston Road intersection.
"It would essentially double the traffic. I don't know how that works," Ruggieri said.
The applicant submitted more than 100 pages from a December traffic study and pledged to put money in escrow to help with the cost of installing a traffic signal at Thomaston Road.
Commissioners Rogers and Jones were not convinced that the Georgia Department of Transportation would sign off on the plans once a final site plan was developed for a specific client.
"I'm also uncomfortable undermining staff's recommendations," Rogers said before voting against the proposal in a 3-2 vote that allows the project to proceed.
Chair Easom said the plans still must clear site design approvals before construction could begin, so she was confident in casting the tie-breaking vote.
"There are enough crossroads to go through between now and the time this development could be completed to make sure it all gets done," she said.
The same company, HFG Development, deferred for 30 days the consideration of rezoning nearly 79 acres at 1658 Jennifer Drive from single-family to heavy industrial to allow for a 450,000-square-foot warehouse.
John Fox, an attorney representing the company, said they wanted 30 days to address staff concerns about that project, including the 1970 bridge over Interstate 75 and the right-of-way to the land.
The item is scheduled to be heard March 27.
'Glamping' site approved near Bond Swamp
A Locust Grove couple wants to turn about 6 acres at 5680 Ocmulgee East Blvd. into a luxury campground featuring cabins and geodesic domes, which are half-sphere-shaped shelters composed of connecting triangle shapes.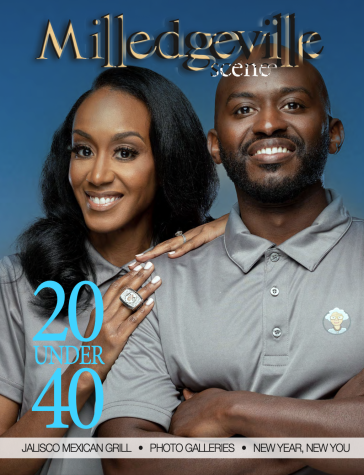 Aerin and Joshua Flournoy said they want to provide families a place to get away and enjoy nature without having to sleep in a tent out in the elements with bugs and other creatures.
"This is a new phenomenon that is taking over the United States," said Joshua Flournoy, a Milledgeville native.
"Glamping is like glamorous camping," said Aerin Flournoy, who is an interior designer.
Managing multiple businesses leaves them craving a work-life balance with their two small children, so they feel other families might need the same thing.
"To create an experience not just for our family but for accommodating surrounding areas," he said.
The Flournoys plan 12 sites total and will begin with three geodomes and three cabins to gauge which are more popular for rentals, which will dictate the final layout of the property which is about 1.5 miles from Interstate 16. Each site will have a private bathroom.
Clients will book stays online, but the couple says they plan to monitor the property and enforce an 11 p.m. to 8 a.m. quiet time.
"Sort of like an Air BnB," Aerin Flournoy explained.
The commission gave unanimous approval and complimented the couple for their presentation that included binders of information for each member of the board and staff in the meeting.
"Y'all need to go on Shark Tank," Commissioner Jones told the couple who made Milledgeville Scene magazine's 20 under 40 list for 2023 through their Barbarakares In-Home Care Services business that employees about 400 people in Georgia, according to their presentation.
In other business
– Civic Journalism Senior Fellow Liz Fabian covers Macon-Bibb County government news and can be reached at [email protected] or 478-301-2976.