Coins, stamps, the Great Snow of '73: Macon hospital's time capsules offer a glimpse of the past
Two time capsules containing items from Macon's past were opened and exhibited Tuesday morning, a half century after they were entombed at the city's hospital.
The time capsules, one from 1916 and the other 1973, were cached in a marble marker behind the bus stop at First and Hemlock Streets, outside what is now the hospital's heart tower. The copper capsules were preserved with special instructions: open these on Feb. 28, 2023.
The tops of the two copper-tinned boxes were sawed off in a nearby parking lot and taken to a cloth-covered table beneath a tent. A few dozen people were invited to watch as both boxes were opened.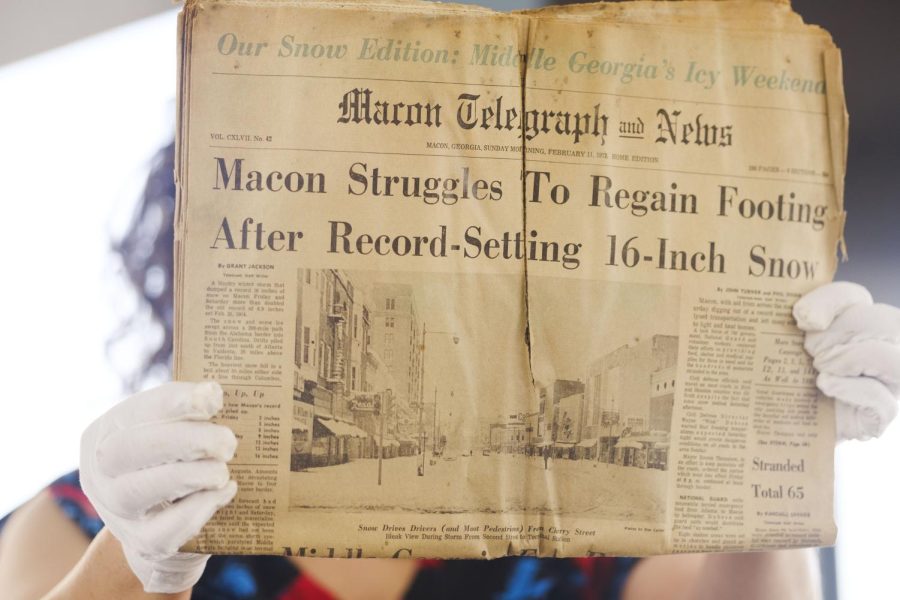 With white-gloved hands, Atrium Navicent Health's CEO and its board of directors' chairperson revealed the contents in each capsule.
The 1973 time capsule contained the cover of the county's telephone book, a hospital audit, an Ocmulgee National Monument seal, 1972 coins, a Sidney Lanier stamp that debuted in 1972 and special editions of The Telegraph.
A Feb. 18, 1973, edition of the newspaper featured a photo from of a family of four walking on a street in their snow-covered neighborhood. The photo was from "The Great Snow of '73," when a record-setting 16 inches of snow befell residents and paralyzed transportation here for 24 hours.
Jamie Jones stood from his chair upon recognizing the photo.
"That's my family on the front there," Jones said. "I'm the little one."
Jones recalled the photo and The Great Snow of '73 in a brief interview with Georgia Public Broadcasting.
"We were walking up the road from our house and it just so happened that next to where the picture was taken was the guy from the Macon Telegraph and News, he lived there and snapped the picture and luckily put it on the front page of the paper there," Jones said. "It hadn't snowed 16 inches since then."
The 1916 time capsule was first opened Dec. 10, 1971, according to Telegraph archives, and was reburied with a new capsule in 1973.
Among items in the 1916 time capsule were the original bylaws of the Macon Hospital Authority, a penny from 1832, a tattered American flag with 48 stars, Macon's anti-liquor ordinance, editions of the Macon Telegraph and News, and the deed for the land the hospital authority owns and leases to Atrium Navicent Health.
Plans are underway to collect items for a 2023 time capsule to be buried later this year, according to a news release from Atrium Navicent Health.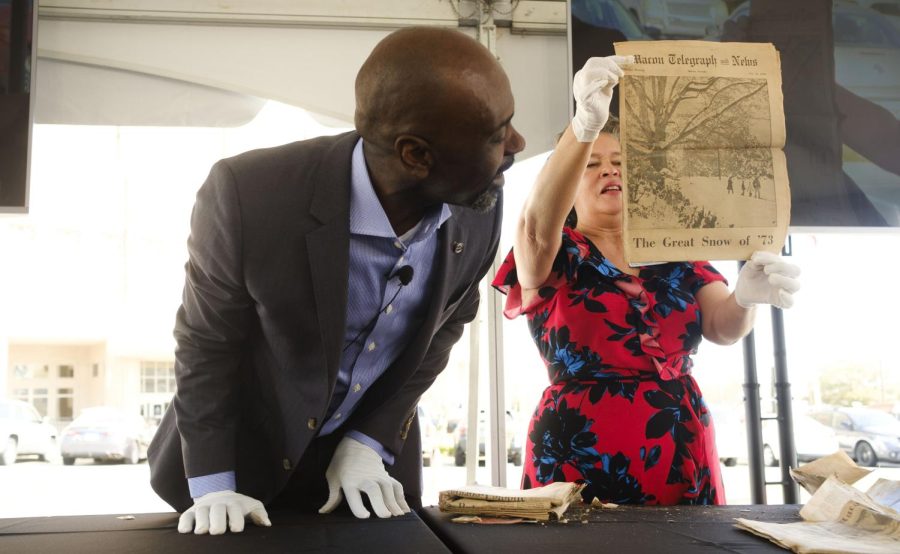 To contact Civic Journalism Fellow Laura Corley, call 478-301-5777 or email [email protected]
Leave a Comment