Macon-Bibb County Pedestrian Safety Review Board responsibilities outsourced to private company
The county board tasked with helping reduce the alarming rate of pedestrian deaths in Macon had its key responsibility outsourced to a private company.
The Macon-Bibb County Pedestrian Safety Review Board, PSRB, was charged by county ordinance in 2015 with reviewing each pedestrian fatality, determining its cause and making recommendations for how to improve safety on some of the deadliest stretches of road here.
A Macon Newsroom review of notes from meetings of the PSRB suggest the board has not completed any reviews of pedestrian deaths in recent years. Instead, the board's business centers on safety education and awareness campaigns. Last year, the board discussed a need for bylaws to guide its meetings and procedures, but did not adopt any.
At a Pedestrian Safety Summit in City Hall on Tuesday, Mayor Lester Miller said PSRB "is held to a standard that's really not suited for this board," so measuring its success is a challenge.
Miller said he wants to consider revising the county ordinance to "truly put down the mission of this board so we can measure it."
"There's certainly been some wonderful things that have happened," Miller said. "I think we're going to see this board evolve into more of an advocacy board as opposed to a review board. I think that's something it is best suited for."
PSRB Chairman Greg Brown, assistant planning director for the Macon-Bibb County Planning and Zoning Commission, said PSRB "moved into this advocacy and education role because we knew that would serve our community better."
"Reviewing each individual incident wasn't giving us the information to make actual change," Brown said.
The board has not conducted a review of a pedestrian death in several years, according to notes from their meetings.
Six pedestrians were killed on Bibb County roads eight years ago when Macon-Bibb County recognized pedestrian deaths as a public health crisis here. Since then, the death toll has risen annually.
A record high total of pedestrian deaths occurred in 2021 with 17 killed on roads here. In 2022, another 17 pedestrians died, including two bicyclists.
Without fanfare, PSRB's duties were assigned to Peachtree Recovery Services in November when county commissioners voted to approve a routine three-year contract renewal with the company.
The county initially contracted with Peachtree Recovery in 2019 to recover costs associated with damages caused by traffic crashes. The company kept 16.5% of what it recovered during the first three-year contract, but with the added duties of PSRB it will keep 25%.
Brown said the company's work will result in "good information by which to suggest changes to both Macon-Bibb and the DOT."
A county news release about the summit said the public could expect to "hear about a stronger relationship" the county has with the Georgia Department of Transportation. A GDOT official was listed on the agenda, but no one representing GDOT attended, county spokesperson Chris Floore confirmed.
Peachtree Recovery Services was slated to present an overview of findings from an analysis of four years worth of crash data here, but none of the promised data was presented at the summit.
Tom Rhoad, CFO for the company, told attendees he only had preliminary results for two years and wouldn't present any data until the next PSRB meeting in March.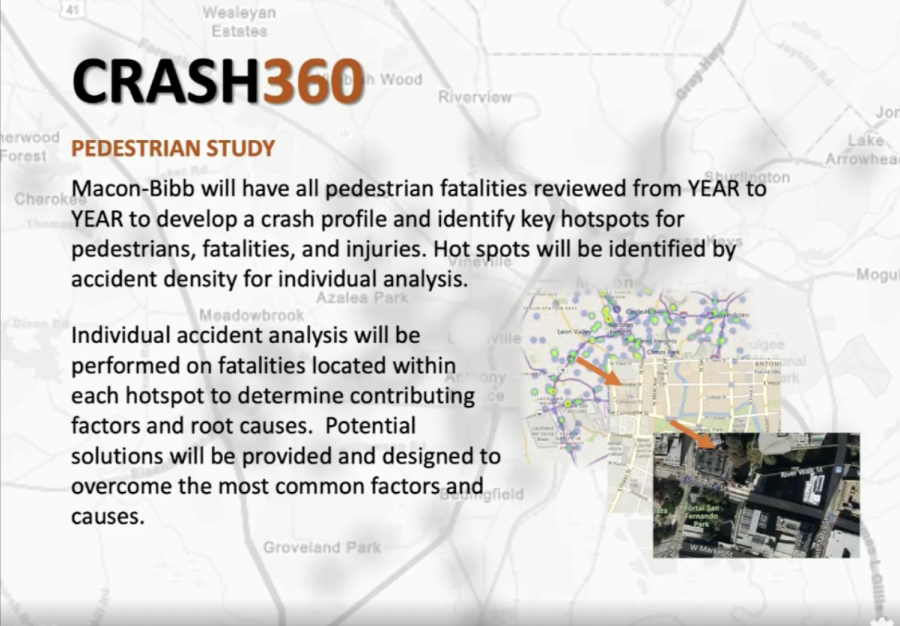 Instead of crash data and analysis results, Rhoad gave a presentation on work the company is newly tasked with.
"We basically review 100% of your crash reports and we're looking for contributing factors, causes and a lot of other statistics for accidents that result in injuries and fatalities," Rhoad said. "We capture a whole ton of that information and we spit back a lot of statistics as well as what some potential solutions are to reduce a lot of those accidents."
The only statistics presented at the summit came from Bibb County Coroner Leon Jones, who said pedestrians have to share accountability because 97% of pedestrian fatalities here occur at night and 89% were wearing dark clothing.
Jones was on PSRB but stopped coming to meetings years ago because, he has said, "it just wasn't headed in the direction I thought it should be headed." Jones worked for decades here as an emergency medical technician and a coroner and knows well the stretches of road where people are most often killed on foot.
"Pio Nono Avenue has got to be the most dangerous road in Macon, Georgia," Jones said. "Let me be clear on that. If y'all don't leave here with anything else, remember what I said."
Upon hearing Macon-Bibb Traffic Engineer Nigel Floyd mention a roundabout planned for Pio Nono and Anthony Road, Jones said, "Thank God. It will slow the cars down."
Other items discussed at the summit included an overview of past and future efforts the county has made to improve pedestrian safety on state roads.
Floyd presented several examples of safety improvement work the county accomplished in tandem with GDOT. The county met with GDOT twice in the past six months and "those meetings have been very productive," Floyd said.
The meetings, which are expected quarterly, resulted in GDOT's agreement to make safety improvements to Gray Highway, he said.
Floyd also briefed the public on other future safety improvement projects coming down the pike. He said GDOT has plans to spend $15 million on such projects here including:
A roundabout on Mercer University Drive at Anthony Road and Burton Avenue
A roundabout on Mercer University Drive at Columbus Road
A speed reduction on Gray Highway
A road diet on Eisenhower Parkway to reduce it from 6 lanes to 4, plus a county-funded addition of sidewalks.
To contact Civic Journalism Fellow Laura Corley, call 478-301-5777 or email [email protected]
Leave a Comment