200+ movie extras needed for Disney+ series on MLK and Malcolm X
"Genius: MLK/X" will be filming in downtown Macon scenes of civil rights era protests in Selma and New York
Movie cameras are returning to Macon later this month as Disney+ films an original civil rights era series about Martin Luther King Jr. and Malcom X.
Central Casting needs more than 200 movie extras in Bibb County for three days of filming from Sunday, Jan. 29 to Tuesday, Jan. 31, according to Aaron Buzza, Visit Macon's Camera Ready Liaison.
Scenes will be shot in downtown Macon at the courthouse, First Presbyterian Church and the Capitol Theatre.
"Probably the main driving force for them looking at Macon was a the Capitol Theatre because it plays well as an historical theatre as part of the story," Buzza said. "From there, they were able to find other locations and make a bundle of locations here."
Production company Undisputed Cinema, with executive producers Reggie Rock Bythewood and Gina Prince-Bythewood, are using Macon to film scenes portraying protests in Selma and New York for episodes of "Genius: MLK/X" in the fourth season of the series that debuted on National Geographic.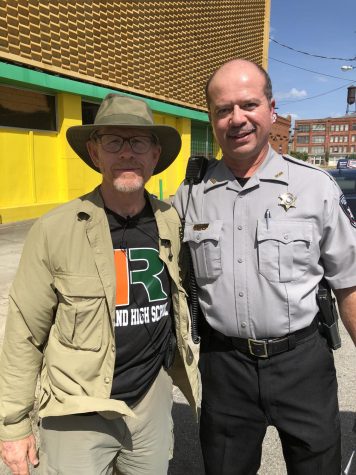 The series is produced by Imagine Television Studios and 20th Television with Brian Grazer and Ron Howard returning as executive producers, according to published reports. Howard was in Macon a few years ago working on the film Hillbilly Elegy. Buzza also said the production designer for "Genius: MLK/X" is familiar with Macon from his work here on Showtime's "First Ladies" series.
"The team has been fantastic to work with," Buzza said. "They are very concerned with making sure that traffic is open as much as possible to businesses and residents."
The new Disney+ show will star Kelvin Harrison Jr. as Dr. Martin Luther King Jr. and Aaron Pierre playing Malcolm X.
The series "will explore the formative years, pioneering accomplishments, dueling philosophies and key personal relationships of Martin Luther King Jr. and Malcolm X. While King advanced racial equality through nonviolent protest, Malcolm X argued forcefully for Black empowerment, identity and self-determination," according to a news release announcing the production.
"With their formidable wives, Coretta Scott King and Betty Shabazz, by their sides, King and Malcolm X became synonymous with the civil rights era and the fight for racial and economic justice. While they met only once and often challenged each other's views, neither would have been as successful without the other," the release stated.
Background actors of all races, genders and who are at least 18 years old, will be acting as protestors, onlookers, media, and civil rights leaders during the historic protest recreations.
The casting company warns that the show will "depict difficult subject matter related to racial injustice and/or violence" and the segregation, police brutality and references to slavery in scenes "contain actions that are triggering," according to the casting call.
Performers in those scenes may be exposed to "simulated violence, up-close contact with performers, and racially insensitive language including slurs," the casting call stated.
Those who think they might be uncomfortable with those scenes are urged not to apply.
Extras are expected to be paid $140 for 12 hours, plus time-and-a-half for any overtime, and $35 for a COVID test. The production will pay for the COVID testing which will be scheduled during a "large, flexible time window."
Performers must have civil rights period-appropriate looks, natural hair and be clean shaven. Women need to fit clothing up to a dress size 8, and men must have a chest measurement of 44″ or less.
Those interested in serving as an extra should submit a headshot, current sizes and contact information to [email protected] with the subject line "Macon."
– Civic Journalism Senior Fellow Liz Fabian covers Macon-Bibb County government entities and can be reached at [email protected] 
View Comments (3)