Reception planned to 'say goodbye' to Neel's and Blair's stores before demolition
P&Z approved $25m downtown loft development, pet chemical crematory and north Macon gun range that drew doctors' opposition
Before the wrecking ball hits Joseph N. Neel's and Blair's Discount Furniture stores, former patrons will get a chance to reminisce and say goodbye to the buildings at a reception next week.
Monday, developer Robbo Hatcher said demolition and construction will begin as soon as permits are issued for a new $25 million L-shaped loft building to replace the stores at 462 Cherry St. and 418 Third St. The project was approved by the Macon-Bibb County Planning & Zoning Commission during its first meeting of the year.
The public is invited on Jan. 17 from 5:30 – 6:30 p.m. to informally gather at Neel's to share memories and take a final look at the old stores.
"We just thought that was an appropriate thing to do since we couldn't save the buildings," Hatcher said.
Last week, the Design Review Board signed off on the demolitions that will make way for a four-story, 107,000-square-foot-building with 95 luxury loft apartments, three retail spaces and room for several offices. Hatcher hopes to finish construction and be leasing units in about two years.
He worked with the Historic Macon Foundation to try to secure historic tax credits to help fund the renovation of the buildings, but they did not qualify. Neel's was built the year after the historic district period closed.
To make the development financially feasible without the tax credits, the Hatcher family needed to add more units to the plan, which required new construction rather than renovation of the old stores.
Architectural firm Dunwody/Beeland and Brannen Park designed the plans that call for two retail spaces each about 1,000 square feet that front Cherry Street, and another potential 3,000-square-foot restaurant with a Third Street entrance.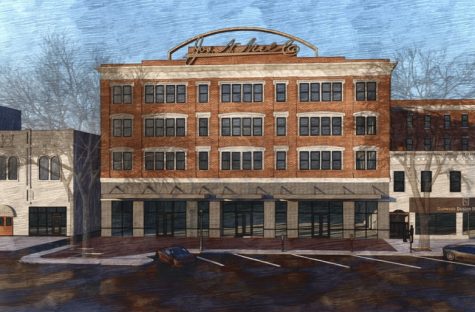 The old Jos. N. Neel scripted metal sign will be anchored on top the building to preserve some of the department store's history, which delighted P&Z Chair Jeane Easom.
"I love the building," Easom told Hatcher and architect Gene Dunwody during Monday's hearing. "What I really like is the sign."
Easom noted the lack of windows in the Neel's building would have made loft redevelopment a challenge.
"I'm glad you've done something with it. Looking at that building with no buildings whatsoever… I commend you for what you've done here," Easom said.
Hatcher said he really wanted to save the buildings, but instead would create a new building that would fit right in with the surrounding architecture.
He prefers to brick the whole exterior, but the tightness of the construction work zone could prevent the necessary access. Piedmont Construction is working out logistics now, he said.
"If we can't use brick, we would want it to look like brick," Hatcher said.
Bricks definitely will go on the front and partially down the sides as far as a lift could reach, he said.
"It's a super project for downtown," Hatcher said. "It will energize the block. We really wanted retail in the front because… that brings foot traffic."
NewTown Macon CEO Josh Rogers said a 2019 feasibility study determined downtown could accommodate 200 new lofts per year through 2025, but the pandemic stalled prospects and they failed to keep up with the demand.
More downtown lofts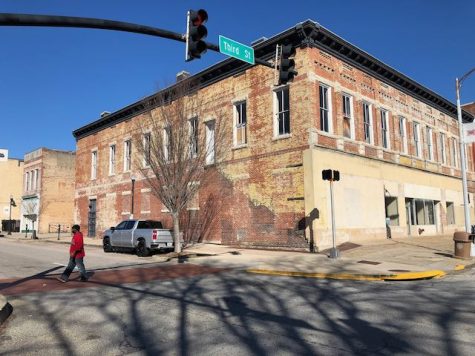 P&Z also approved a few additional lofts for the Stuckey family's three properties that will become a mixed-use development at 485 Third St.,  523 Poplar St. and 535 Poplar St.
The old Army Surplus store at the corner of Third and Poplar will be renovated to include a recording studio and office space on the first floor with a large residential loft on the second floor.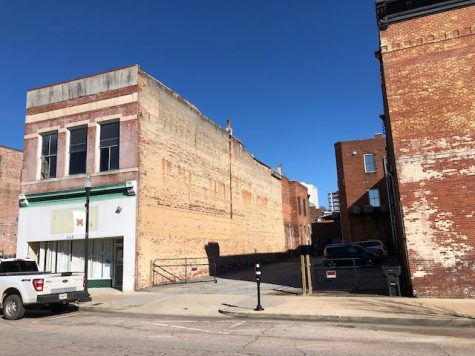 The Stuckeys also bought the old House of Johnson at 535 Poplar which will be renovated on the first floor for retail space in the front, a series of six single-bay garages in the middle of the building and a small loft in the rear.
The second floor of 535 Poplar will feature several bedrooms for visiting musicians or guests, which will connect to a second-floor deck between the two buildings. A large practice room will be built on that second level, which will be suspended above the walled, gated parking entrance at what is now a vacant lot at 523 Poplar. That level, which features a rooftop deck over the practice room, links the two buildings.
New lofts also are coming to 442 Second St., the old Roasted Café & Lounge location.
BTBB Architects plans to create space for a restaurant on the first floor and new lofts on the second floor, which will provide access to a new rooftop deck. Brown will redesign the storefront to provide separate access to the upstairs lofts, according to plans approved by P&Z.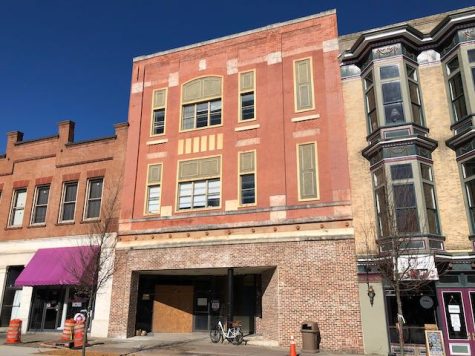 The building at 317 Cotton Ave. that housed the old Bibb Music store for more than 50 years also will be converted to loft apartments, according to a project approved by P&Z.
Brown, who is also the architect of this project, said the ground floor will feature a small retail bakery with a loft in the back. Plans call for a new wood and glass storefront to replace the large glass windows and door that served the old music store.
Three lofts will be built on both the second and third floor, which most recently was home to a masonic hall. The building, which dates back to 1850 according to tax records, had been owned for decades by the trustees of the Macon Lodge until it was purchased by Holton Investment Properties in 2019.
Gun range draws fire from neighboring doctors
Multiple doctors objected to a proposed indoor gun range at 4675 Sheraton Drive, but a consultant convinced P&Z that there would be hardly any noise pollution beyond the building and minimal effects within.
The commission approved Dunwody/Beeland Architects' plan to build an 11,000-square foot building with retail firearm sales on 1.8 acres at the corner of Sheraton Drive and Sheraton Boulevard.
Upstream Range and Academy will feature a dozen shooting lanes, merchandise and guns for sale, a classroom, event space, lounge area and a gunsmith room where weapons will be repaired.
Commissioners clarified that the lounge was not selling alcohol, but would serve as a gathering spot for events.
Stuart Mullen works as a consultant promoting modern innovations of the "next-generation shooting ranges across the country" that reduce noise and increase safety. He spoke in favor of the project.
"If you haven't visited a shooting range within 18 to 24 months, then you have a misconception of what this facility is going to be," Mullen said. "We continue to refine how these buildings are built."
Mullen said it's in the range's best interest to curtail the noise so that customers picking out firearms and students taking gun safety classes won't be disturbed by excessive noise.
He equated the noise heard just outside the building to what you would hear from a hammer hitting a concrete floor.
In other ranges he's worked on, neighboring businesses have not complained, he said.
"It's just not an issue," Mullen said.
While recreational facilities are permitted in that commercial zone, several doctors who have neighboring offices have objected to the plans, citing patients who are veterans suffering from PTSD who might be triggered by the gun range.
P&Z Commissioner Tim Jones said after reading the doctors' objections before the hearing, he was prepared to vote against the range, but changed his mind.
"My thinking of a gun range is what I'm familiar with – old style that you can hear the shooting from the outside," Jones said. "This seems to be state of the art and I was not expecting to see what I saw as far as a gun range."
New pet chemical cremation facility approved
P&Z commissioners and staff were quite curious about a proposed pet crematory using a chemical process known as "aquamation" to speed up the natural decomposition process.
"It's supposed to be more eco-friendly," P&Z assistant zoning director Butch Sementilli explained of the proposed use for 3312 Northside Drive.
"Alkaline hydrolysis. Interesting," commented P&Z's Josh Rogers.
Teresa Jones Pettite of Petamorphosis said while a typical pet crematory uses temperatures of 1,400 degrees, this procedure only requires 300 degrees and uses a "whole lot less energy" which she noted is much gentler.
"But they're already dead when you put them in there, right?" Easom asked.
"Yes," Pettite said. "We would be the fourth in the state of Georgia, so that would be something really good for Macon. … We've done a lot of research on it."
P&Z Commissioner Gary Bechtel, recently sworn in as chairman of the Macon Water Authority, asked if Pettite has contacted the authority about the water use.
"I recommend that you do that," Bechtel said.
"There are PH limits as to what goes into the sewer system," Josh Rogers said.
Pettite said the remaining animal bones are ground and can be returned to the pet owner in a variety of containers.
Rogers asked if the grinding process was loud, and Pettite said it wasn't.
"Is there a limit on the size of the animal?" Easom asked.
"It goes up to 400 pounds," Pettite said of the equipment she will be using.
"Good Lord!" Rogers explained.
Pettite said the machine could hold up to 12 cats at a time and uses the same decomposition process as when an animal is buried, but much quicker.
Commissioners approved the business as long as the operation is approved by the Macon Water Authority and other required agencies.
New concept subdivision approved for north Macon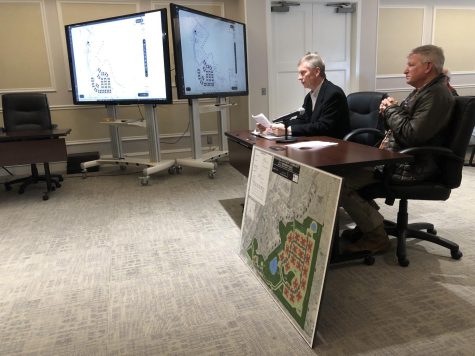 BMW Developers are working to ease traffic concerns that became an issue at a 2021 P&Z hearing by scaling down a proposal for a multi-family residential development at 5171 Bowman Road near Wesleyan Drive. Although the more than 82 acres originally was rezoned for 288 units, they now plan only 216 homes.
"Housing in this area is in demand and a larger stock of available housing is a benefit to the public," P&Z staff concluded.
Engineer Don Carter explained the new concept for the development which features one-story buildings of six units that back up to each other to create a type of motor court between them for parking.
"It's interesting," P&Z's Josh Rogers commented on the design.
Plans call for a 150-foot-buffer between the development and nearby houses. According to the application, developers plan to widen Bowman Road and add a left turn lane into the development, as well as a deceleration lane near the entrance.
"It's certainly not going to solve the problems that are pre-existing out there," Carter said.
In other business
–Civic Journalism Senior Fellow Liz Fabian covers Macon-Bibb County government entities and can be reached at [email protected] or 478-301-2976.