Georgia and Macon's film industry continue to grow despite pandemic
While the state of Georgia has been associated with its peanut production or tied to its moniker of "The Peach State," it holds a rich history of hosting culturally important films throughout the decades.
Savannah's Chippewa Square provided a bench for Forrest Gump to regale people with his life story, Juliette housed "Fried Green Tomatoes's" Whistle Stop Café and Atlanta's Marriot Marquis engaged viewers with the otherworldly aesthetic of "The Hunger Games's" Capitol are just a few examples of the state's iconic cinematic features. 
Those films have aided the growth of Georgia both culturally and economically. The Georgia Department of Economic Development estimates that over 2,200 productions — either film, television, short film or even some animated projects — have been produced in the state since 1972's "Deliverance." Filming in the state attracts film crews and tourists. These people end up paying for lodging, restaurants or other attractions when they arrive. 
These transactions help local economies and Georgia's state economy, making the government more willing to invest in the industry. According to Governor Brian Kemp and the GaECD, film production companies like Netflix and Disney spent about $4.4 billion between housing, food, film sets and other state amenities. 
While cities like Atlanta, Savannah or even Buford have enjoyed the success of tourism and the exposure the film industry brings, one city has remained in the background until the last few years. Starting in the 2010s with "The Crazies," Macon has since seen an increase in the number of high-profile films that are at least partially filmed in the city. 
Films such as the Chadwick Boseman lead "42," the Clint Eastwood baseball hit "Trouble with the Curve" and parts of the ice-skating biopic "I, Tonya" have all contributed to the rising popularity of this Georgia film spot.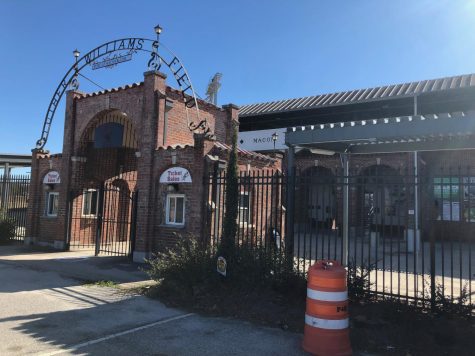 Why Macon's film industry has grown:

One of the biggest reasons more studios are choosing to film in Georgia is the extensive tax incentives. According to the state, filming in Georgia provides a 20 percent base transferable tax credit, a 10 percent Georgia Entertainment Promotion (GEP) uplift and both resident and non-resident workers' payrolls qualify. Additionally, post-production of Georgia-filmed movies and television projects qualify for these tax breaks if the post is done in Georgia.
There is a salary cap on individuals paid by 1099, personal service contract or loan out either. It's worth noting that development costs, promotion, marketing, story rights and most fees do not qualify for exceptions. 
The tax incentives are offered to feature films, television shows, commercials or music videos. There is, however, a $500,000 annual minimum expenditure threshold that must be met to enjoy these tax breaks, but this can be done through multiple projects or one large. Only production companies certified by GaECD can use these incentives and transferable tax credits. 
While these incentives may entice filmmakers, Macon has its own local and touristic incentives to keep people staying. Senior Vice President of Visit Macon Aaron Buzza explained that working with film productions is a lucrative deal for both the filmmakers and the city. 
Visit Macon is an organization dedicated to unifying the marketing of Macon. In 2009, The Macon Film Festival branched out to create the Macon Film Commission. In 2018, the commission reached out to Visit Macon to take on the role of selling Macon to production companies, raising interest in the city.
"We didn't have any sort of sense as to what it would take, or how to even advertise to production companies," Buzza said. "Our board of directors asked us to give it a year and see how it goes. Probably two weeks later and a lot of advertising, my phone started ringing, and it's been ringing nonstop ever since. 
One of Buzza's marketing roles is to provide pictures of potential filming locations for directors and production companies to consider for their films. 
"I ended up doing a lot more scouting," Buzza said. "Instead of a location scout asking if they can shoot in Macon, they ask me to go share some photos to present to the production company. I've gotten more involved in gathering photos and sending them to the scouts, and I love being a part of it." 
Buzza described some of the smaller challenges that prevent the city from seeing as much success as Atlanta or Savannah. 
"We don't have the crew base here," Buzza said. "And so if you're filming and based in Atlanta or Savannah, you must bring your crew with you. Because there are overnight stays that they have to pay for and there's per diem that they have to pay for. And so there are additional costs for that." 
Buzza said these additional costs are implemented to house the crew for their safety and add economic value to Macon. He also told 13WMAZ that Macon has four to five significant productions in town annually, bringing in roughly $4-5 million in film and TV productions. 
"If they're working 10-12 hours a day on set, having them drive home and drive back isn't necessarily the best possible scenario for them," Buzza said. "When people stay, though, they end up going to restaurants and staying in hotels. But those costs can be a struggle, and it's part of the reason we haven't had a full eight-week run with a Marvel movie yet." 
Buzza said it's the tax incentives drawing filmmakers to Georgia, and it is the dedicated marketing efforts of Visit Macon that bring them to Macon. 
Who has helped grow the industry
The Macon film industry has benefitted from the works of both filmmakers and the officials that help provide them with the resources they need to succeed. The human capital is also a noteworthy cog in Georgia's film machine. With Gov. Kemp increasing the number of laws and regulations to keep the film industry going, filmmakers are flocking in droves to take advantage of the filming locations and incentives. 
While many new filmmakers are building Georgia's filmmaking reputation, there is plenty of talent that has been in the state for years. Terry Wilson has worked in the Macon film industry ever since she noticed the lack of organization and opportunity within Macon since the late '90s. Wilson helps acting talent cultivate the headshots, resumes, and other materials needed to establish their brand and avoid scams.
"I'm hoping the Middle Georgia film scene is gonna get bigger and bigger," Wison said. "I've been giving free consultations out for years, and I always tell actors to think of it like a business. You're going into business with yourself, so you need to get your marketing material together and realize that it takes time."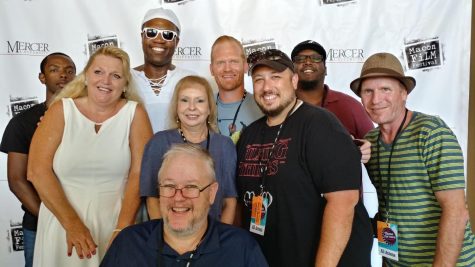 Wilson now heads Middle GA Talent Agency, a service created to fix organizational woes in finding production staff. In 2005, Wilson noticed a lack of networking opportunities with local talent. What started as a Yahoo online community expanded to a Facebook group with over 2,000 members by 2009. The group has since grown into one of the premiere talent agencies for Middle Georgia actors.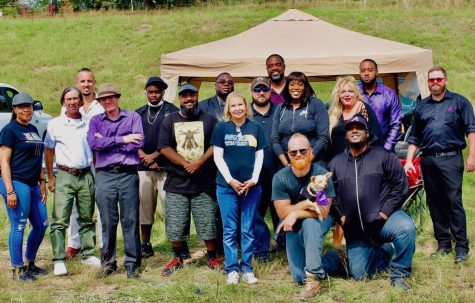 Wilson began this journey to creating Middle GA Talent Agency after her daughter became more involved in theater and acting at a young age. 
"My daughter was a very busy girl," Wilson said. "She did pageants, and she did fashion shows. When she first started out, the acting agencies and modeling ones wanted different types of headshots and pictures. We ended up having to go to Atlanta all the time for these auditions and to take pictures. It became a hassle."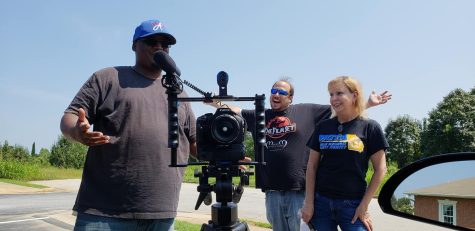 Wilson figured that if she was having these issues, there must be other actors and film talent that felt the same way. Wilson hopes she can continue to serve these rising talents, providing them with the resources they need to be successful. 
"A lot of the time indie films and actors struggle with getting money and equipment," Wilson said. "The actors and crew get paid in experience, and when you're just starting, you need that experience. So we help them get the resources that they need and the equipment so they can get their experience, and they can hopefully start making money soon."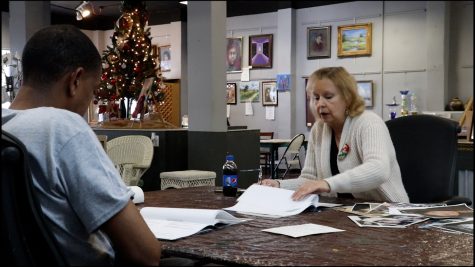 Another group that has helped the Macon film industry grow is the people that enjoy these films. Some fans, like Jay Black, have enjoyed film their entire lives. Black is the Chair of the Journalism and Media Studies Department at Mercer University and has been a professor at the school since 2004.
Black's interest in media began at a young age, with his grandfather taking him to his radio shows at WFLA. He also ran paper routes, delivering newspapers door-to-door. But to him, nothing beat that enjoyment of theaters.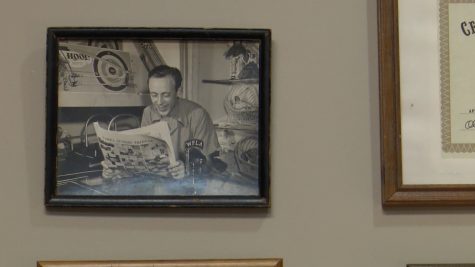 "I would spend all my time at movie theaters growing up," Black said. "I would pay for one movie theater, look at the times and keep sneaking into movies all day if I could."  
Its frequent viewers like Black, talent managers like Wilson and marketers like Buzza that help drive economic support for the film industry in Macon. The more filmmakers and audiences engage with the city, the better the city will be in the long run.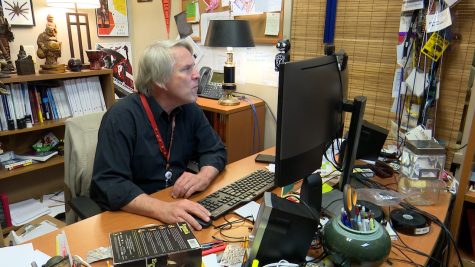 Effects of the pandemic 
Macon and its film industry experienced several years of growth thanks to Georiga's filming incentives, the advertising efforts of Visit Macon and an increase to the general talent in the area. However, the COVID-19 pandemic halted progress.
"It made everybody do things a little bit differently," Buzza said. "The scout wasn't able to jump in the car with me and look for filming spots. The scout would have to drive in a separate car and then get tested to ensure they weren't positive. It made my job of taking and sending photos to production designers more difficult." 
The tedium and slowed pace caused by the pandemic impacted multiple parts of the film production process, including Wilson's indie film production side. 
"I know a lot of major films were shut down or slowed up," Wilson said. "Whenever we had filmmakers from Atlanta drive down, they would have to get tested all the time, come back and get tested again. I think many people in the indie scene didn't want to work like that." 
Despite the pandemic taking the filming world by storm, Georgia was committed to ensuring films could safely film, according to Brian Kemp. To that end, the COVID-19: Georgia Best Practices for Film and Television was created by the Georgia Film Office, a division of the GDEcD, to provide detailed guidelines for safely shooting during the pandemic. 
Some of the guidelines detailed include mandatory frequent handwashing, use of Personal Protective Equipment (PPE) and not sharing personal items.
It appears these guidelines helped restart the film industry in Georgia. According to FilmHedge's 2022 report based on information compiled from the GDEcD, Georgia experienced a roughly 31 percent decrease in the number of film and television productions filmed in the city from the fiscal year 2019 to 2020. 
2021, however, was an improvement, with 56.41 percent growth over 2020. Based on predictions from GDEcD, it appears that the number of productions is returning to normalcy, with 2022 hosting 412 productions.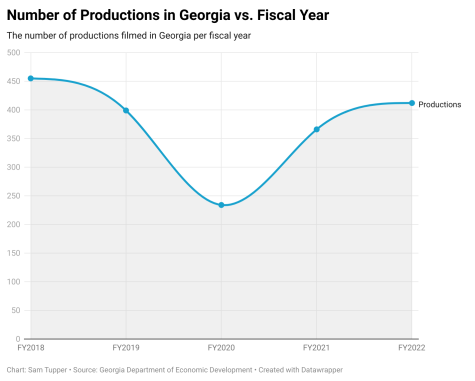 The film industry recovering has benefitted the production side of Macon's economy, though another sector has taken a hit. Movie theaters have not fully recovered from the economic lull created by the pandemic. Variety reports that though most frequent theater visitors have returned to their hobby, roughly 49% of pre-pandemic moviegoers are no longer going to the movies. 
Business Insider reported that 17.4% of all available seats were sold from Memorial Day through the end of July in the U.S. Theaters faced plenty of adversity due to closures, but they must now contend with a saturation of 40,700 screens in the U.S. with an audience preoccupied with the seemingly superior streaming services. 
The rise of streaming
With movie theaters unable to fill seats, streaming service viewership has been on the rise. Variety also reported that more film production companies have begun showing movies for 12 to 45 days before jumping to streaming. Some film companies, like Warner Bros. Discovery, have elected to premiere the movies on streaming only.
Despite his immense love for theaters, Black voiced his approval of the services. He added that streaming services haven't been beneficial to just film consumers but also to television enjoyers and fans of lower-budget films. For example, films like "Low Heat" have launched on smaller services like Tubi or "This Day Sucks" launching on YouTube. 
"Streaming currently is ushered in a golden age of TV," Black said. "We are seeing some of the best TV shows of all time. We're also getting to see great art films. These films tend to be more personal. These are the movies where sometimes its better to sit back in front of a smaller screen and really think about what you're watching." 
Black mentions that there are plenty more benefits to streaming services, but they are not a perfect solution to solve pandemic troubles. 
"The problem with putting a movie directly on streaming is that it's popular for a week or two, then fades away. During the pandemic, a lot of companies were sending movies straight to streaming, but they realized they were throwing away a ton of money."
Companies like Netflix, which recently experienced an increase in subscribers after two dismal quarters of bleeding subscribers, have experimented with theatrical releases to keep the public talking about their films more often. Their newest film, "Glass Onion," released briefly on the platform, released for a week in 700 theaters worldwide and will return to Netflix Dec. 23.
"Having them go to a movie theater has the movies put in word of mouth longer," Black said. "You're actually saving money and making more by putting them into theaters." 
Netflix, the direct-to-consumer giant, has helped spark interest in movie theaters. According to box office projections, "Glass Onion" earned roughly $13 million in its one-week run, which analysts say would have been higher had the film remained at the box office. It's films like "Glass Onion" that are exciting audiences and filling the lack of films in theaters. 
"Right now, we're in such a lump of nothingness with movie theaters," Black said. "With all these movies going straight to streaming, they're having to bring back old films to put something in theaters." 
While the lack of films playing in the theaters is detrimental to that part of the film industry, there are ways in which theaters can be revitalized to serve their community. 
"People are not used to going to movie theaters now," Black said. "With the pandemic and streaming, it took people away from those theaters. Because so many theaters closed down permanently, people aren't thrilled about driving 20 minutes to their nearest theater. I hope that I can find a way to serve the people of Macon and get a theater closer for people to enjoy."  
Looking to the future
As Macon's popularity as a film hub continues to grow, the industry's professionals feel hopeful that it is a beneficial endeavor. 
More high-profile movies have come to Macon. The movie "Possum Trot" was filmed in Macon this fall, touting a budget of $8.5 million and putting out a big casting call for Middle Georgia talent. Movies with big names and budgets attached increase economic gain by getting more people to explore Macon. 
"There's a lot of unseen benefits to this community," Buzza said. "If we've got Ron Howard directing a film here with a crew of 150, that's 150 people now in Macon. They go to restaurants, stay in hotels, shop and check out tourist spots, really get to explore what Macon offers. Those 150 filmmakers might come back, and so they come to spend more time." 
One of the biggest problems that studios in the past have cited criticizing Georgia was a general lack of movie studios. Fortunately for Georgia, this problem is being rectified. In 2019, Tyler Perry finished his studio, aptly named Tyler Perry Studios, which is located on 330 acres of historic property on the decommissioned Fort McPherson Army Base. 
Additionally, Trilith Studios, host to many Marvel films, was built in 2014 in Fayette County complete with 24 soundstages on 1,000 acres. A 235-acre, 1,400-residence called Trilith, formerly known as Pinewood Forest, opened in 2019 to house actors and film crew between days. 
Athens-Clarke County also announced it is now constructing 350,000-square-foot Athena Studios. The studio will be one of the largest in Georgia and will be used by the students at UGA's film school and other east Georgia productions. 
With giants like Netlfix and Disney more willing to do business in Georgia and with more studios being built every year, Buzza believes that the Macon film industry will soon see a bright future. 
"I think the film industry growing brings in a lot of good impressions," Buzza said. "I've had a lot of people and film crew say they'd love to buy a house here after visiting so they don't have to drive down from Atlanta to work every day. This is a place that people want to be, so I think we're gonna see more and more of that enthusiasm for Macon."