The history and community of Macon basketball
Sharone Wright and his teammates walked into the Macon Coliseum, decked out head to toe in matching Nike gear. Some were stopped to sign autographs, but one thing was certain: everyone's eyes in the entire Coliseum were on the Southwest Patriots. 
"We will be decked out and everybody wanted to be like us, you know, it was like we were rock stars," Wright recalled of his time at Southwest in the late '80s and early '90s. "Like we were the Beatles."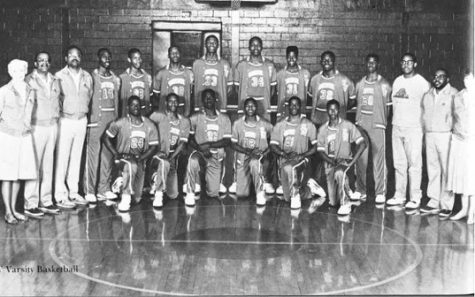 The Southwest Patriots were the Beatles in their own right. They were one of the first high schools in the country to have a Nike contract. For 20 or so years, Southwest basketball ruled over Georgia, a legacy spearheaded by Don "Duck" Richardson, the head coach who Wright described as a "strict disciplinarian." Richardson led Southwest to six state championships and one national championship, overseeing a nationally-ranked program filled with top prospects who would go on to play at numerous D1 programs and on NBA teams. 
"Duck Richardson did not play. So we couldn't be talking to girls or be around family, none of that. You had to come and sit and focus on the game. And when we got up, everybody knew we were getting up," Wright said about Richardson's standards for the team. "Our warm up was like a military, like, clap at the same time."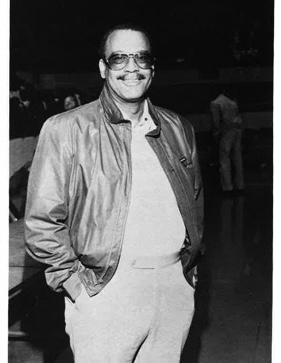 Wright said their warmup was like a show in itself. After warmups, they'd then put on another show–the actual game. 
And everyone in that sold out Macon Coliseum came to see it. 
Wright himself has quite the resume: a 1989 Georgia high school state championship, three Georgia Final Fours, being named a McDonald's All-American and signing to Clemson University where his accolades continued to grow — he was named a two-time All-ACC player and drafted sixth overall in the 1994 NBA draft.
Growing up in Macon, Wright watched Southwest basketball's legendary teams. It wasn't NBA players who Wright looked up to, it was the high school athletes who Wright said introduced him to Southwest basketball.
"I grew up idolizing Norman Nixon," Wright said about the Southwest alum who went on to become a two time NBA All-Star and played on the Lakers and Clippers. "It wasn't Michael Jordan. It wasn't Magic Johnson," Wright said. "That was not my hero. My hero was Myles Patrick. You know, my hero was Terry Fair."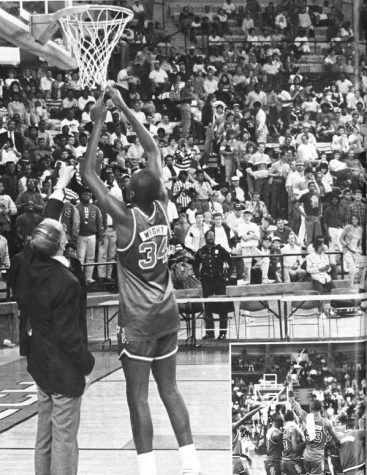 Norman Nixon, Myles Patrick and Terry Fair all played at Southwest under Richardson and went off to play D1 college and professional basketball. 
Wright said he had the same experience seeing kids look up to him and his Southwest teammates just like when he was in their shoes. 
"It was every boy's dream though," Wright said. "Everybody wanted to be Myles Patrick or Norm Nixon or Jeff Malone or Terry Fair or Eric Manuel. We all wanted to do that. And so, you emulated them on the playground–it was like watching our own NBA team." 
For each Southwest team that came after the last, Wright said Coach Richardson taught that they came from excellence, like from the 1978-79 National Championship team–a team that is referred to as one of the best teams in Georgia basketball history to this day.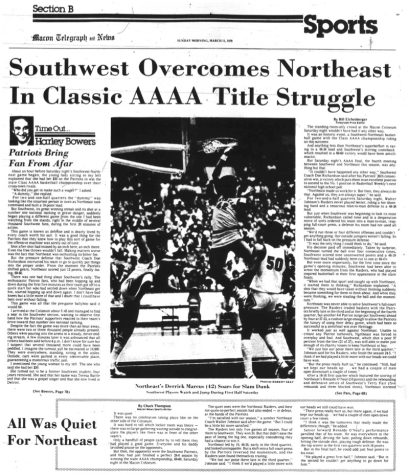 It was a part of that legacy that each Southwest team would build upon. 
"I come from Norm Nixon, Jeff Malone," Wright said. "So we were taught that we were supposed to be great, you know?"
City Rivalries
Back in those days, the Macon basketball scene was unlike any other. High school gyms couldn't hold the large amount of fans, so the 9,000-capacity Macon Coliseum would be rented out for regular season games. 
Those historic Southwest teams would have the entire venue sold out for every single game. 
On top of that, the city rivalries were arguably at a peak.
"They were really wild," Wright recalled of the atmosphere of the games.
At that time, Macon had four public high schools: Southwest, Central, Northeast, and Southeast. Southeast has since closed and is now Rutland High School. 
"When you play Central or Northeast, you know, you're playing against a generation of people as well," Wright said, who's father actually played at Northeast. "Rivalries to go way back."
And even though Southwest played a national schedule at the time, such as attending the Windy City Classic in Chicago or playing other nationally-ranked schools like DeMatha, a private Catholic school in Maryland known for their basketball tradition, it was the local Macon games that Wright said were the most challenging. 
"It was a survival of the fittest and our toughest games came in the city of Macon," Wright said. "Northeast and Central, those are our toughest games."
Macon Basketball Now
Yet, as time has passed and new schools opened in Macon, the basketball scene in Macon has shifted, no longer needing the Macon Coliseum for games other than the high school state tournament. 
Robert Mays, an assistant boys basketball coach at Northeast, said when there were fewer high schools, both the schools and fan bases were larger. 
"When two city schools played, like the big three, Northeast, Southwest, and Central, the three original, when we played each other," he said. "You had to play in the Coliseum because the crowds were too large to play in the gym."
Ron Miley, a content creator who made his social platform, @BallSoHardFam, to help provide Macon and Middle Georgia student-athletes more exposure,  grew up in Macon and around the basketball community. 
"That was back in the days, especially when Northeast and Southwest would play," Miley said.
Monquencio Hardnett played at Central before going off to have a successful basketball career that included two-time junior college All-American honors at Middle Georgia Junior College before transferring to the University of Connecticut and playing professional basketball. He said basketball was popular during those years in Macon with four high schools all being in the same region. 
"So it was kind of a battle every time you played anybody," Hardnettt said. "And at every school, you had college prospects all over the place. "And I think that's what made it so competitive."
Hardnett even remembers the first high school basketball game he attended when he was young: a classic Southwest vs Central rivalry game at Central High School. Sharone Wright was playing. 
"I can remember the gym was so crazy," Hardnett said about that first game he watched. "You could just feel it–that first game that I went to, just feel that basketball was serious; it was the thing in Macon. We had some great teams at that time."
Hardnett is a name that runs deep in the Macon basketball community, as his uncles actually played at Southwest and were both on Richardson's teams. Carl Hardnett was part of the 1978-79 national championship team, and another uncle, Gerald Hardnett was part of two Georgia state championships. 
Hardnett, who took over Southwest last year, now coaches his son, Quentin. He coaches in a gym with state championship and Final Four banners hang from the rafters, and where the names of the historic 1978-79 National Championship team are presented on a large plaque.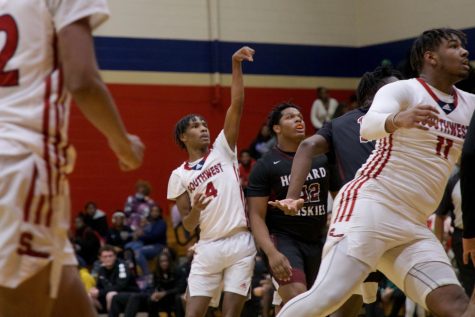 However, when Hardnett took over the job at Southwest last year, the program was coming off of several down years. In the two prior years, Southwest only had a four-win and three-win season. During the 2021-22 season, Southwest won 13 games – their most wins in a season since 2016-17, where they had 14 wins. 
"Yeah, it was definitely kind of the history. And Southwest has been down for so many years. I looked at it as a challenge. And they came after me as if I was the guy that maybe could possibly turn it around," Hardnett said about taking over the head coaching job at Southwest back in the 2021-22 season. "And these kids mean so much to me. So I want to make sure I'm able to use my resources to give them what they need."
Building Macon basketball back up
Hardnett, along with others, are trying to build Macon basketball back up. 
Latavia Coleman, the head girls coach and athletic director at Howard High School, has been the head coach since the school opened in 2008. She played at Southwest High School before going off to a successful collegiate career at Florida State and was drafted into the 2000 WNBA draft.
"We're trying to bring high school athletics back," Coleman said, also recalling when game days were in the Macon Coliseum because of the large amount of fans. 
Andre Taylor, the boys head coach of 21 years and the athletic director of six years at Central High School, moved to Macon in 1998-99 when basketball was still big, though the days of renting out the Coliseum had passed. 
"It was just amazing what I witnessed–how big basketball was in this town, and it was just like, crowds every night. It was just rivals all around, [there] was not a night that your gym wasn't packed," Taylor recalled during those early years when he had first gotten to Macon. 
During his time at Central, Taylor has experienced competitive, 20-win seasons with postseason playoff experience. But, for the past few years, Taylor says that none of his athletes have experienced those types of successes.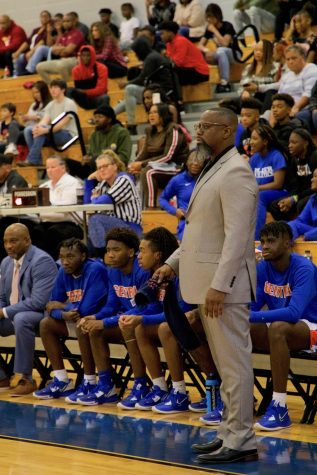 "It's almost like we are rebuilding, because none of my kids that I have now have ever experienced that winning that we were doing before Covid. None of them had made the state playoff," Taylor said. Central's last season with 20-plus wins was in the 2019-20 season. 
Taylor wants his team to see that success again, and so do his former players. Some Central basketball alumni come back to show their support, like one former player who now coaches alongside Taylor. 
Macon basketball community support
Like the Central players who have come back to support their alma mater, or like Coleman and Hardnett who have returned to Macon to lift up the next generation, there's one thing that hasn't seemed to have shifted over the years: the support from within the Macon basketball community. 
Though Hardnett coaches at Southwest, he's also a trainer and works with kids from all different high schools. 
"Being able to coach against the guys that I've trained is so exciting," Hardnett said. 
When he's not coaching at Southwest, he tries to go to as many games as possible to watch the athletes he trains. 
The current student-athletes around Macon show each other that same support, too. When one school isn't playing, they'll go to another school that is. 
Growing up in Macon, many of those-student athletes talk about that basketball culture and community they grew up in.
Travion Solomon, a 2022 graduate of Northeast and a two-time region player of the year, started playing basketball as young as 3 at Rosa Jackson Rec Center in East Macon. Growing up, he watched a lot of those cross-city rivalry games. Then, during high school, he was one of the athletes who trained with Hardnett. 
Northeast themselves have a storied tradition of basketball in both the boys and girls programs, where last year both teams made it to the Final Four in the state tournament. 
"Basketball at Northeast is tremendous," boys assistant coach Robert Mays said. "The girls and the boys both have good tradition and it's amazing."
Selton Farrar, a senior guard at Southwest, doesn't even remember when he learned how to play basketball because he's just always been around it. He said weekends were days that many people went out to play, whether at a rec center, outdoor court, or backyard. 
"Grown men, little children, teenagers, elders. Gettin up and down, just hoopin," Farrar said. 
Current city rivalries
Today's era of Macon basketball players still grew up watching the cross-city rivalry games and the next generation of talent —  the latest big five-star recruit being Kowacie Reeves, Jr., who graduated from Westside in 2021 and now plays at the University of Florida. 
The atmosphere of home games  is something that continues to stand out during many city games during the year.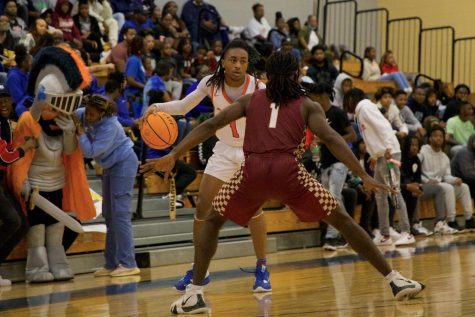 "They just be packed out. Like you really look forward to games like that," Solomon said about his experience playing at Northeast. 
The traditional "big three" of Southwest, Central, and Northeast may have faded with the rise of other powerhouses like Westside, but the city game rivalries, though not what they used to be, still provide a lot of pressure to the players and coaches alike. 
"It takes so much out of you coaching them but you know you just love to be at them for the atmosphere," Taylor said.
"I feel like it's a lot of pressure in the city games because like, I feel like you have to play well because like you know, a lot of people get to talking on social media and stuff like that," Solomon said. "Fans like be going like crazy."
Quentin Hardnett, a senior guard at Southwest, said there is community support in today's games. 
"Energy, tough crowd though but good energy," he said about Southwest's fans.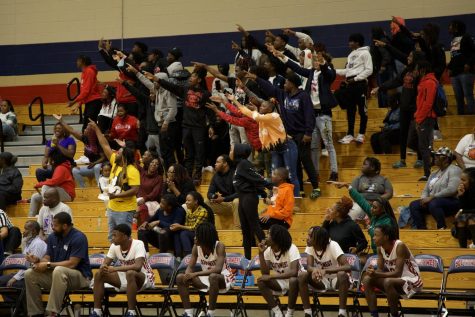 However, game attendance is not solely two high school fanbases. When two teams play, the players from other schools will also go watch. 
"If one school's not playing or that school might be out of town, these other schools go to that school to watch support," Taylor said. "Overall, it's just big for the community with basketball."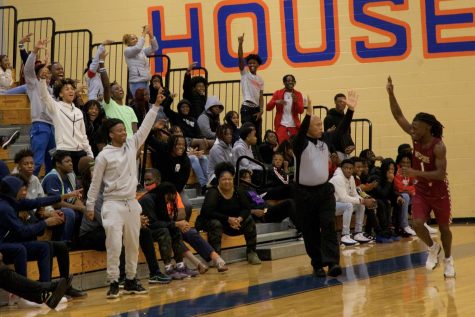 Even though teams may be rivals on the court, it doesn't slow them from showing each other their support off of it. 
"We want all of schools to be successful because it's one Bibb," May, an assistant coach at Northeast said. "I think the Macon community loves basketball and the history of Bibb basketball. You want to live up to that when you put on the jersey of one of the Macon schools.
The unfading history in the present
And, if it's one thing about  Macon basketball, it's that it's something that's linked to an identity that doesn't seem to fade. 
For Wright and other Southwest basketball alumni during the years of Don "Duck" Richardson, they are a part of a fraternity called DuckBoys, which is named in honor of the legendary coach they all played for.
Though it's been years since they've last laced up their shoes for a city rivalry game, they are invested in bringing the prestige of Macon basketball back. It is those Macon basketball roots that continue to bring them all together, though many live across the country.
"We take it very seriously, too. There's nothing in the world like us," Wright said. "Because we all get together. We all spend money on the younger kids. We all give back. We all are intertwined with each other in the name of our coach and our program. We take it very seriously."
Wright wants today's student-athletes to be well-rounded and to succeed, noting the example of Kowacie Reeves, Jr., a former five-star Westside graduate in 2021 who now plays at the University of Florida. Wright recognizes the need to support these up and coming athletes from Macon.
"I want to see more of our kids going and realizing their dreams on the court," Wright said. "We gotta make it where their dreams come true, just like mine."
Not only that, Wright also hopes that the next generation realizes where they come from. 
"Mostly, [when] you know a little bit about what you're fighting for, what you stand for, you tend to fight a little bit harder," Hardnett said about the history of basketball in Macon.
Today's era of Macon basketball may not be selling out the Macon Coliseum like it once did, may not play a national schedule, or have players stop to sign autographs before warm-ups. But, the legacy of that tradition lives on with former players coming back to coach or support the next generation of Macon talent. Cross-city rivalries still pack out high school gyms. High school basketball is still a show across the city–maybe not what it once was, but it's alive and on the rise once more. 
View Comments (2)