Come and Stay Awhile: A Boutique Hotel Deep Dive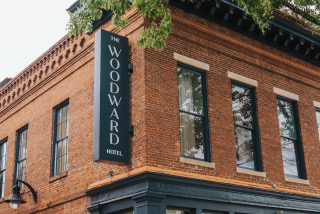 "When was the last time I took a break?" The question lingers in your head for a while until you realize it's been far too long since you've taken time for yourself. "It's time to put that PTO to use for vacation and besides, I'm past due for one anyway," you think. 
As you peruse the Internet upon your recent revelation, you realize there are so many options for where to go and where to stay. As you're sifting through the various search results, see a quaint little spot that catches your eye. 
It's in the heart of a bustling city and it has only seven rooms that overlook the skyline and you're instantly sold. When you click the booking site, a message comes up with a term you've never heard of before. "Huh, what even is a boutique hotel, anyway?"
Its Meteoric Phenomenon
General Overview
The dawn of the boutique hotel began as an exciting way to rethink travel in the 1980s, thus taking the United States by storm. According to Oxford Languages, a boutique hotel is "a small stylish hotel, typically one situated in a fashionable urban location." At the same time, many hospitality experts believe that the exact terminology for the phrase has and will continue to evolve. Although some boutique hotels differ in style and offerings, some general characteristics of these establishments include their small size, intentionally intimate guest experience, striking architectural layout and unique personality and theme that draws from the city around them. 
One large qualifier that differentiates boutique hotels from major hotel chains is its emphasis on separation from a large corporate machine. Many boutique hotels are independently owned and operated, while others are attached to a company of small hotels like Graduate Hotels (collegiate-themed lodging) and 21c (art gallery-based lodging). Others defy general boutique hotel standards by being attached to a larger brand. One example of this is the Tribute Portfolio collection, a series of indie boutique hotels owned by Marriott Bonvoy, a subset of Marriott International.

Stats & Facts
Boutique hotels have proven immensely profitable and valuable within the last few years, even before the COVID-19 pandemic. According to IBIS World, its market share was around $21 billion in 2019 and although there was a significant drop in market size in 2020, it has exceeded its recovery rates at $23 billion in 2022. The pandemic had a uniquely devastating impact on the hospitality industry overall with many of their core consumers not traveling and staying at home to prevent the contraction and spreading of the disease. Despite the hospitality industry's fierce efforts to get back to stabilized numbers, the boutique hotel's market size in the United States has increased faster than the economy overall in the past five years.
The profitability of boutique hotels has proven to be extremely notable. The chart above notes the market size of boutique hotels in the United States has risen higher than its pre-pandemic peak in 2019. Compared to other U.S. industries over the past five years, it has increased faster than the economy overall. Chart created by Jacqueline Lamothe, data provided by IBIS World.
With the rise of more personalized and elevated experiences in a post-pandemic society, boutique hotels are the right answer to the desire for elevated experiences for the seasoned epicurean palette. The juxtaposition between exclusivity and immersive communal experiences allows for a unique alternative to traditional lodging.
Case Study - Macon, GA
The Phoenix, a fanatical bird of Greek mythology, is a powerful symbol of rebirth and rising from the ashes. Although it can commonly be traced to Atlanta, Georgia after the Civil War, the capital city, there is another city in Georgia that is making a similar resurgence -  Macon.
Once named one of the most dangerous cities to live, local non-profits like Newtown Macon are changing that narrative.
NewTown -- founded in 1996 -- now headed by Josh Rogers, wanted to focus on economic development through various tourist conversion strategies, including the boutique hotel niche.
"One of our biggest challenges is that Macon's reputation lags the reality, but the reality on the ground now is really amazing," Rogers said. "I also think developing hotel space is the fastest, easiest way to move that reputation when you have new people who come in and see our town in a different way. The most important thing about developing tourism products for us has been the ability to just share our success with a new audience of people."
Luxury Lodging - The Woodward Hotel
There are multiple options for boutique lodging in Macon such as Hotel Forty-Five, the 1842 Inn and Burke Mansion. On the corner of Second and Mulberry Street in the heart of Macon lies an establishment that tells a story of Southern charm, unique twang and modern grandeur. 
The Woodward Hotel, has already welcomed dozens of visitors since its opening in September 2022 of people who either lodge at the hotel or swing by for drinks at the public craft cocktail bar. 
The hotel is independently and locally owned and operated, providing the quintessential boutique hotel experience. Its namesake and personality were also inspired by proprietor Wes Griffith's grandfather Dr. Benjamin Woodward Griffith Jr., who was an English professor at Mercer University and a local writer.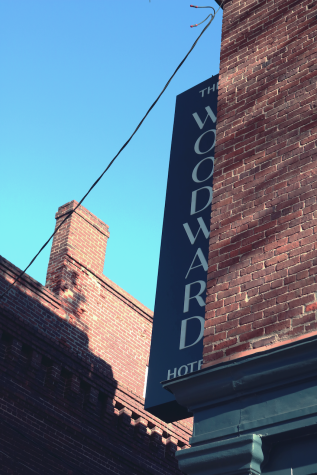 Ashley Shaw, general manager of the establishment, describes the boutique hotel as a haven for many different types of travelers desiring a luxe 'home away from home' atmosphere with a botanical, earthy ambiance. 
The hotel has also exchanged the established tradition of on-site check-in for guests with completely online bookings.
"We get lots of different patrons, including business travelers and retirees from Florida," Shaw said. "However, there is a learning curve for our guests navigating our online system without a lobby. This also limits the number of people you may be exposed to in the wake of the pandemic."
The hotel has nine rooms that offer different vantage points of the city. Each room is distinctly decorated with artwork by local interior designer Carrie Robinson, along with architectural high points including marble and brass finishings and antique high trade metal ceilings. 
The aforementioned architectural features along with its high-class amenities like Mautok linens, white noise machines and curtains with noise and light-blocking abilities provide patrons not just a room, but an immersive experience.
"We offer an individual space for each room tailored to guests' interests," Shaw said. "The smaller boutique environment invites individuals to entrust us with their family members while supporting Macon businesses."
The boutique hotel also provides a community link with its public craft cocktail bar, Quill. The interior resembles a speakeasy, while the exterior rooftop patio displays panoramic views of the city.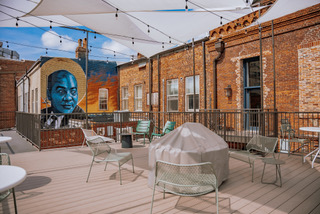 "There's really nothing like it in Downtown Macon," Shaw said. "The literary feel provides textures that are unique to the interior experience with leather, tweed and velvet seating. We wanted it to be warm and inviting."
Rogers notes the hotel's impact on Macon's effort of converting tourists to residents, even with Newtown's partial ownership of the boutique hotel. 
"The Woodward's more about propelling people out onto the sidewalk compared to other properties in Macon and it's a beautiful space to retreat and rest at the end of your night," Rogers said. "I hope Woodward's inviting people to live in the city and not live in their rooms."
Looking toward the future of the Woodward, Shaw is eager to embrace diverse clientele. From industry servers to country club owners, the establishment is working to create a space where people can come together from various walks of life without scrutiny. 
"It is amazing to see how much reception we've received from the queer community," Shaw said. "Including everyone is a top priority, whether a patron wants a craft cocktail or a beer and a shot."
Rogers pictures an even fuller Macon with 500 to 1000 hotel rooms filled. Currently, around 120 rooms are represented in this ambitious goal. Nevertheless, Rogers is assured by the profitability and authenticity of the boutique hotel market in the city. 
"We have a long way to go to reach that goal, but one of the key strategies that worked is the focus on Maconites as entrepreneurs and business owners," Rogers said. "Within that are minorities who are participating in proportion to the community. My hope for the future is that we continue to deliver deeply connected local experiences that may not fit the hotel playbook, but get people involved with Macon in a genuine way."