Options for alternate education for K-12 students
Not every student functions best in a normal classroom. Some work best from their own home and some just need to operate on their own schedule in a classroom. 
SOAR Academy
SOAR Academy is a Bibb County personalized learning academy and opportunity achievement center. The Academy is for students off track both behaviorally and academically.
"Here, parents have a voice, students have a voice, teachers have a voice," Director of Personalized Learning and Alternative Education Julia Daniely said. "And we come together collectively, around the educational opportunity for the children to design their own plan of learning."
SOAR offers students options for their education, and they are able to choose what subjects they work on which days. Fridays are their days to catch up with any work that they have decided to wait on or need more help completing. 
"We develop our strategies and actions and our schooling opportunities based on the person in personalized learning," Daniely said.
Daniely believes that alternative schooling should be an option for all kids, not just the ones who are perceived as "bad."
"Usually, when you hear alternative, they connect that with bad, okay, bad children, bad school bad. Alternative schooling is so much more," Daniely said. "Alternative schooling is for our children."
She said that she believes in rooting for the "underdog" and hearing their voices shine through.
"I like to see how my scholars take ownership of their education, their behavior and make the decision to have their outcomes," Daniely said. "Their voice, I just get joy when they tell me okay, I want to take this class, I want to do this. I want to go to college, but I want to go to this college, or I think my strength is this."
VIP Academy
Daniely is also in charge of the VIP Academy, which was a program offered under SOAR until last school year when it became its own program. VIP Academy is an online program that is offered to students from kindergarten to seniors in high school.
"It's actually been great because VIP Academy offers me to personalize my learning," VIP academy senior class president Samarion Perkins said. "So it makes it very easy. And I have flexible scheduling."
Daniely said that although the VIP Academy is virtual, they try to maintain a sense of community.
"They have a science club with we have a national beta club, our students do dual enrollment, they're going to colleges, we will have our valedictorian, and salutatorian," Daniely said.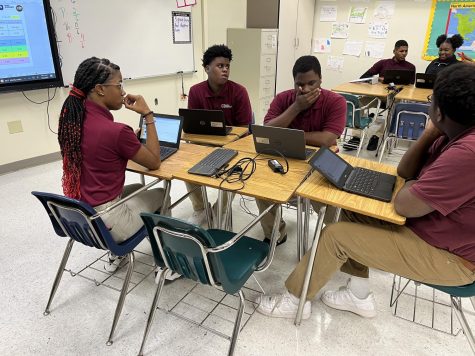 Perkins came up with the idea for a class president, Daniely said. Being able to allow students flexibility and control over their schooling is one of the main focuses of the VIP Academy, according to Daniely. 
"My favorite part is I love to travel and do things outside of you know, school," Perkins said. "So I can do my work on the road, I can do it in the office, I can do it anywhere, as long as I have my laptop and internet."
Perkins will take part in the first graduation ceremony at VIP Academy. He said that he is very proud to be a part of the first ceremony.
"It feels amazing because you know, feels like you made history," Perkins said. "So I can in 30 years or 20 years, you know, I can say I was the first class president. So you know, I kind of get bragging rights."
The flexibility of the VIP Academy allows students to take control of their learning and their environment. 
"My kids that come to soar Academy and VIP The Academy, they have strength of character, they're all college and career-ready," Daniely said.
Dr. Annise Mabry Foundation
The Dr. Annise Mabry Foundation serves homeless LGBTQ+ youth, sex trafficking survivors, youth aging out of foster care, and high school dropouts nationally. 
Annise Mabry, the founder of the foundation, started it in response to seeing the struggles both of her children experienced in the public school system. Her daughter was severely bullied. She attempted to take her own life, and she was sent to a mental health hospital.
While there, she worked on worksheets every day.
"I said, how do these worksheets correlate to the standards of what they're learning in public school?" Mabry said. "They said, 'Oh, they don't.'"
Her son is non-verbal autistic, and she thought that she had found a school that would properly take care of him. However, she said that her son was also lost by a public school and neither she nor the police was notified that he was lost.
After both of those experiences, she decided that it was important to take the foundation to other students, especially LGBTQ+ kids in rural Georgia, who grew up as she did.
"What if I became the mom to like all of these kids who don't have anybody else?" Mabry said. "What if I became the mom to you know, the LGBTQ youth and rural communities who were like I was because our schools are not protecting our LGBTQ youth?"
Mabry said that it is important that students know that the foundation is the "only trauma-informed program." A trauma-informed program takes into account the life experiences the student has had along with their transcripts. 
The foundation also allows students to bring in all of their previous credits, whereas most do not, Mabry said. They also use a different grading scale, where a 60 in a class is a passing grade.
"So a lot of times, you know, when students get to us, they come in with more credits than they initially thought they had," Mabry said. "Which means that they spend less time in our program, and they can really see a light at the end of the tunnel."
Allowing students to bring more credits in than they may have started with means less time before graduation, which is the light at the end of the tunnel. 
"You know, some people think that the light at the end of the tunnel is a train headlight coming to hit you on the track," Mabry said. "In our program, it really truly is a light at the end of the tunnel."
The foundation also helps provide de-escalation training to police departments. Mabry said that they use this to teach police departments about the histories of different populations to understand why some may be reluctant to come to the police for help. 
Mabry said that the police departments "can't deescalate what [they] don't understand."
To find more information on SOAR Academy and VIP Academy, visit the Bibb County Board of Education website here. For the Dr. Annise Mabry Foundation, visit their website here. All three programs are accepting applications and questions.
Correction: This story  has been updated to clarify the VIP Academy has been a school since the 21-22 school year, but this year will be the first for VIP to have its own spring commencement ceremony.