Rain is forecast, so will the Macon Pops concert still kick off the Christmas Light Extravaganza?
Up to 10,000 people are expected in downtown Friday evening to kickoff the Macon Christmas Light Extravaganza.
Those checking the weather forecast, which shows an 80 percent chance of rain Friday, decreasing to 40 percent that night, might have doubts about whether the free Macon Pops concert is still a go.
"It's rain or shine," Macon-Bibb County Mayor Lester Miller said Wednesday, of the concert which takes place near City Hall at the corner of First and Poplar streets.
The Macon Pops will begin performing right at 6 p.m. with about an hourlong concert to debut the holiday light show synchronized to the live music.
"Concert is happening," Macon Pops President Steve Moretti told The Macon Newsroom Wednesday afternoon. "As of now, forecast looks promising."
It's possible that the bulk of the rain will be over before the concert begins.
Although the Pops only perform Friday, each night through Jan. 1, Poplar and Third streets will be aglow with light shows changing every hour from 6 p.m. to 10 p.m.
Organizer Bryan Nichols, who spends weeks hanging the lights each year, said he's added a new block on Third Street from Poplar to Plum, which required new wiring.
"That is a pretty major undertaking because of the infrastructure that goes on the ground," Nichols told the Downtown Macon Community Association at their November meeting.
Nichols said there have been a lot of changes in downtown in the last half-dozen years since the light show began and he continues to expand the shows, which change every hour.
"We are adding five new songs this year, which brings us to 32 songs, I think," Nichols said. "We have made it that every show is a little bit different."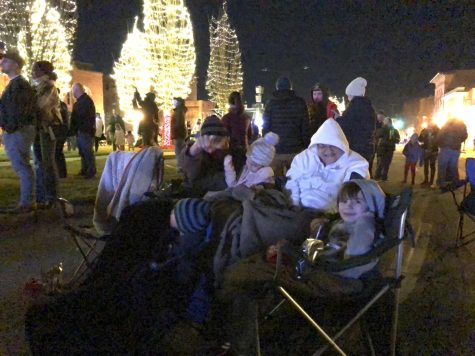 Visitors are encouraged to bring their own blankets and chairs for the concert as no seating is provided. An umbrella might also come in handy in case the showers linger. Organizers encourage everyone to arrive early to find parking and get into position for the start of the show.
Keep in mind some streets will be closed, which could affect your route. Poplar Street will be closed from D.T. Walton Sr. Way to Second Street, and First Street will be blocked off from Poplar to Cherry Street.
– Civic Journalism Senior Fellow Liz Fabian covers Macon-Bibb County government entities and can be reached at [email protected] or 478-301-2976.