Saturday voting for Macon-Bibb, but limited early polling sites
The Macon-Bibb County Board of Elections voted 3-2 to hold early voting Sat. Nov. 26 at the Pio Nono office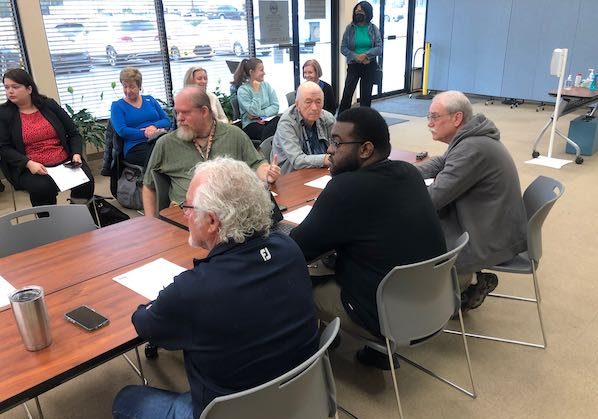 Polls will be open this Saturday from 9 a.m. to 5 p.m. at the Macon-Bibb County Board of Elections office at 2525 Pio Nono Ave. in advance of the Dec. 6 runoffs for U.S. Senate and Macon Water Authority District 2.
In a special called meeting Tuesday morning, the board announced early voting would be held at only two locations next week – the board of elections office and the Theron Ussery North Macon Park off Wimbish Road. The Elaine Lucas Center at Carolyn Crayton Park is already booked for next week.
Board Chair Mike Kaplan apologized for the county not being able to host all three early voting sites that were open for the November election.
"I'm sorry we only have two locations open for early voting, but it's the best we can do. Elaine Lucas (Senior Center) is not available," Kaplan said. "That's probably poor planning on our part for not getting it locked down prior to the election, but it is what it is."
Eight people gave their input before the board voted 3-2 for Saturday voting.
Tom Ellington, who ran for Macon Water Authority chairman earlier this year, told board members it was their job to maximize voting access for all people.
"Certainly, Saturday is for that. There are people who have difficulty getting to your offices during working hours during the week, and so there's already considerably less early voting, through no fault of their own, than during general elections," Ellington said.
Only one man spoke against it, Bibb County GOP Chair David Sumrall, who noted the volunteer poll watchers and elections staff who will have to work during the Thanksgiving holiday weekend.
"It's hard enough now to get volunteers to watch the polls without having an extra day and during the Thanksgiving holidays to get them away from their families," Sumrall said. "Secondly, the board of elections employees have been overworked over the past few weeks and this would require them to have to be there. In addition, it costs a lot of money to open up on Saturday."
The Republican representatives on the board, Joel Hazard and Herb Spangler, voted against Saturday voting.
"The guys and gals that are techs are overworked," Hazard said. "They've got a lot going on, and to ask them to come out of a Thanksgiving holiday and set up three days early, two days early, is asking a lot."
Lobbying for expanded voting
The League of Women Voters' President Mary Lou Ezell offered to gather volunteers and train them, if needed, but recognized the tight timeline.
"It is essential for our voters to have free and easy access to voting," Ezell said. "And it's astonishing we have five days of early voting and, of course, that time frame has already collapsed to just four weeks."
Changes in Georgia election laws reduced the allotted time to hold a federal runoff from nine weeks to four.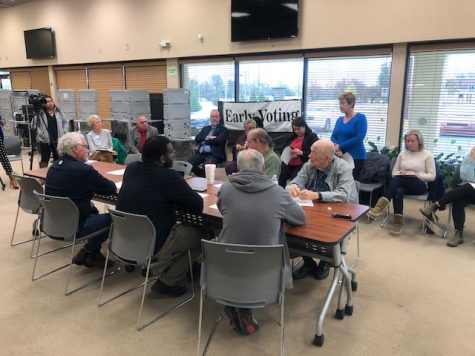 Marty Koplin of Middle Georgia Votes, not only lobbied for Saturday voting, but joined Macon resident Katie Powers in asking for a third early voting location.
"This is probably one of the most consequential elections we'll have in the next decade and I think that any opportunity that we can give the majority of Maconites, Bibb County residents, … to get to the polls most convenient to them, would be the best option," Koplin said.
Powers pointed out that nearly 27,000 people voted early in the November election, including at the Elaine Lucas Center, which is not available.
"There's a location that served over 5,300 people that will not be open and I think that is very concerning," Powers said.
The Georgia Peanut Gallery's Elaine Johnson said she has observed election employees' hard work.
"I know they put their all into everything that we're doing, but they are working for the people who are coming to vote, and our votes are important,' Johnson said. "I believe that they are dedicated enough that even though it's taxing, and everything that's happened is not the fault of anybody here, it's just the way things have fallen."
Kaplan, who also expressed the need for Saturday voting, said workers are up to the challenge.
"We are understaffed and we're overworked, but let me tell you something, we'll get it done," Kaplan said.
"We always have," said Darius Maynard, a Democratic representative on the board who brought up Saturday voting for a vote.
At the regularly scheduled meeting last week, the board was awaiting the outcome of a lawsuit over Saturday voting. A judge ruled Friday that counties could offer Saturday voting, although a 2016 law prohibits Saturday voting within two days of a holiday.
Monday, the state appealed the judge's decision, but the Court of Appeals refused to stay the ruling. Tuesday, Republican groups appealed to the Georgia Supreme Court, which gave Democrats until 9 a.m. Wednesday to respond.
Late Wednesday morning, the Supreme Court denied the emergency petition which means Saturday voting can proceed.
Without last week's ruling, the proximity to Thanksgiving and a state holiday Friday would have prevented counties from voting this Saturday under the 2016 law.
Kaplan said he understood why the law was enacted.
"We didn't want that equipment sitting in that location for several days unattended, and that was the reason, I think, the law was written in 2016," he said.
– Civic Journalism Senior Fellow Liz Fabian covers Macon-Bibb County government entities and can be reached at [email protected] or 478-301-2976.