Increased law enforcement presence follows downtown shooting
Sheriff's deputies and code enforcement officers crack down on illegal food vendors in visit to late night businesses
A week after downtown Macon theater patrons and others ran for their lives as shots rang out in the early morning hours, law enforcement officers visited downtown establishments and met with illegal food vendors.
"The sheriff and code enforcement went out Friday and Saturday night last week and did several rounds of inspection of bars to make sure they were compliant as well as shutting down illegal food vendors that were out, and really making sure people were complying with the laws on the books," Urban Development Authority Executive Director Alex Morrison told the board this week.
Although bars are required by law to stop serving alcohol at 2 a.m., people have complained about patrons still drinking on the streets after the deadline and gathering around unauthorized food vendors operating without necessary permits.
The recent detail is part of a broader effort to increase law enforcement presence in the central business district.
In emailed responses to an inquiry from The Macon Newsroom, Bibb County Sheriff's Office Major Chris Patterson said more deputies have been assigned to downtown.
"Manpower has been allocated from other divisions to also add to the number of deputies working, especially Friday and Saturday nights, and will do so into January of 2023," Patterson said.
Recent violence prompted Theatre Macon to alter its late night performance schedule.
Four people were wounded at about 2:30 a.m. on Oct. 15 when an argument between several men became a gun battle near the corner of MLK Jr. Blvd. and Cherry Street.
Retired Theatre Macon artistic director Jim Crisp said the violence erupted as the audience and cast members were leaving a midnight showing of the "Rocky Horror Picture Show."
"They were literally running in the other direction," Crisp told the Urban Development Authority this week. "This is really bad news for everybody downtown."
The violence prompted the theater to move the remaining Oct. 21 midnight performance to 8 p.m. for safety reasons.
"It's a shame we couldn't do something like that. We should have the option," Crisp said.
Last weekend's visitors and downtown workers saw law enforcement officers from late night to early morning hours.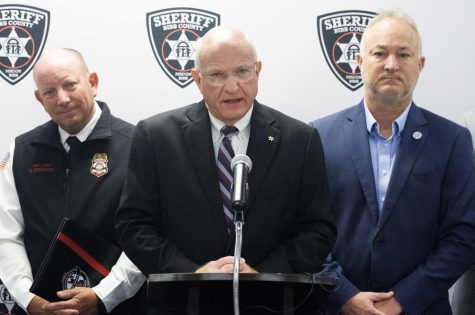 Mayor Lester Miller, Sheriff David Davis and Chief Shane Edwards of the fire department recently renewed a pre-consolidation partnership that allows firefighters to moonlight with the sheriff's office to increase manpower.
Patterson said that made a difference in the downtown detail.
"The fire department was instrumental in helping us, especially Friday night, and had a presence with us all night," Patterson said. "Chief Edwards provided manpower to assist us with this detail."
Macon-Bibb County changed the alcohol code last summer to require surveillance cameras and mandate that private security officers carrying weapons obtain a private security license as a prerequisite for having a liquor license.
Not only did officers check all of the cameras last week, but they educated food vendors that have been illegally setting up on the streets.
Members of the Downtown Business Improvement District discussed how those illegal food operations have been leaving trash downtown and improperly dumping grease in some instances.
Richard Bingaman is the operations manager at Block by Block, a company of ambassadors that keep streets clean, that is paid through extra tax collections from downtown business owners in the BID program coordinated by NewTown Macon. It's their job to pick up the mess left behind when people congregate on the streets even after the bars must stop selling alcohol at 2 a.m.
"I've been fighting this battle with code enforcement and law enforcement for two years," Bingaman told the BID board.
Recently, someone dumped a pile of trash in the alley next to the Visitor's Center, he said.
Board members discussed the problem of business owners grilling on the sidewalk and food vendors setting up without a permit.
"The problem is, the health department doesn't have representation at night," said NewTown President Josh Rogers.
Bingaman welcomed the extra law enforcement presence.
"Now the sheriff is involved and really cracking the hammer on it," Bingaman said.
Patterson said no citations were issued during the weekend detail, but officers did give offenders a warning.
"It was an operation to educate and enforce the codes regarding food trucks/food trailers, which includes any cooking and selling of food on public rights of way in the downtown area," Patterson said. "The people were appreciative of the issue being appropriately addressed with them, and all were given a copy of the code regarding food trucks/food trailers."
Bars also were given a copy of the law governing security camera compliance. All businesses were in compliance, Patterson said.
"We want everyone to be aware of the ordinances, provide a safe and friendly atmosphere for the downtown area," Patterson said.
– Civic Journalism Senior Fellow Liz Fabian covers Macon-Bibb County government entities and can be reached at [email protected] or 478-301-2976.