Every Bibb County School will soon have a sensory room. What are they for?
There's a spot inside Central High school where students can stargaze in the morning or afternoon.
It's a room where tiny LED lights pierce a black sky of ceiling tiles. A projection of earth rotates slowly on the wall. Mirrors in a corner double the visual delight of bubbles rising ceaselessly to the top of a transparent tube.
A bundle of colorful fiber optic lights emanating from the wall hangs over senior Gabe Deegan's shoulder. He grins, taps a tablet and changes the colors from red to blue.
The room, unlike any other in the building, is called a sensory room. It was designed for self-regulation and is intended to offer a space for respite from overstimulation.
Central High School is one of 11 Bibb Schools where sensory rooms were used this school year after the Bibb County Board of Education voted to approve them in May. At its monthly meeting in October, the board voted to expand sensory rooms to each of the district's 34 schools to allow for a safe space where students may recalibrate, recollect and self-regulate.
The sensory rooms are particularly helpful to students like Deegan who is among about 2,300 students in the district's Program for Exceptional Children.
"Different people regulate their sensory inputs differently," said Madelynn Washington, assistant teacher and paraprofessional at Central. "These kids require a little bit different input to get regulated to go back into class and be ready to learn. … It helps them to refocus away from just the general classroom setting … It's less stress, it's less noise."
In addition to the room's mesmerizing visuals, the room includes wall panels featuring an array of materials and textures to touch, grab or twist. The lighting is dim and the sounds of students shuffling to class are muffled.
Washington said the sensory room also has been helpful to students in the general education program and some with emotional needs.
"It acts as a form of seclusion when we're able to isolate or remove certain distractions away in order for the student to regain focus and to have a sense of calmness," Washington said. Students "may have a lot of things on their mind to where they don't have an outlet until they get here. And so thankfully we have an outlet for all students to utilize."
Jennifer Donnelly, executive director of the district's Program for Exceptional Children, said the schools are already seeing results as students are beginning to self regulate.
Bibb Schools is likely the only district of its size in Georgia to have sensory rooms in every school, she said.
The sensory rooms are slated to be completed at all schools by February.
FRUITS OF THE ROOM
Students who use the rooms demonstrate a different level of engagement while they're inside, Donnelly said. For example, a student who is mostly nonverbal might sit in swings in the sensory room and "they'll say something that you haven't heard them say before," she said. "It sometimes gets them to a neurological pathway that language comes."
Prior to the sensory rooms, classrooms had been "piecemealing" items to help students self-regulate, Donnelly said. For example, students in different classrooms used a small trampoline or weighted vest at a fixed time each day.
Three summers ago, Donnelly heard about Sensory Room Solutions, an Atlanta company that specializes in outfitting schools with customized sensory rooms.
"I wanted something that would last, that was not a person (or) that was only a grant fund for two years," Donnelly said. "So this is something that will carry on. …  It's a permanent solution and it is highly research based for our population of students."
The sensory rooms also have proven helpful to principals in addressing student behavior, she said.
"At the elementary schools, in particular, post pandemic, we have students coming in with social deficits like we've not seen before, behavioral deficits that have been difficult to manage," Donnelly said. "So the principals are using these as opportunities to kind of give them a place that it's not (in school suspension), you know. They're not trying to be bad, they're just trying to figure it out. They haven't had access. So this is an opportunity to bring them in someplace, see if they can bring their behavioral levels down, and then bring them back to class."
A majority of students in the district's Program for Exceptional Children have "invisible disabilities," Donnelly said. "They have average intelligence but have a single deficit area."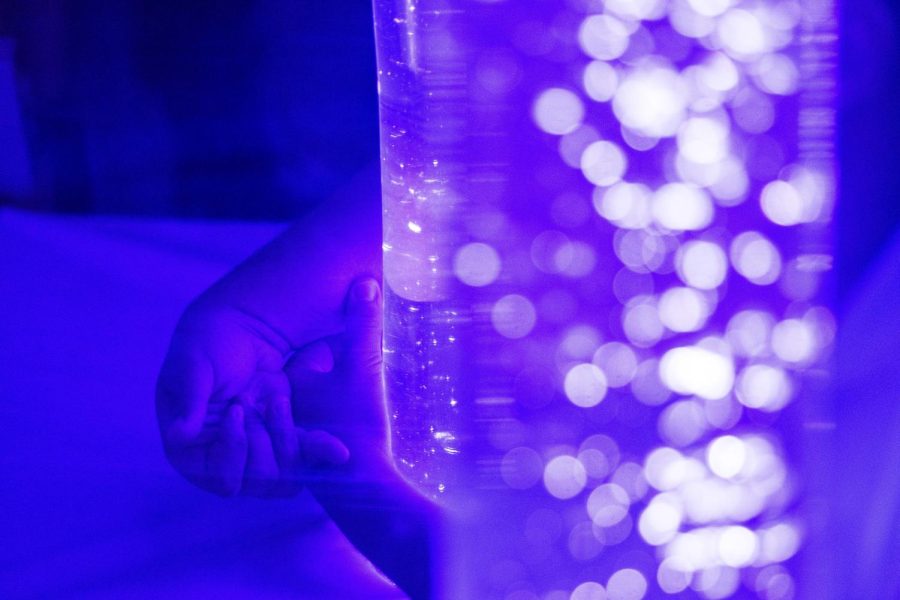 Sarah E. Rotschafer, assistant professor of neuroscience at Mercer University's School of Medicine, said sensory rooms were first introduced to the world by two Dutch scientists in the '70s. The scientist coined the word "snoezelen," which is a portmanteau of two Dutch verbs that, translated to English, mean, "to seek and explore" and "to relax."
The Dutch scientists used snoezelen, or sensory rooms, to study its effects on people with intellectual disabilities. The rooms also have been used in psychiatric hospitals and on people with dementia.
But there's a dearth of scientific studies on the effectiveness of sensory rooms for people with autism, Rotschafer said. The few studies that have been published include small sample sizes.
"The data is a little sparse right now," Rotschafer said. "That said, I know there is a lot of anecdotal data out there from parents and occupational therapists and teachers who really seem to think that the sensory rooms work.
About 30-40% of kids with autism also experience intellectual impairment, Rotschafer said, and "while those two things overlap a little bit, it's possible that, you know, it's a better treatment for one than the other."
Even so, the trend of sensory rooms in schools appears to be growing, she said.
"Some schools are embracing them, some are a little bit skeptical," Rotschafer said. "Overall, I'm positive about it, though …  because, you know, the only way to really get the data on whether or not they're helpful is by having more of them and trying a few things out."
The sensory rooms cost Bibb Schools roughly $30k each and the total estimate for 34 is about $1.1 million. The district will use a one-time federal funding opportunity from the Individuals with Disabilities Education Act/American Rescue Plan to cover the cost.
For entrepreneur Jay Perkins, owner of Sensory Room Solutions, fruits of the room are priceless.
Perkins has a 21-year-old daughter, Jennifer, whose special needs became apparent at an early age.
"We realized that she had a lot of issues that were based on her sensory deficits," Perkins said. "What that meant was that somehow, when some senses were out of whack, it made her out of whack. And so she became violent, aggressive and, you know. … School was a very hard thing for her and also, because of that, she couldn't handle her social day, eat lunch."
Perkins said he and his family researched to learn more about sensory deficits, what they are and what they meant for his daughter. He enrolled Jennifer in a school that had a sensory room.
"We'd never seen one; It looked just like a little playground," Perkins said of the first-ever sensory room he'd visited.
After daily 15-minute visits to the sensory room, "all the sudden her day became easier and she was able to go to school, she was able to eat lunch …  It was because of the sensory input she was getting that she was able to do that we saw cause and effect."
Perkins said he transferred his daughter to a different school that did not have a sensory room, then, "her violence and aggression came back."
"So we bought into it," he said. "We drank the Kool Aid of sensory rooms."
In 2009, Perkins and his family built a grocery store-sized sensory gym, a special needs walk-in playground used by schools and churches. The gym had a zipline, climbing walls, trampoline, tactile and textile features.
"That's where we really, really saw the effects that sensory input can have on kids," Perkins said. "And that just rolled into the schools."
School leaders who took classes to visit the sensory gym began asking Perkins if he would consider building a sensory room at their schools. So, after a decade of operating the gym, Perkins closed it and works full-time building sensory rooms for schools.
"It's fascinating to see what is happening in the world of sensory rooms as they catch on," Perkins said.
Jennifer Perkins moved to an adult living facility in January. She has a job on campus and lives in a cottage with six other women. A decade ago,  "we thought she would never be out of the nest," Perkins said.
Her success is "not because of a sensory room. It's because that was part of everything that she had to get to that point," Perkins said. "I'm passionate about it. …  It's catching on in Georgia more than I think any state."
Editor's note: An earlier version of this article incorrectly stated the name of Jay Perkins.
To contact Civic Journalism Fellow Laura Corley, call 478-301-5777 or email her at  [email protected].