Coca-Cola to nearly triple Macon plant; Old Tybee school building to be repurposed
Macon-Bibb Planning & Zoning approves soft drink warehouse expansion and cancels upcoming meetings after Thanksgiving, Christmas
Fifty new jobs are expected in an $80 million expansion as Coca-Cola Bottling United plans to add 260,000 square feet of wholesale warehouse space to its facility in south Bibb County.
The Macon-Bibb County Planning & Zoning Commission agreed to rezone more than nine acres currently belonging to the Macon Korean Baptist Church from residential to commercial to allow for the expansion around 4521 Chapel Hill Drive, which is off of Rocky Creek Road.
"Coca-Cola does not intend to do anything different than what it is doing now. It's a warehouse and distribution facility, not a bottling plant," said attorney Jack Nichols, who represented the company at Monday's hearing.
The expansion will include additional parking areas for trucks.
"My only concern is that there are single-family homes in this subdivision, and I would try not to disturb them any more than is required," said P&Z Chair Jeane Easom.
Coca-Cola representatives told commissioners that they plan to leave as many trees as they can as a buffer between the warehouse and homes.
Commissioners also agreed to the conditional use of the building that allows the height to reach 42 feet as opposed to the maximum of 35 feet.
Macon-Bibb County Industrial Authority Executive Director Stephen Adams attended the hearing to support Coca-Cola's efforts. The company is one of several existing industries that have recently announced expansion plans in Bibb County, including Nichiha, YKK AP, Irving and Kumho.
"It's a good story, isn't it?" Adams said before the meeting.
New life for old Tybee elementary school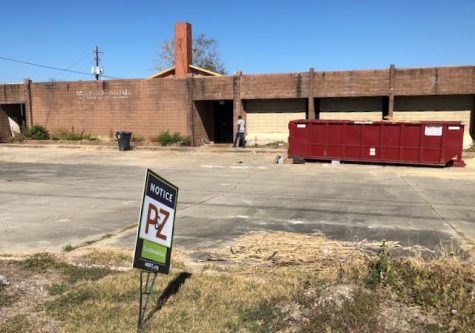 When Jeffrey Lawrence bought the old Mathis-Akin Concrete Block building at 111 Lower Elm St. to build climate-controlled storage units, he had no clue he was purchasing a piece of his family history.
"I had no idea it used to be a school," Lawrence told P&Z commissioners.
His older incredulous siblings thought he was joking when Lawrence informed them he now owned the old Ada Jones Banks elementary school they attended.
Commissioner Tim Jones and Easom were familiar with the old elementary school along Seventh Street that served what was once known as the Tybee community.
"I remember that was a thriving community," Jones said during the hearing.
Easom said: "I commend you for taking this building. Some of us have been around a long time to remember what it used to be," she said. "It has looked pretty bad here for a long time."
Lawrence will be repurposing the old school with its newer façade the concrete company constructed in front and installing 266 storage units.
"The school has been vacant and in bad repair for years, but if you allow me to renovate the inside and give the outside a facelift, I promise to make this facility one Macon can be proud of," Lawrence wrote in his application.
Although he blocked in the old schoolhouse windows, there are no plans to alter the outside of the building.
"I wish before everything happening that they could have a reunion," Lawrence said after the hearing.
Lawrence does intend to enhance the 4.77-acre property, which is very close to the Triangle Arts Center down the street.
Commissioners agreed to rezone the property from planned development to manufacturing and approved the use of the school as a storage facility.
New Apartments in west Macon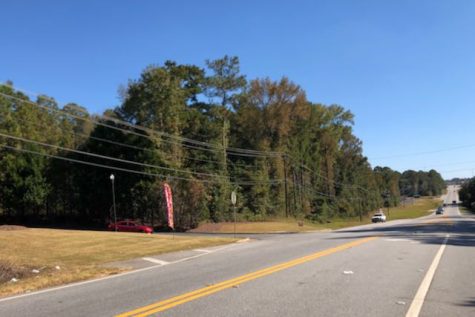 Within the next year, developers of a new apartment complex are expected to begin construction in the 5800–5900 blocks of Thomaston Road.
Hillpointe developers plan to build 288 two-bedroom apartments with market-rate rent for young professionals.
P&Z commissioners agreed to rezone more than 20 acres from agriculture to multi-family residential for the apartments, which will be just to the southeast of the Hunter's Run apartments.
Commissioners gave Hillpointe a year to begin construction or return to the board to apply for an extension or they could revoke the rezoning.
A little more than a year ago, Hillpointe was approved for 276 two-bedroom apartments that is under construction at 5530 Riverside Drive, about a mile north of the Shoppes at River Crossing.
Downtown border dispute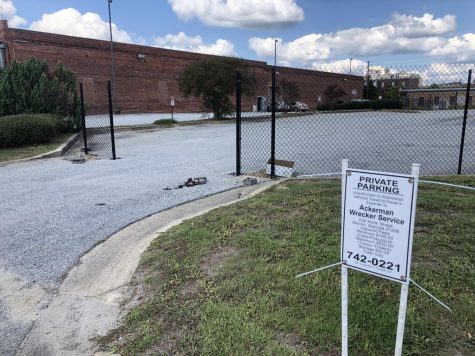 Fences don't always make better neighbors, as the axiom says, especially in the case of a property dispute in downtown Macon.
Recently, the Macon-Bibb County Design Review Board heard the case of a battle over who controls property rights for an old alley the city closed in 1947 at the request of Dunlap Chevrolet.
The car dealer later divided and sold the property without clear boundaries along the alley.
Current owner of the property at 415 Pine St., Dr. Shahriar Sedghi, wanted to fence in the parking lot for his employees and add landscaping on the lot across from his office at Gastroenterology Associates at 610 Third St.
On the other side of the closed alley on the old Dunlap property is the AAMCO Transmissions & Total Car Care business. This summer, its owners objected to the fence going up, which would have blocked access to a roll up door next to the closed alleyway.
After a court proceeding, a temporary restraining order has been granted prohibiting the car business from using the alley or parking on the lot.
Monday, P&Z commissioners approved the first phase of the fencing, which will not include the alley until a court determines the appropriate owner.
P&Z staff has a deed that indicates Sedghi is the owner, and will consider the second phase of fencing to close in the alley, once the court rules.
Holiday cancellations
To accommodate the upcoming Thanksgiving and Christmas holidays, P&Z commissioners voted to cancel hearings on Monday, Nov. 28 and Tuesday, Dec. 27. County offices are celebrating the Christmas holiday on Dec. 26 since Dec. 25 is a Sunday this year.
Other P&Z Action
1112, 1126 Appleton Ave. The Design Review Board signed off on landscape changes and new parking between two multi-family houses. P&Z finalized the plan Monday. Placement of the picket fence still must get approval from the Macon-Bibb County traffic engineer before the  necessary permit will be granted.
5292 Jeffersonville Road – P&Z approved a conditional use application to allow for a new 215-foot, self-supported telecommunication tower on a 30-acre parcel of land. The tower site will be in a fenced area of leased space that is 100 feet by 100 feet, and about 700 feet from the road.
4750 Ivey Drive – P&Z approved installation of a canopy over an existing fuel tank on 8.5 acres of a planned development commercial zone currently being used as a warehouse. The canopy will provide shelter and protection for the fuel tank at Averitt Express, which is a transportation and logistics company.
– Civic Journalism Senior Fellow Liz Fabian covers Macon-Bibb County government entities and can be reached at [email protected] or 478-301-2976.