Hydroponic greenhouses to bring 300 jobs, put Macon out front of 'really big' trend
Macon-Bibb Planning & Zoning Commission approves Bright Farms campus near airport, new north Macon apartment complex, façade improvements for Grant's Lounge
The nation's largest grower of leafy greens intends to spend hundreds of millions of dollars building a hydroponic greenhouse complex near the Middle Georgia Regional Airport.
Bright Farms, a Cox Enterprises company based in Irvington, N.Y., plans to purchase nearly 193 acres owned by the Macon-Bibb County Industrial Authority. The campus will feature 1.8 million square feet of commercial greenhouse buildings that will employ up to 300 people when it's fully operational and growing varieties of lettuce.
"We're planning to build something beautiful. This is going to be a really nice complex," said Sean O'Neill, director of development and sustainability for Bright Farms.
Before the Macon-Bibb County Planning & Zoning Commission could even ask about potential light pollution, O'Neill said he was going to "head it off at the pass" and explain how they would handle lighting.
"We put in blackout curtains. We will fully blackout this greenhouse at night," O'Neill said. "You might see some slim lines at the edge of the curtain, but this is not going to glow and that goes for the walls and ceilings. You will not see us at night, not more than any other commercial operation."
The company already has six other greenhouse operations, but the Macon campus features a new design that will include a visitors' center to accommodate tours and a conference room. The land at 8178 and 8360 Hawkinsville Road and 9011 Feagin Road is adjacent to the Kohl's distribution center and contains a small lake.
The county's water supply was a big factor in the site selection as the operation requires about 60,000 gallons of water a day, but Bright Farms is working on ways to reclaim and reuse water.
"We think you have a lot to bring us – great location, great community, great workforce, great water," O'Neill said. "This is the purest water we've tested. We've tested a lot of water in the country and this is the purest water we found."
They expect to release about 20,000 gallons into the sewer system each day. O'Neill said the wastewater is pretty clean, but might have higher levels of nitrates and chlorine from washing out the growing trays.
The greens are grown in closely packed gutters filled with peat, vermiculite and grow media. Within two to three weeks, the crop goes down a conveyor belt and is harvested in the "head house."
The process produces anywhere from 16 to 20 times more per acre than a traditional field crop, O'Neill said.
"I like to say we're taking low wage and high-polluting jobs in California and moving to local, higher-wage, higher-skilled jobs that get you your produce faster," O'Neill said.
The company plans to work with the community to prepare the workforce with the necessary skills to grow lettuce with a shelf life 7-10 days longer than produce grown and shipped from the West Coast, he said.
Macon-Bibb County Industrial Authority Executive Director Stephan Adams said Bright Farms has been considering the area for about a year and a half.
"The project came directly to us and we felt like it was a good fit from the beginning," Adams told P&Z commissioners."From the Macon-Bibb County Industrial Authority perspective, we're very excited about this opportunity. Bright Farms has been a great company to work with thus far and we're excited about the future."
Adams said he traveled to one of the company's existing greenhouses and was "very pleased with what we saw."
Raymond Cross, who lives on a neighboring farm, signed up to speak about the project but said his main concern was light pollution, which O'Neill addressed. Cross used to live near Pure Flavor's greenhouse in Peach County.
"It was like daylight out there at nighttime and you could see it for miles and miles away," Cross said. "It was annoying, I know, to lots of people who lived nearby."
O'Neill said Macon will be on the forefront of the controlled environment agriculture industry.
"We want this to be a place for education in what we think is going to be a brand new industry," O'Neill said. "This is the next wave, so Macon is going to be a real hub for this. There's going to be research here. I think you're in front of something that will be really big."
P&Z approved the hydroponic greenhouse operation and allowed for the building height to be over 35 feet but less than 50 feet tall.
O'Neill hopes to close on the land with the industrial authority in the near future and begin work on the property this December. If all goes well, Bright Farms hopes to open by the end of 2023, O'Neill said.
New north Macon apartments, medical office complex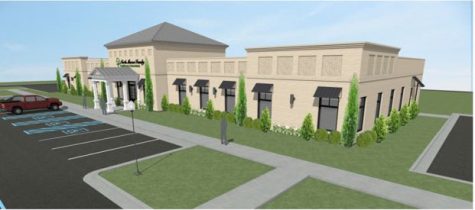 P&Z approved plans for 360 new three-story, garden-style, apartment units in 15 buildings on about 21 acres between the 4400 block of Riverside Drive and Hall Road in north Macon.
Commissioners also agreed to rezone the property from agricultural to residential to accommodate the multi-family development.
Builder One Real Estate Investment manages about 7,000 residential units across the Southeast, said applicant Bob Barton who represented the company at Monday's hearing.
"We are a builder that holds our developments long-term, so we take a lot of thought and action in what we build these buildings with," Barton said. "We want to build a quality product that lasts a long time."
They will use real brick and stone and install steel staircases, which cost more but last longer than wood, Barton said.
The complex will include a clubhouse, pool with a community kitchen area, dog parks, fitness center and yoga room.
Across town, commissioners also approved construction of a new medical office complex at 7080 N. Peake Road in the 400 block of N. Lamar Road.
Steven Rowland, of Rowland Engineering, said four 5,000 square-foot-buildings and a 10,400 square-foot-building will go up on the property northwest of the U.S. Post Office and east of Kohl's store.
Dr. Freddie Gaton is developing the North Macon Medical Office Park with most offices being open weekdays from 8 a.m. to 5 p.m. Up to 60 people are expected to be employed in the office complex, which will be built with a brick veneer.
Because of restrictive covenants in the existing shopping center, Rowland said Gaton does need to obtain approval from neighboring Kohl's to accommodate the larger building, which exceeds size restrictions placed on the development off Zebulon Road.
In other business: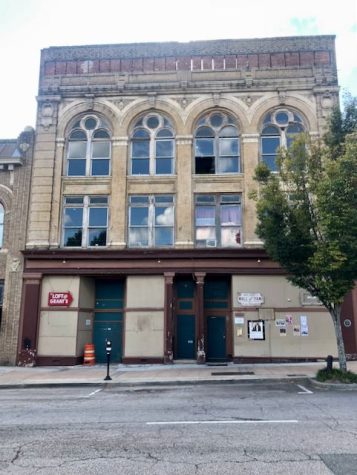 576 Poplar St. – Grant's Lounge will be getting a facelift with repairs to windows and decorative elements and a new vintage sign. Architect Bob Brown said the project does not include a return to the original plate glass windows at street level. "If I put them in, it just wouldn't be Grant's Lounge," Brown said.
582 Poplar St. – The Design Review Board approved a new sign for the Delta 8 smoke shop.
3432, 3440 Vineville Ave. – Tonya Million Fitch approved for an "infusion lounge" and wellness spa. The ASTRE Wellness business will provide IV hydration drips, vitamin booster shows, massages and aesthetics, according to the application.
5201 Mercer University Drive – Plans approved for a new 3,200 square-foot IHOP restaurant at the site of a previously approved Quik Trip convenience store. The parcel is adjacent to the northbound entrance ramp Interstate 475.
344 Hawthorn Trail – Century Complete builders were told to find a new house plan to fit side yard set-back requirements in the Highlands Plantation subdivision. A drainage easement led to the prior builder putting up a house too close to the property line, leaving not enough space to meet the 10-foot distance requirement between the properties. P&Z declined to issue a variance to allow the construction to proceed. Brian Blum said the company might just sell the lot instead of coming up with a new design. Commissioners suggested the company take legal action against the original builder on the project who placed the existing house too close to the next lot.
4747 Donnan Road – Jesse Collins approved for a variance to allow a flag lot for construction of a house on property already approved for a church retreat. A flag lot is a parcel that does not have enough road frontage, but access is provided by a narrow strip of land resembling a flagpole.
4418 Houston Ave. – P&Z postponed action on a rezoning request to allow Next Step Recovery Ministries to expand on an adjacent vacant lot. The new building would not provide additional recovery bedrooms, but would include office space, a library, kitchen and employee quarters.Commissioners want to have their legal counsel determine whether the zoning shift from residential to commercial would require a six-month waiting period as group homes do.
–Civic Journalism Senior Fellow Liz Fabian covers Macon-Bibb County government entities and can be reached at [email protected] or 478-301-2976.