Steven Fulbright 'lit up every room' before his untimely death at 42
Visit Macon tourism executive who died following a stroke is remembered as a Macon champion, tireless servant and loving friend to all
Macon's Grand Opera House dimmed its marquee lights this week in memory of a man known for being the bright spot in everyone's day.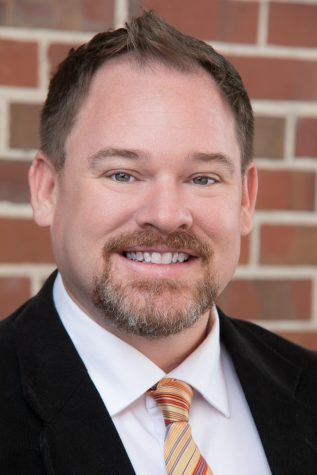 Steven Fulbright, the vice president of sales and services at Visit Macon, died Tuesday of complications from a sudden stroke he suffered at the office last month.
Although he was only 42, Fulbright devoted his professional and personal life to serving the community and pouring his love into others.
"Everybody who is friends with Steven felt like he was their best friend. He had an incredible ability to connect with people," said Trish Whitley, Visit Macon's Director of Sales.
The hallways of the Convention and Visitors Bureau on MLK Jr. Blvd. are strangely quiet these days.
Fulbright, who loved to belt out Broadway tunes, sing Streisand songs and grab the mic at karaoke, was famous around the office for making music out of the mundane moments of life.
"He would come into your office to talk about something random and make it a song," said Aaron Buzza, Visit Macon's vice president of development and chief operating officer.
From the first day the two met at the office, Buzza says Fulbright was a fast friend.
"He jumped right in and made it easy to get to know him," Buzza said.
Although Fulbright was born in Germany and lived around the country as a child when his dad was in military service, his knowledge of Macon and Middle Georgia was unmatched, friends say. He graduated from Jones County High School in 1999 and got his history degree from Georgia College in Milledgeville.
"When we first moved here, (my wife) and I called him Macon's Google," Buzza said. "He figured out a way to know an awful lot about everything. He was not just a tourism ambassador for Macon, he loved this region, this state and loved to see others succeed, as well."
Condolences have been coming in from all over the tourism industry. Chamber of Commerce representatives staffed the office the day of Fulbright's death to allow his co-workers to grieve in private.
Visit Macon CEO Gary Wheat said Fulbright was a unique leader who genuinely cared for those he supervised.
"He gave them more love than instruction, like they were family," Wheat said.
Fulbright flashed a ready smile and had an uncanny sense of knowing when someone needed cheering up. His co-workers could not remember him ever having a bad day.
"If he did, he had the best way of hiding it. He lit up every room he was ever in," Wheat said.
During Fulbright's recent hospitalization, Wheat placed a favorite photo of Steven on his computer desktop. His head was cocked and his arms folded as if to question Wheat as to why he was feeling emotional and sad.
"He made me believe in myself when there were days I didn't want to," Wheat said.
Energetic leader who 'got things done'
Not only did Fulbright champion tourism in the Southeast, Wheat said he "never met a board he didn't like."
He chaired the Macon Arts Alliance, Macon Film Festival, and co-chaired the College Hill Corridor board and also was appointed to boards for the Macon Beer Festival, Historic Heartland Travel Region, Southeast Tourism Society. He earned a Macon Arts Alliance Cultural Award in 2019, was recognized as one of Macon Magazine's "Five under 40" leaders in 2017 and led cycling tours around town with Bike Walk Macon.
He was to be Historic Macon's board chairman next year, taking the helm from current chair Larry Brumley, who called Fulbright's death a tremendous loss for Macon.
"Steven was one of those leaders who every community organization wanted on their boards. He was positive, creative, energetic and got things done," Brumley said. "He was a joy to work with, and he will be greatly missed."
Fulbright also served on the Cherry Blossom Festival board, where CEO Stacy Moore lamented his passing on Instagram: "He was the joy in the room at all times. It was like he could sense when I needed him to say or do something to make me laugh. There will be a huge hole that cannot be filled, ever."
In addition to two stints working at Visit Macon, Fulbright served as the Main Street Manager and Downtown Development Specialist for Macon-Bibb County from 2014 to 2017.
He was a visitor services coordinator for the Georgia Music Hall of Fame and Museum for two years and spent four years at the Hay House as event manager and lead docent. Even after leaving his post at Macon's premiere historic mansion and tourist attraction, he continued as a volunteer.
He was leading a tour in 2009 when he met David Quackenbush who would become his life partner. The two married in a private ceremony at the Hay House in November of 2020.
In their early days of dating, they lived in the Broadway Lofts and were regular visitors to The Rookery and The Hummingbird. More recently, they were commenting on the dramatic change in downtown since Fulbright began focusing on developing the district through the Main Street organization in 2014. When the pandemic hit, the couple invested their money in local establishments fearing the lockdowns would kill businesses and curtail the vibrant atmosphere so many had worked for.
"He really just loved Macon and making Macon a better place," Quackenbush said.
They shared a penchant for travel and took elaborate trips across the globe to exotic locations such as Greece, Alaska, Paris and loved to hop on cruise ships and visit Disney theme parks.
Wheat called Fulbright a "world class traveler" who "never met a vacation day he didn't use."
"He would put in for his vacation a year in advance and he always knew where he was going. We all lived vicariously through Steven's travel," Wheat said.
Later this year, Fulbright and Quackenbush planned to take a pandemic-postponed trip to Italy. No one was prepared for this to be the end of the road for such a charismatic, youthful man.
"He took a big bite out of life and let it drip down his chin," Wheat said. "Gosh, he loved life."
Wheat expects there to be future tributes to Fulbright's service in the community.
Macon-Bibb County Mayor Pro Tem Seth Clark summed up Fulbright's impact in a Facebook post the day he died: "Steven Fulbright's life was a hymn of love to this town and to the people he held close. His joy was contagious. His kindness was authentic. And he never stopped believing in and wanting the best for those he loved and the city he loved."
Buzza also grieves for those who never got to experience Fulbright's effervescent personality.
"We are fortunate for the time we had with him," Buzza said.
He takes comfort in the numerous social media messages of condolence and appreciation for Fulbright's life and service. One post suggested that his friends take a little piece of Steven's enthusiasm and use it to work toward building a better community.
"I hate to imagine a world without Steven in it," Wheat said. "His leaving evokes so many raw emotions but if you stop through the tears and remember Steven and the funny things he did, you can't help but smile."
Both Wheat and Buzza will share memories of their friend and co-worker at a memorial Saturday at 11 a.m. at Anderson Conference Center at 5171 Eisenhower Parkway. Visitation with Fulbright's family and friends begins at 10 a.m.
– Civic Journalism Senior Fellow Liz Fabian covers Macon-Bibb County government entities and can be reached at [email protected] or 478-301-2976.
View Comments (4)