New north Macon 'luxury' mixed-housing neighborhood planned
Macon-Bibb County Planning &Zoning Commission rezoned 26 acres of agricultural land for new homes
The Macon-Bibb County Planning & Zoning Commission cleared the way for future development of a new residential development off Forest Hill Road and Northside Drive.
Monday, commissioners agreed to rezone 26 acres of the 56-acre wooded lot at 1677 Forest Hill Road from agricultural to multi-family residential to allow construction of 310 dwellings of varying sizes.
The Crown Group out of Valdosta plans to submit a future application to build 50 duplex buildings with 100 units, 42 townhomes and four apartment buildings housing a total of 168 units.
"This development will be a luxury community that will demand top rents. The exteriors will consist of concrete siding, brick, stone and exposed timbers. There will also be a first class amenity center, workout facility, splash pad, pool, golf trackman and putting greens… ," the application stated.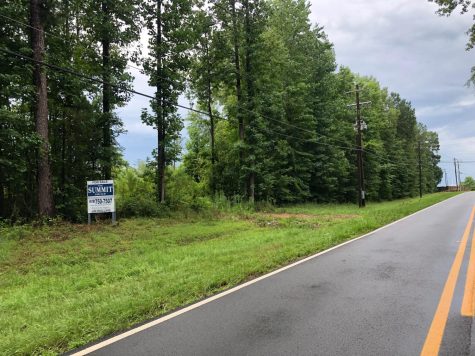 The rezoned 26 acres run behind the CVS Pharmacy just north of Northside Drive. The rest of the 56 acre-parcel owned by the Hill family connects to Northside, beside the store.
"It's a pretty good spot," P&Z Executive Director Jeff Ruggieri told the board during their administrative meeting.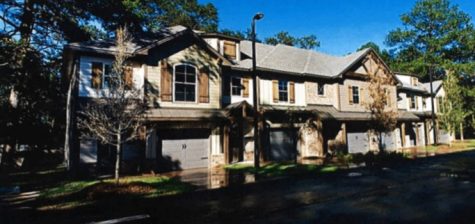 Chair Jeane Easom liked the architectural renderings included in the packet.
"I thought these were very attractive for what they are with different types of finishes," Easom noted.
"There's a huge master plan of what they're going to do," said P&Z Planning Director Butch Sementilli.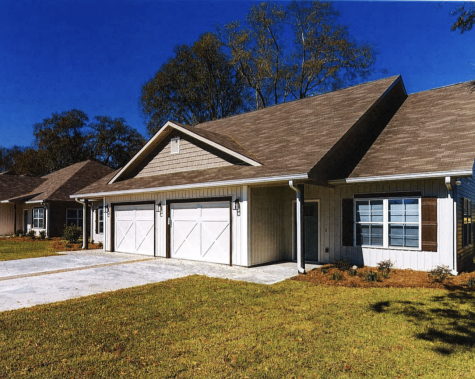 Matthew King, of the Crown Group, said underground utilities will go in first, followed by the development's infrastructure and construction of the duplexes.
Next, the townhomes will be built, followed by the apartments.
Commissioners had questions about whether there was sufficient parking for the duplexes with a single garage and outside space per unit.
"Give us some more parking," Easom said, as developers must return for conditional use approval of the land.
"It wouldn't be much different than Providence is now," said Jim Rollins, representing the Summit Group commercial real estate investment firm that is marketing the property and adjoining acreage.
Providence, off Bass Road, is a "family village neighborhood" that began building eight distinct neighborhoods of varying size homes and lots about 20 years ago. The density of some sections can make on-street parking difficult for visitors and large families.
"Right! We don't want to do that again," Easom replied. "We've got to learn from our mistakes."
P&Z board member Gary Bechtel warned that without more planned parking in this new neighborhood, drivers are likely to park in common areas.
"Do whatever you have to do to prevent that because it pollutes the whole look," Bechtel said.
King was eager to hear any other suggestions commissioners had to smooth the approval for the necessary permits to start building by the end of the year.
Rollins said he was representing about a dozen property owners controlling about 200 acres stretching back to Riverside Drive, who have already laid out plans for roads.
"The important thing for the community and for the family is that these roads get built through the property," Rollins said.
Already a Riverside-fronting lot has been selected for health club and a luxury apartment complex is under construction south of Hall Road.
King said he would be back in three to four months with architectural plans for the townhomes, duplexes and apartments.
Other P&Z agenda items
4606 and 4614 Log Cabin Drive – Vasantha Edussuriya is seeking a conditional use permit for a used car dealership on two parcels totaling 1.27 acres across from the entrance to Kroger in the Eisenhower Crossing shopping center. After Commissioners rejected a mobile home office, they asked Edussuiriya to come back in two weeks with revised plans for an office building that would better fit in with what Easom called "million dollar properties" nearby.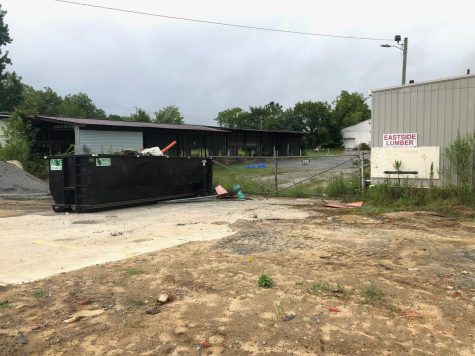 1853 Jeffersonville Road – Truck driving academy approved on a 3.2-acre fenced lot featuring existing buildings and lumber sheds. The property formerly housed Eastside Lumber near the intersection of Millerfield Road.
2257 Heath Road – Indoor self-storage mini warehouse approved on a 7.5-acre parcel. Spartan Investment Group wants to build a climate-controlled, 148-unit, 20,000 square-foot-facility to complement the existing outdoor storage warehouse at FreeUp Macon.
– Civic Journalism Senior Fellow Liz Fabian covers Macon-Bibb County government entities and can be reached at [email protected] or 478-301-2976.