Former Middle Georgia schools cybersecurity pro charged with peeping Tom
A man who worked in cybersecurity for Bibb and Houston schools is out on bond after being accused of placing a small camera in the window of a teenage neighbor's bedroom.
Greg Robert Hogan, 44, quietly resigned for "personal reasons" from his job as Bibb Schools network data and security coordinator in May, days before he was booked in the Houston County jail on a peeping Tom charge. Previously, Hogan worked as a tech specialist for the Houston County Board of Education.
According to an incident report from the Houston County Sheriff's Office, an 18-year-old in Kathleen told investigators she was getting out of the shower near midnight May 17 when she discovered a GoPro camera positioned outside her bedroom window.
Recently, some in Bibb County have been vocal online expressing concern about the nature of Hogan's charge given his past role in the school district and the fact that parents were not notified.
Bibb Schools spokesperson Stephanie Hartley told The Macon Newsroom parents were not notified about Hogan's arrest as the allegations are being investigated by the Houston County Sheriff's Office "and did not pertain or relate to Bibb County School District."
Capt. Ron Brainard, who is investigating the case in Houston County, said there was no evidence to suggest a pattern of behavior.
"We didn't find evidence of none of that," he said. "We didn't find evidence of anything other than … Hogan grew an infatuation for this female … he had communication with her and when that didn't work out, in his mind, you know, the next step in his infatuation was, you know, 'what is she doing in her house?' kind of thing."
According to the incident report, the teen said she told a woman in the house who went outside to get the camera. The woman told investigators she waited to call 911 and talked to her friends about it, according to the report.
The woman said she knew their neighbor, Hogan, worked in cybersecurity "so she gave the camera to him for him to examine it," according to the report.
The woman told the investigator there was no memory card in the camera and that she was concerned it had been "automatically uploaded to a cloud share file," the report said.
The woman said she noticed a hole in the window screen in March but didn't think much of it. The investigator noted in the report the hole "appeared to have been specifically cut so as to position the camera in the corner of the window," according to the report.
When investigators met with Hogan, he gave them the GoPro and said he didn't see anything on it, according to the report. Hogan also said he checked his home security system to see if it captured someone placing the camera but he didn't see anything on the footage, the report said.
Later, "I guess his conscience got to hurting him so he went back up there and confessed to them," Houston County Sheriff's Deputy Chief Billy Rape said.
Brainard said Hogan went to the sheriff's office to be interviewed after coming clean to his neighbors.
"One of the concerns I think that the neighbors had was that this person was doing this all through the neighborhood and we found that not to be true," Brainard said. "It was more or less just an infatuation that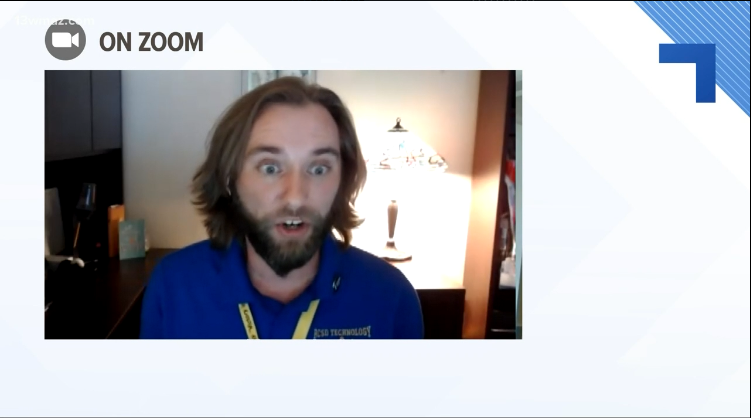 grew with this one person and they went, obviously, they went over the line in what they were doing."
The teen told investigators she started receiving Snapchat messages from an account named Clint Ryan that she believed to be fake, the report said. The investigator noted the person sending the messages "appeared to be trying to gain (the victim's) affection."
Brainard said Hogan created a fake account to "more or less kind of catfish and try to have communication with the victim. Of course, the victim saw through that really quickly."
Hogan had not been indicted as of July 6 and a court date had not been scheduled, according to Houston County Superior Court. He bonded out of jail a day after he was booked.
Hogan was hired by Bibb Schools in June 2017 and worked as a network data and security coordinator at the Core Data Center in Hutchings College and Career Academy.
Last year, Hogan was lauded in a 13WMAZ segment called "Hidden Heroes" for leading the school district during its unexpected transition from in-person school to virtual remote learning amid the first wave of coronavirus here in spring 2020. According to the article, Hogan managed network security for some 30,000 devices during the near yearlong stretch students and staff worked from home. The article said he troubleshooted issues with parents, students and administrators.
In 2015, Georgia Public Broadcasting aired a story about a photo Hogan took in Kathleen that was NASA's Astronomy Picture of the Day.
The position Hogan resigned from was posted on Bibb Schools' website in June.
To contact Civic Journalism Fellow Laura Corley, email [email protected] or call 478-301-5777.