Bibb BOE approves contract for incoming Superintendent Dan Sims in a split vote
Bibb Schools' incoming Superintendent Dan Sims was ready to take the baton from outgoing Superintendent Curtis Jones on Thursday evening but Jones didn't bring one to the school board meeting.
"I told him earlier today we don't have a torch, we don't have a baton," Jones said. "What we do have is a pin."
Sims received an official Bibb County BOE pin about a month ago the night he was named the district's sole finalist for superintendent. But the pin Jones affixed to Sims' coat Thursday evening was special.
"We the employees came up with the V.I.P. pin," Jones said as he stood by Sims in front of a few dozen people before the regular board meeting. "I shared with him earlier today that when we put the pin on, it means we buy in to who we are. We buy in to what we believe and what we're doing."
V.I.P. stands for "Victory in Progress" and the acronym is at the crux of the culture of accountability the district has strived for under Jones' leadership.
Every Bibb Schools employee has to wear a V.I.P. pin but they can't wear one until they've been with the district for a year, Jones said.
School board members are an exception to that rule "and it also does not apply to the superintendent because, while we don't have a baton or … a gavel, we do have a pin and you are the keeper of the pin," Jones said. "And so today it's my pleasure to give you your pin."
The board voted 6-2 to approve a three-year contract for Sims. He will make $250,000 and will receive an $800 monthly check to cover travel expenses. Benefits are in line with those offered to Jones and include moving expenses, a $1 million  life insurance policy, health insurance and tax annuity benefits. Sims also will be paid for time he is working before his start date July 1.
Board members Lisa Garrett and Daryl Morton voted against the contract offer.
Morton said Jones made $210,000 when he was hired as superintendent in 2015. Jones had been a superintendent for six years at the time but this is Sims' first superintendent job.
"Comparable salary means comparable candidates," Jones said. "I cannot support paying Dr. Sims an amount that's comparable to Dr. Jones."
Sims, of East Point, comes from Atlanta Public Schools where he was one of five associate superintendents and made an annual salary of $167,535.
Also Thursday, the school board recognized 33 retirees who have a combined experience totalling more than a millennia. Tanzy Kilcrease, chief of staff under Jones, was among the retirees. She received a standing ovation with audible cheers.
Kilcrease's name was repeatedly mentioned as the preferred candidate for school superintendent in public feedback and emails to board members. She is moving on to work for the Georgia Department of Education as a Tier 4 Program Manager in the Office of School Improvement, School & District Effectiveness & Chief Turnaround Office.
Jones thanked Kilcrease publicly and announced she had been appointed special advisor to work with DeKalb County Schools as it sorts out systematic operational issues.
Cell phone ban delayed
The board was slated to approve at Thursday's meeting a policy prohibiting students from using personal phones, tablets and other personal electronic devices during the school day. However, the matter was delayed and is expected to be taken up at the regular board meeting in June.
The board began reconsidering its policy earlier this year after a student posted a video online showing another student physically assaulting a teacher.
Board member Juawn Jackson said the board needed more time to review the policy as the agenda for the May meeting contained dozens of other business items for review and approval.
Morton expressed disappointment at the delay and said he wish he would have known this policy was not going to be approved this month. Morton said a recent survey of teachers found 80% reported students' use of personal devices in class make instruction more difficult and passing the new policy would signal the BOE supports teachers.
Jackson said the current policy in place, which allows teachers discretion on whether students can use devices during class, would suffice until the next meeting.
In other business Thursday, the BOE voted to approve purchasing an insurance policy for district-issued devices after an effort in December to offer an internal insurance policy to parents at a cost of $25 per semester proved to be ineffective. Insurance for devices for the 2022-2023 school year will cost $423,000 in American Rescue Plan funds and will be purchased from Atlanta-based Lexicon Tech Solutions.
Vacancies prompt sign-on bonuses
There were more than 150 vacancies for next school year in a recent count by the district. Recruitment initiatives are being planned for the coming months, but the district is sweetening the pot with a sign-on bonus to attract more staff. A $1,000 bonus would be paid to any new hire. The bonus would be $2,000 for teachers of math, science, special needs students or world languages. The district would use American Rescue Plan funds to pay for the bonuses. The district earmarked $650,000 for this effort,
The number of vacancies fluctuates daily and current postings, including a breakdown of vacancies by school, may be viewed on the district's website.
In other business, the board approved a new attendance incentive for retiring employees. The policy is to award employees who are actively working at retirement a one-time payout for up to 480 hours of accrued, unused sick leave, according to board documents. Eligible employees must be participants in the Public School Employees Retirement System and cannot resign. Most affected by the bonus work in the nutrition and transportation departments. The policy went into effect Jan. 1.
Brick & Mortar

A room unlike any other classroom or office is set to be constructed at 11 schools.
The BOE approved spending up to $341,000 to pay Atlanta-based Sensory Room Solutions to design and build sensory rooms for students with Autism, behavioral issues and other special needs.
The sensory rooms will be installed in pre-existing rooms at Appling Middle School, Central High School, Heard Elementary School, Howard Middle School, Dr. Martin Luther King Jr. Elementary School, Northwoods Academy, Sonny Carter Elementary School, Southwest High School, Springdale Elementary School, Taylor Elementary School and Veterans Elementary School.
Jennifer Donnelly, executive director of the district's Program for Exceptional Children, said schools were chosen based on principals' interest but not every school that wanted one will get it by the fall. Donnelly said she hopes to be able to add rooms at 11 more schools next year.
Each school provided input about what its rooms will include and examples included specialized lighting, mini trampolines and swings.
In other business, BOE voted to approve changing its policy on renting district building space to outside groups. The new policy requires a written agreement and set time limits on rentals. The policy also calls for the creation of a new fee schedule to establish a price list for different facilities and types of organizations requesting to use them. Nonprofit organizations would be charged $50, which covers the cost of insurance required by state law and the cost for a district employee to open and close the facility. Private individuals or companies will be subject to the fee schedule plus the $50 charge.
Other items the board approved related to district buildings and property included:
Approval of Sheridan Construction as construction manager for phase II of renovations at Thompson Stadium off Shurling Drive for $147,388 in 2021 ESPLOST funds.
Approval of a contract with Macon-based Elite Flooring Contractors LLC to remove and install carpet and flooring at SOAR Academy and Elam Alexander for $454,265 from  ARP and 2016 ESPLOST funds.
The Cost of Inflation
The school district will pay more for the same services and goods amid economic inflation.
The sharpest increase in cost approved Thursday was for baked goods. The district approved paying $317,043 – an increase of 10% – next fiscal year to Flowers Baking Co.
A letter to the school board from Thomasville LLC, parent company of Flowers Baking Co., stated reasons for increased prices are trifold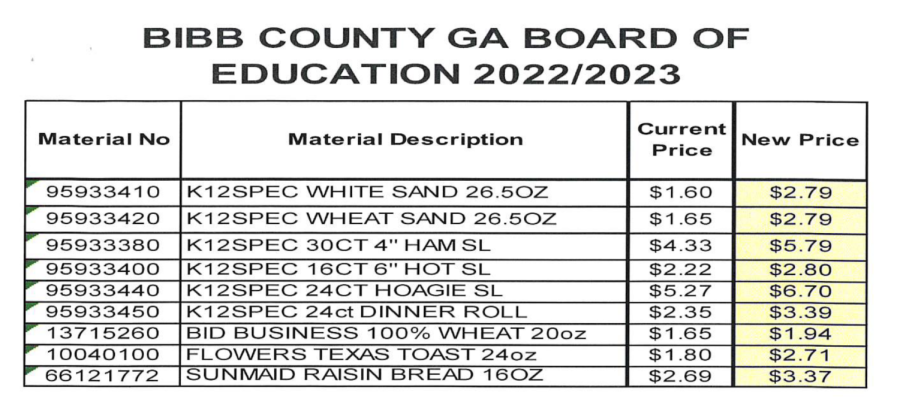 and include a volatile commodity market driven by the unrest in Russia and Ukraine.
"Russia and Ukraine account for almost 30% of the world's wheat exports and the ongoing conflict is creating global shortages," the company stated in its letter. "This coupled with persistent dryness in key growing regions has caused wheat prices to spike. Prices for other commodities such as soy oil, corn, cocoa and crude oil have also increased dramatically due to this unrest. Additionally, in mid-March, a major U.S. Supplier was shut down by the USDA due to Avian Flu infection, removing 200M lbs. of egg product from the market which has caused a dramatic escalation in egg prices."
Trash service also will cost $237,338, about 5% more than last fiscal year. A purchase order for Waste Management, which acquired Advance Disposal, was approved to cover the increase.
Custodial supplies also will cost about 5% more. A purchase order was approved for Columbus Paper Company at a cost of $377,747 in general funds to cover the inflated price of plastic and paper supplies.
In other business Thursday, the board voted to approve the following items:
Funds for the Leader In Me program for fiscal year 2023 for $345,000 in ARP funds.
A purchasing agreement with BSN Sports for the district to buy athletic apparel and equipment using BSN Sports Reward Program for one year with four renewals annually.
Hiring speech language pathologists and other special education staff from 11 different companies at costs ranging from $62 per hour to $72 per hour for $960,000 in general funds.
Approval to spend more than $150,000 for fuel from suppliers Walthall Oil Co., Mansfield Oil Co. and Osan Petroleum Co. using general funds.
A contract renewal for Ferrellgas LP for propane at a cost not to exceed $900,000.
A purchase order to Athens-based Manning Brothers Food Equipment Co. for smallware equipment to be ordered as needed at a cost of $150,000 in school nutrition funds.
A purchase order to renew a software subscription for Utah-based Audio Enhancement VIEWpath for $180,986.40 in general technology funds.
Approval of a purchase order to provide Emergency Management Suite Software from Missouri-based Intrado SchoolMessenger for $209,937.50 in 2016 ESPLOST funds and general safety and security funds.
Renewal of Infinite Campus agreement with Commerce-based K-12 Solutions Group for $405,455 in general funds.
Contract renewal for Edgenuity by Arizona-based Imagine Learning LLC for $237,150 in CARES II funds and $1.4 million from ARP funds.
Contract renewal for Florida-based Write Score LLC for $152,600 in CARES II funds.
To contact Civic Journalism Fellow Laura Corley, email [email protected]u or call 478-301-5777.
Leave a Comment