Pan African Festival, craft beers, Fired Works pottery round out April
Thousands of people are expected to attend upcoming festivals in downtown Macon
April is finishing strong for events and entertainment according to the downtown Macon events calendar.
This weekend, the Pan African Festival is expected to draw thousands of people to the parking lot of the Macon Coliseum at 200 Coliseum Drive. Friday, the Fired Works pottery exhibit and sale opens at Carolyn Crayton Park at 150 Smokie Glover Drive, and the Just Tap'd Craft Beer Festival will lure crowds to Poplar and First streets on April 30.
This is the 26th year for the Pan African festival founded in 1996 by Macon's Chi Ezekwueche. The event celebrates the principles of unity, hope, peace and love with proceeds benefitting the Tubman African American Museum.
Last year's festival drew about 20,000 and this year's VIP seating has already sold out, according to the website.
"This year we're really, really excited," Tubman Executive Director Harold Young told the Downtown Macon Community Association at its April meeting. "Even though this is the Pan African Festival, I really want everyone to know this is for every culture to embrace it. It's open to everyone. A lot of culture, a lot of dancing, a lot of entities for the whole African American experience."
Last year, the annual weekend celebration shifted to the Coliseum parking lot to allow for more social distancing due to concerns about COVID-19. After 2021's success, organizers decided to return to that venue.
"We partnered with Fort Valley State University, and we are bringing in Jeffrey Osborne, who is one of the legendary R&B artists," Young said.
Osborne will perform Saturday, along with saxophonist Isaiah Tatum. Gospel singers Byron Cage and Karen Clark Sheard will appear on Sunday.
Tickets are $10 per day for adults, $5 for children ages 6 to 12 and free for those 5 and under. The festival runs from 11 a.m. to 9 p.m. Saturday and Sunday from 1-7 p.m.
The event features foods from all over the world, including Caribbean dishes and Soul Food, food trucks, art, storytelling and the Children's Village.
Craft Beer Fest returns to Poplar Street
On April 30, more than three dozen breweries will be serving up craft beers during the Just Tap'd Craft Beer Fest from 1 p.m. to 5 p.m. with a VIP hour beginning at noon.
There will be live music, food trucks and lawn games and there is no charge for admission.
Beer Lover tickets are $40 for the limited edition, five-ounce, unlimited tasting glass. The VIP Beer Connoisseur $60 ticket includes access to a lounge with private bathroom and specialty beers that are not available to regular ticket holders.
"Breweries from all around the country will be representing their beers, including some exclusive to this event, answering questions about the brewing process and addressing the finer points of drinking great beer," according to the Eventbrite invitation.
One of the organizers, Andrea Smith, told downtown business owners to be ready for an influx of a couple thousand people who might descend on restaurants, bars and retail establishments once the festival ends.
It is a "rain or shine" event.
Fired Works opens Friday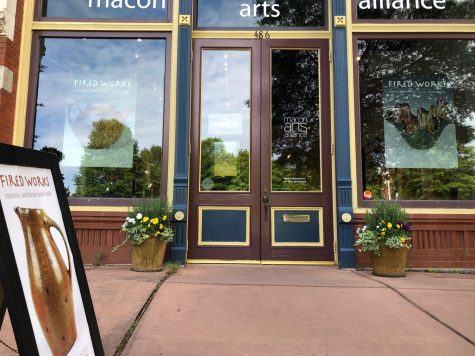 The Macon Arts Alliance hosts Georgia's largest exhibit of functional and sculptural pottery Friday through April 30 from 10 a.m. to 4 p.m. at the Round Building of Carolyn Crayton Park.
More than three dozen artists will be displaying and selling their pottery in this benefit for the local arts organization.
The 17th annual Fired Works features artist Roger Jamison, who is known for a unique ash glazing effect on his wood-fired pottery.
Jamison fires up a 250 cubic-foot, Japanese-style anagama kiln to achieve the earthy finish of his work.
At 11 a.m. Saturday, Jamison will explain his process in a special artist's presentation.
Children ages 10 and under are invited to a free workshop at 1 p.m. Saturday, but space is limited. Artist Noah Miller will be showing the kids how to work with clay in this first come, first served, event.
Thursday, April 28, adults are invited to sip wine while they shop extended hours at "Happy Hour at Fired Works" from 4 p.m. to 6 p.m.
The sale is the Arts Alliance's biggest fundraiser for the year to help support its mission of fostering support for arts and culture in Middle Georgia.
During the Downtown Macon Community Association meeting, NewTown Macon's Emily Hopkins noted the busy calendar for the close of April.
"It's really exciting to see so many events coming back in full force," Hopkins said. "I think that's really a sign of recovery that we're getting back to normal."
– Civic Journalism Senior Fellow Liz Fabian covers Macon-Bibb County government entities and can be reached at [email protected] or 478-301-2976.