Triangle Arts Macon's Mission Through Art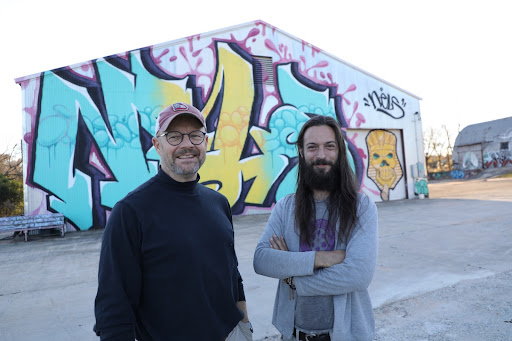 In Downtown Macon's Industrial District sits a campus full of newly-revitalized buildings that were once on the demo list. Now, the buildings on 206 Lower Elm Street are full of art and bright colors, transformed by artists through Triangle Arts Macon. 
Led by owner Ric Geyer and Executive Manager Colin Penndorf, the organization is "dedicated to leveraging the arts to provide a path for people to be successful," according to their website. 
Triangle Arts is the fifth major project of Art Incubators LLC, after three projects in Detroit, where Geyer is from, and one project in Atlanta. The projects are focused on creating spaces for people to create and be successful, while at the same time saving buildings that otherwise would've been on the demo list and transforming them into something new. 
"And now they're active, vibrant buildings,"  Geyer said. 
With themes of social justice and equity instilled in the art, Geyer and Penndorf both speak to the importance of listening to others' creativity and ideas, where they are both ready to say "yes," whether for a project or a job.
"And so if anybody out there is thinking about some project they might want to do or some partnership, typically, the first answer is yes, how do we do it? And that's because we get a lot of great ideas, and we want to keep continue doing that," Geyer said.
For new hires, regardless of experience, Geyer and Penndorf are also ready to say yes and to find a job for them. Typical hirings usually start with a conversation around lunch, where they sit down and ask the hiree what they think about the business and ask them their ideas. 
"And we just sit down with these people and just say, so what do you think about this place, and a lot of them don't know how to respond to that. But a lot of them respond incredibly insightfully and incredibly creatively, and because a lot of them haven't had a chance, and a lot of them have a tremendous amount to offer. And that's everybody," said Geyer.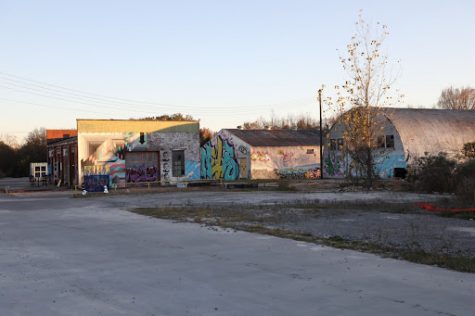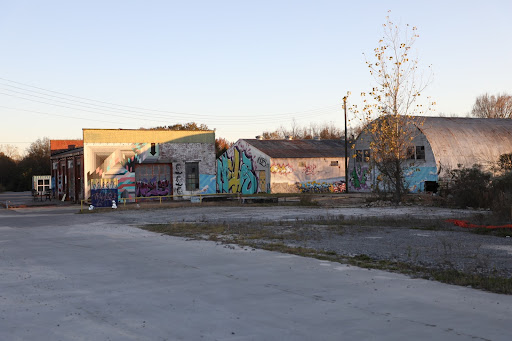 People come from all walks of life, like the project 787 Windsor in Atlanta, where Geyer worked with kids in the neighborhood, people coming off of drug rehab, those that had just come out of prison, and seasoned artists. To each person, they want to hear their ideas for the space that they are creating. Sometimes, though, people get connected in the most unique of ways. 
Back in Atlanta, Geyer's 787 Windsor location hosted a graffiti ball, where they ordered around 800 cans of spray paint for artists to come and to create. While Geyer was passing out cans, he got help from an accomplished artist who is well-known to many around the craft. 
Enter Nelson Guzman, most notably known as "Nels," an accomplished artist who was actually in line to get paint, but stepped in to help pass out cans to all the other artists. 
"I'm looking at this guy who I didn't even know," Geyer said. The line for paint was the first time they met."Then so he says to the next guy, what do you need and I went 'alright' and Nels handled all the paint for us," Geyer said. That would be the beginning of their relationship.
Triangle Arts has a number of works from Nels, including the largest tag at the facility, a 40ftx60ft mural that covers the NELS Bldg, who the building was named after from a description on Triangle Arts. In addition to his own art, Nels also helped bring in many artists to the Macon location, from Florida to LA. 
As Geyer and Penndorf sit talking about Nels, they acknowledge a painting beside them of a memorial portrait of Nels, who was killed on a highway in Oakland, California while crossing the street from a tag he was painting. 
Geyer and Penndorf both say a lot of what they do at Triangle Arts is in his name, including having a Nels Memorial Day each year. The first year, Nels' mom, sister, and cousins, in addition to many artists who were impacted by Nels over the years, came to pay tribute. 
 "It's funny, you asked me about impact that we've had on Macon. Just as important sometimes as the impact individuals have had on us. It's really shaped our existence and shaped our future paths. So we're thankful," Geyer said. 
The motto, Penndorf and Geyer both note, is "diversity drives creativity." An art trail is set up with spaces for people to come in and create. It's a place Geyer and Penndorf want to be inclusive for everyone, where each is welcome and can be at peace with art. There is art featuring local artists, but also artists all across the country such as from LA and New York, with all different styles of art that embodies diversity and creativity. 
The mission of Triangle Arts? To build community, foster creativity, to listen to others' ideas and to inspire others to dream. 
"If one person walks in here one day and leaves here with a, you know, idea that is going to potentially change their world, then we've succeeded," said Penndorf.
Triangle Arts' official grand opening is on Dec. 11 at 6 p.m.