Trump Continues Georgia Focus With Planned 'Save America' Rally In Perry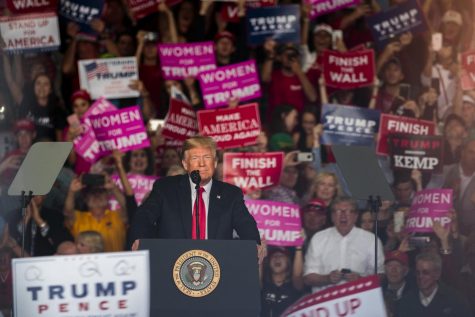 Former President Donald Trump has a rally scheduled for the Georgia National Fairgrounds on Sept. 25 rally in Perry, where his hand-picked primary challengers for lieutenant governor, secretary of state and U.S. Senate are expected to be featured.
According to a calendar booking on the fairgrounds' website, the "Save America Rally" is scheduled from 7 to 9 p.m. and is sponsored by Trump's Save America PAC. A spokesperson for the fairgrounds said more information about the specific location would be available later this week.
Georgia has remained on Trump's mind since narrowly losing the state's 16 electoral votes last November and after Democrats flipped both U.S. Senate seats in January runoffs.
The Peach State has played a prominent role in the country's shifting politics, and in Trump's campaign operations. In the final days of the presidential campaign, the former president held a rally in Rome and an event in Dalton on the eve of the Jan. 5 runoffs.
In an infamous call to Republican Secretary of State Brad Raffensperger, he asked the chief election official to "find 11,780 votes" — the margin by which he'd lost Georgia to President Joe Biden.
"The people of Georgia know that this was a scam, and because of what you've done to the president, a lot of people aren't going out to vote [in the runoffs]," Trump said. "A lot of Republicans are going to vote negative because they hate what you did to the president."
In addition to Raffensperger, Republican Gov. Brian Kemp and Lt. Gov. Geoff Duncan have drawn the ire of Trump and his supporters for not overturning the election or for speaking out against false claims of fraud.
Over the past ten months, as a crush of pro-Trump Republicans have joined the party infrastructure, an insurgent slate of primary candidates has taken shape to unseat those deemed not loyal enough to the party's base.
Last week, Trump endorsed former football star Herschel Walker in the GOP primary for U.S. Senate to run against Democrat Raphael Warnock, state Sen. Burt Jones (R-Jackson) in the open primary for lieutenant governor and has already endorsed U.S. Rep. Jody Hice (R-Greensboro) to challenge Raffensperger.
The battle over the future direction of the Republican party in Georgia (and the country writ large) comes as Democrats and demographic changes have morphed Georgia into a fierce battleground state with an outsized importance in politics.
At the 8th District GOP Fish Fry in Perry two weeks ago, former Gov. Sonny Perdue and others urged Republicans to unite behind the eventual nominees and avoid the drops in turnout that cost them in November and January.
"That's what primaries are all about," Perdue said. "We have intra-squad scrimmages to see who can stand and be our flag bearer for the general election. Folks, I want you to be as passionate as you can about your candidate, but don't get mad. We are still on the same team, the best team in America: the Republican Party and the Georgia Republican Party."
See the original story here.