Historic 1890 facade falls as Tropical Storm Fred heads toward Macon
The front of a historic downtown Macon building under renovation crumbled into pieces hours after Tropical Storm Fred made landfall Monday.
Builder Shawn Stafford, who is renovating five buildings in the 800 block of Forsyth Street, said he got a call shortly after 11 p.m. that the two-story facade of 835 Forsyth Street came crashing down. Macon-Bibb E-911 received the initial call about at about 9:21 p.m.
"Far as I can tell, the firemen said there was a gust of wind that came through and that's probably what took it down. I mean, he wasn't here, but he said some wind came through last night," said Stafford, who kept vigil all night at the building.
The National Weather Service reports sustained winds of about 10 to 12 miles per hour at about that time.
Meteorologist Lindsay Hochstätter said there were no indications of any higher gusts until overnight. Macon-Bibb EMA reported to the weather service that the 130-year-old building was under renovation and vulnerable.
"It's unlikely that any intensely strong winds were necessary to cause the collapse," Hochstatter said.
The storm, which made landfall Monday afternoon on the northern Gulf Coast in the panhandle of Florida, was tracking north up the border of Alabama and Georgia at the time.
The collapse also took down utility lines that were being repaired before 8 a.m. Tuesday.
Adams Squared LLC, a partnership of attorneys Brian Adams and Virgil Adams, has been renovating the businesses between Steward Chapel AME Church and the H&H restaurant.
Last year, the Macon-Bibb County Planning and Zoning Commission approved architect Bob Brown's plans for the block that dates back at least until 1890.
The first floors will be white-boxed for retail space with residential lofts on the upper floors.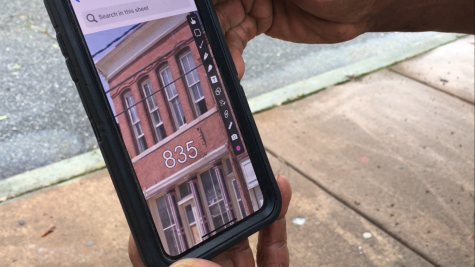 Stafford believes the damaged building at 835 Forsyth predates the adjacent ones as its mortar was softer and more prone to crumble.
"Well, we can fix it. It's going to take some structural steel to fix it," Stafford said.
He had already braced an adjoining building to safely work on the roof.
The bricks from the wall that fell were piled on the sidewalk as utility crews continued to work on the overhead lines.
"Really, we're going to try to save as many bricks as we can," Stafford said. "They didn't crumble like the bricks today."
The project has already experienced delays as custom materials and other building supplies have been hard to come by due to high demand and supply chain issues from the COVID-19 pandemic.
Stafford saw the late-night collapse as a blessing.
"Thank God it happened when it did when nobody was on the street. Nobody's car was parked. Nobody was walking past it. That was my first impression about it."
Civic Journalism Senior Fellow Liz Fabian covers Macon-Bibb County government entities and can be reached at 478-301-2976 and [email protected]