Beall's Hill duplexes beg question: why more renters?
After two decades of renovation, Historic Macon's work in Beall's Hill could be coming to an end. While the organization worked to increase home-ownership rates for the majority of those years, they will now instead be trying to bring renters back to the neighborhood.
"What we realized was that healthy neighborhoods have to have a mix of owner-occupied houses and rental houses," said Ethiel Garlington, Executive Director of Historic Macon. "We want to complement our work by adding quality affordable rental units in Beall's Hill."
Garlington and Historic Macon plan to attract these renters by adding 12 to 16 apartments to Beall's Hill. The duplexes would be available for low income families to balance with the homeowners in Beall's Hill according to Garlington, who introduced the project at a recent Macon-Bibb County Commission meeting.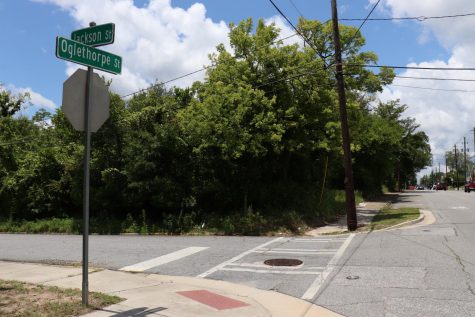 The duplexes will be built on Oglethorpe Street between Calhoun Street Lane and Jackson Street, next to Mt. Olive Baptist Church. The area is currently home to little more than vegetation, but could soon become an important piece of the Beall's Hill community.
Since renovations began in 2001, neighborhood trends provide insight into why this affordable housing is such a valuable asset for the area.
Why does Beall's Hill need renters?
In 1998, Mercer University and Historic Macon teamed up to bring new life to the community surrounding Oglethorpe Homes, a deteriorating 1941 housing project. The Macon Housing Authority landed a $19 million Hope VI grant to tear down the housing project and build 97 mixed-income units known as Tattnall Place. 
At the same time, Historic Macon renovated and rebuilt homes. Mercer provided down payment assistance for faculty and staff to buy homes near campus. What was once a high-crime area became an attractive and desirable neighborhood which drove up real estate prices. 
"Beall's Hill homes are currently demanding some of the highest prices per square feet in the county," Garlington said.
By 2012, 44 low-income homeowners received assistance purchasing their Beall's Hill homes, according to a Mercer University report first indexed in July of that year. The same webpage also says homeowner percentage in the neighborhood increased by 38 percent between 2000 and 2012. The Historic Macon page cites that the home-ownership rates in Beall's Hill are above average for the nation.
Rental spaces in Tattnall Place run by Macon Housing Authority are in high demand. The majority of homes in Beall's Hill, though, are now lived in by families that own the property, creating a cycle of increase in property value and decrease in renters.
Beall's Hill had more rental properties in the early 2000s. The houses for rent were in "deplorable" shape, according to Garlington, and have since been remodeled and are no longer rented. 
These properties were mainly SROs, or single-room occupancy, and were located on Calhoun Street and Ross Street. The SROs typically had one house divided up among renters, with each tenant living in one room of the house. 
"Slowly, and this happens as neighborhoods evolve, those SROs got converted back into single-family residences," Garlington said. "So what we saw was the access to apartments was lagging, they were coming offline."
The conversion back into homeowner-occupied residences allowed the former SROs to be renovated to provide a better living space, but also led to the imbalance between homeowners and renters in the neighborhood. 
Garlington said that about five years ago Historic Macon began to think about building more rental properties in the area. This will not only help make the properties available for people who cannot afford the steadily rising prices in Beall's Hill, but will  diversify the neighborhood.
Long-time Beall's Hill homeowner Alice Bailey agreed with Garlington's sentiment that renters improve neighborhoods like hers.
"You have people who are in a position to aspire to do something, that's how we get better," Bailey said on how renters change neighborhoods. "If a child has an environment where nobody has anything, they might want more, but to aspire to what you see –  it has to be reachable. Seeing it helps a neighborhood grow."
How will Historic Macon fund the project?
Securing $600,000 from Macon-Bibb's share of American Rescue Plan funds for the new affordable housing was the main topic of discussion during Garlington's proposal at the commission meeting.
Macon-Bibb County Mayor Lester Miller sponsored the measure.
"We're interested in reviving these neighborhoods and protecting them against gentrification, of course," Miller said of the proposal from Historic Macon. "We're seeing an opportunity where we pay $600,000 and multiply that by two to get $1.2 million to make a real significant impact to maximize what we're doing for the community."
 The other $600,000 will come from the Knight Foundation, who announced Monday that they would match Macon-Bibb County's contribution.
"To the mayor's point, and to the commission's point… it's always attractive if we can double our money in the community. It's incredibly powerful," Garlington told the Center for Collaborative Journalism.
Garlington also referred to the project as "shovel-ready," meaning that the construction of the duplexes should start soon now that the grants have been obtained. The funds also mean that Historic Macon can focus on another aspect of the project: generating revenue for future investment.
"Revolving funds" and the Housing Choice Voucher program
The duplexes that would be added to Beall's Hill will be part of the Housing Choice Voucher program, also known as Section 8. The federal program involves property owners or landlords registering their properties, which must meet program standards.  
"So with the federal program, then, a tenant can go apply to our housing authority for a Housing Choice Voucher. They can then take that voucher to any apartment that meets the standard requirements," Garlington said. "They pay the landlord, and use the voucher to pay a good portion of their rent."
Homes in the program are inspected to make sure they're kept in shape. The Macon Housing Authority runs the program and helps duplexes remain viable affordable housing options. The inspections, along with rent help for tenants, make sure the properties stay occupied and well-maintained.
The rent collected from duplexes would be used by Historic Macon for expansion, a form of investment Garlington calls "revolving funds." 
"This investment will not only help us build these duplexes on Oglethorpe Street but take that money, capitalize it, take the equity and develop more of these or buy other rental properties in other communities," Garlington said. 
Garlington said the next area targeted by Historic Macon could be the Napier Heights neighborhood surrounding Central High School and Miller Middle School. 
Future renovations could use funds generated by the new duplexes and feed off the success in Beall's Hill.
"We're wrapping up that work in 2022, and so our work will generally be done in Beall's Hill," Garlington said. "Anyone who's sort of watched the neighborhood evolve, as you know, can really attest to the success of that program."