East Macon's newest pioneers settle Mill Hill Arts Village
Artist Roy Scott sat daydreaming while overlooking downtown from the front porch of a decaying east Macon home, about six years ago.
"I said to myself, 'I have got to live in one of these homes. Got to,'" Scott told his new neighbors last month during a welcome reception for the fledgling Mill Hill East Macon Arts Village.
New residents and stakeholders gathered on the last day of June to celebrate the sale of the original batch of renovated homes along Schell and Taylor avenues and Hydrolia Street.
Scott first laid eyes on the old mill village in 2015 when the Macon Arts Alliance held a reception honoring new artists who had moved to Middle Georgia. Scott was living in Warner Robins at the time.
He was tapped to serve on an artistic advisory committee guiding the dream of transforming the dilapidated old Bibb Mill town into a thriving artist enclave in the city's oldest neighborhood.
After a detour to Florida, Scott is now the proud owner of one of the renovated homes on Taylor, looking down on the restored 1920's Community Arts Center.
During the recent gathering, Urban Development Authority executive director Alex Morrison reminisced about the blighted businesses and homes that have been razed nearby off Main Street.
"This neighborhood just looked so dark and isolated before, and we've opened it up and made it look like it's a place for people," Morrison said, as he briefed Mayor Lester Miller on the progress of the development.
Former Macon Arts Alliance executive director Jan Beeland tried to compress the history of more than eight years into a brief presentation for the new neighbors.
"Over my years of absolutely doing a lot of volunteer work, this is the most rewarding," Beeland told them.
Current UDA chairwoman Kay Gerhardt and former UDA board member Carey Pickard remembered asking Bibb County Commission Chairman Sam Hart for $50,000 for downtown sidewalks. Instead, they got millions, including $2 million for east Macon redevelopment.
"I want to credit the late (Bibb Commissioner) Lonzy Edwards and Sam Hart for having vision that, let me be honest, I didn't see it," Pickard shared at the reception. "I just thought, 'we can't do this.'"
Gerhardt remembers the challenge before them.
"They just shocked us when they gave us all this money," Gerhardt said. "That's great, but we can't do that whole neighborhood for $2 million."
'It's really taking off'
A trip with former Mayor Robert Reichert to Bradenton, Florida, inspired the idea for the arts community.
They began interviewing east Macon neighbors and holding public meetings to bring the vision into focus.
With a conglomerate of resources, foundation grants and support from organizations, Historic Macon began renovating the first homes as the UDA and Macon Arts Alliance secured $1.6 million to restore the old auditorium to anchor the village.
The center now houses a Bakers' Collective in a professional kitchen and a Tech Toolshed, to provide equipment for aspiring filmmakers, designers and digital artists.
What began with a $134,000 grant from the National Endowment for the Arts led to more than $4 million dollars in public and private funds being poured into the arts village.
"I think it's been money well-given and well spent," Gerhardt said as she thanked the new residents for investing their money and talent.
Plus, a recent $50,000 Downtown Challenge grant from the Community Foundation will spruce up the linear park between Schell Avenue, Clinton and Main streets.
Current Macon Arts executive director Julie Wilkerson is searching for another artist-in-residence to lend and share talent with the community. She is also hoping to secure more grants to continue work on the grassy meadow adjacent to the auditorium, Morrison said.
"Because it backs up to the national park, we want this to look like a gateway to both the neighborhood and to Ocmulgee and have the trail running through here," Morrison said. "It'll be really nice."
He sees soccer games, Frisbee tossing and plenty of seating for movie nights.
Phase 1 of the park development will include grading and planting trees to "make it look like a park and not a place to drive dirt bikes," Morrison told Miller, as they chatted on the elevated sidewalk that connects homes on Schell Avenue.
Future plans also call for outdoor seating and public art.
With this project, Morrison envisions fulfilling the Macon Action Plan's goal of enhancing the back entrance to Ocmulgee Mounds National Historical Park while revitalizing Macon's very first neighborhood that popped up around Fort Hawkins in the early 19th Century.
It has been a long and sometimes discouraging venture that began with a desire to reduce blight and increase economic opportunities without gentrification.
'We want diversity'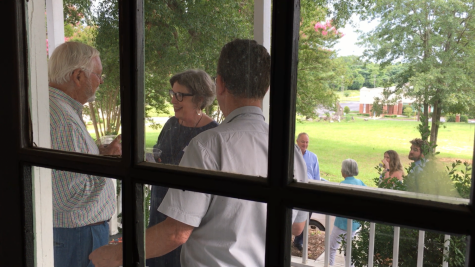 Although the UDA first struggled to find buyers, UDA project director Victoria Jessie spotlighted the village on social media and coordinated open houses, including one early this year for first-time home buyers. About a half-dozen more homes closed this year.
"If you don't know about the village, then you really have been living under a rock," Jessie said.
They are committed to drawing people from all walks of life and ethnicity.
"We want diversity in all aspects," Jessie said.
The village is a covenant neighborhood of owner-occupied, non-rental properties. The Macon Urban Land Trust holds title to the dirt with two options for buyers. They can own the land through a conservation easement and pay property taxes, or can opt for a land lease and not pay taxes. All homeowners pay a covenant monthly fee of $50 to maintain lawns and fund general repairs.
The community's first residents, Athens retirees David and Cassie Bryant, found themselves traveling to Macon and spending weekends in his hometown.
As a boy, David Bryant's grandparents lived a few blocks away on Main Street and his father grew up in the village. The tug of nostalgia mixed with the excitement of new restaurants and entertainment lured them to buy the first house sold on Schell Avenue.
"There's just so much going on and it's really taking off," Cassie Bryant said. "(Macon's) having a real renaissance and we've met so many young people who are the movers and shakers here –  people who are really making important things happen, big things happen. It's so fun to watch and so fun to be a part of it."
The socially active couple with a penchant for historic preservation plans to enjoy all the city has to offer while contributing to programming at the arts center.
She is an accomplished seamstress and he served as a producer for the National Public Radio affiliate in Athens. He retired as associate director of the Georgia Sea Grant program at the University of Georgia.
"We had no intention of moving to Macon, but we had been coming here just to enjoy the nightlife," Cassie Bryant said. "We found this little community here and could not believe how charming it is."
First-time home buyers
Nearly half of the new residents are first-time home buyers.
Hannah Frey honed her love of art in high school. When the Barnesville woman learned about the arts community, she was sold on buying her first home on the outskirts of downtown Macon.
"I instantly was just drawn to it and automatically just was like, 'I got to get a house. I got to be a part of this community," Frey said. "When you go downtown everything is just so friendly and there's art everywhere… and the food here is amazing."
Brenna Lockaby, a lover of old architecture and another first-time home buyer from Perry, also was drawn to the proximity to downtown.
It was love at first site when Lockaby found the house online.
"Being in an older home that's been renovated and brought up to date, just like a dream come true," Lockaby said. "I really liked the proximity of the houses, too, so that I can, you know, develop relationships with my neighbors because, right now, I just don't have that community."
Bringing the neighbors together for the first time helped foster new relationships.
Delilah Bloodworth and Rick Ortega said they were looking for a tranquil neighborhood with just enough of a yard for their little dog.
"It's very peaceful, you know. It's definitely something we were looking for," said Ortega, who hopes to display his art at the center.
"Yes, a quiet neighborhood where we can grow, you know, and have warm and friendly neighbors, especially as beginning out and buying our first house," Bloodworth said.
Two more houses are being restored to go on the market.
Morrison hopes to secure more grant funding to provide down payment assistance as they market properties directly to minority artists.
"Macon keeps reinventing itself, one village, one neighborhood, one family at a time," Morrison told the neighbors. "And when that keeps building, it's going to prove that all of these villages, all of these networks, build up to something more beautiful than we could have ever imagined."
Civic Journalism Senior Fellow Liz Fabian covers Macon-Bibb County government entities. Contact her at [email protected] or 478-301-2976. 
View Comments (2)