Lights, camera, action… but for kids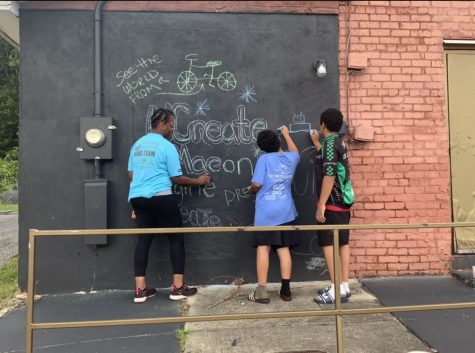 Lumi Weaver, 10-year-old, never imagined that he would be walking down a red carpet in Macon, Ga. until he competed in The Playground. However, this playground involved cameras and editing rather than swings and slides. 
U Create Macon founder Charise Stephens received a $2,000 grant from the Community Foundation as a part of the Downtown Challenge. The grant will be used for the 2021 Playground Kids Film Festival. 
"We're going to give kids more than any time a chance to share their opinions," Stephens said.
Stephens started the film festival to create an opportunity for the youth to be heard and be more creative. 
"Georgia is a hotbed for making movies. Macon has become a place that people are coming to make movies, but we have kids that are not part of the process," She says, "We may have a future Tyler Perry right here in Macon, and we want to create an atmosphere so we can, you know, have more creative kids." 
During the festival, the participants will walk through a red carpet and have "paparazzi" take their photos. After walking the red carpet, each film will played on the big screen.  
"We really give the kids a taste of how it would be if they were filmmakers," Stephens says, "We want kids to feel part of the process, and we want them to get out of their shell."
In 2020, over 30 youth filmmakers competed against each other in the first Playground Kids Film Festival. 
Some youth filmmakers created films from the perspective of kids during 2020. Their films explored the experience of not going to class in person and attending classes virtually. 
10-year-old filmmaker Lumi Weaver said that he learned how to use a green screen, edit videos, speak into a camera, and not be camera shy through UCreate Macon. 
"It was difficult, but it wasn't really difficult because it was fun at the same time," Weaver said, "It was really just an adventure when I was making my video."
To prepare for the film festival, U Create Macon has digital arts camps. Children learn how to write their own scripts, film videos, edit that footage, and more. 
Stephens wants the digital arts camps to be an opportunity for the kids to edit their film if they do not have access or the opportunity already. 
"I don't care if they're rich, poor, white, Black. We want any kid in the region to participate," Stephens said.
The film contest is open to all students attending any school in the 13-county region of Central Georgia. The participants will be grouped by their grade level– elementary, middle, and high school. 
This year's camp is now open for registration. The last day to register is November 16. 
According to Stephens, it is free to participate. The film must be less than 2 minutes and fit under the categories– music, education, and community. 
While every participant will receive a prize, the winners will receive cash prizes. 
Stephens is hoping to have the film festival sometime in December at the Hargray Capitol Theatre. For more information, contact U Create Macon on Facebook or phone at 478-747-7920.