Looking for solutions amid the pandemic homicide spike
Macon's 19th and 20th homicides of the year came during the dinner hour in the Avalon Mobile Home Park.
The crime scene was tucked in the back of the working class neighborhood. There, parents shushed children as a crowd watched from behind yellow crime scene tape as sheriff's deputies gathered evidence from the home where Quinterious Hillman and Jerod Lester, both 29, were found shot to death.
A 19-year-old would later be arrested.
Whitney Waters is Lester's cousin. She said the crowd was a sign of how much the neighborhood loved Lester, who was a hairstylist by trade.
"Those boys didn't do anything wrong," Waters said. "They worked. They were very hard-working men. And they was just trying to make a living for themselves. And better themselves. That was it.
"Senseless killing. For nothing."
Away from the headlines of mass shootings and people being killed by law enforcement, it's deaths like Hillman and Lesters that are the steady backbeat of U.S. homicides. And they have happened more often during the COVID-19 pandemic.
Across the country, but mostly in the South, homicides were up 20% in 2020 compared to the year before. They may be on a similar trajectory this year.
The pandemic spike
Kim Davies is a sociologist at Augusta University. She began studying U.S. homicides in the 1990s. She said even with this recent spike in killing, homicides are nowhere near mid-'90s levels.
But the jump in killing is a big swing away from what had been, up until now, a generally downward trajectory of homicide rates.  Davies says there are lots of possible reasons why, but one looms large.
"Things are in flux," Davies said, meaning the nation is in a time of cultural upheaval and deep social divisions, replacing old cultural norms with new ones.
"They're what's going on in our society," she said. "It's unpredictable for people. And we seem to have more homicide when we have more things in flux."
On top of that, we've been battling the pandemic for more than a year. It was COVID-19 that filled emergency rooms over capacity. Davies said that could have made it tougher to treat gunshot victims.
"It's potentially the case that we had people die who would have been aggravated assault cases in the past because, you know, we heard about people being lined up, in some cases, trying to get in the hospital," Davies said.
Pre-existing conditions
Whatever the cause of the spike in violence, political leaders are under pressure to do something about it.  For instance, Gov. Brian Kemp and Attorney General Chris Carr tout the state's new anti-gang task force. In Atlanta, the family of 8-year-old Secoriea Turner has sued the city for her death by a careless bullet fired during protests over the killing of Rayshard Brooks by an Atlanta police officer, claiming law enforcement failed to contain the protests.
But Yasser Payne says more policing is the last thing we need.
Payne is an associate professor of anthropology at the University of Delaware. After thousands of conversations with mostly young Black men, he calls himself a street ethnographer. He says it's really easy to look at violence as culturally deviant.
"And what we're saying is that, no, crime makes sense," Payne said.
Payne is not endorsing violence. Instead he sees it as a predictable response to structural racism.
Consider, for instance, that back in the 1930s, the federal government advised banks not to lend money to Black people in the Macon neighborhood of Unionville, where, today, people in the city are most likely to be killed.
Additionally, homicide was already the leading cause of death for young Black men before the deaths of Brooks and Ahmaud Arbery, which both fueled the black lives matter protests last summer, and before the devastations of COVID-19.
"If we didn't see gun violence in a society that's so highly unequal, that would be odd," Payne said. "If we didn't see what we're seeing now, that would be like a scene out of 'The Twilight Zone'."
According to Payne, changing this requires creating economic opportunity in ways that work against structural racism.
"It's the only thing that we know that works to stop violence," Payne said.
While Davies can't say for certain it was community reinvestment that slowed homicides in the 1990s, she said the shift in violence during that decade occurred alongside lots of intentional social programs.
Payne said, yes, this sounds like generational work. But it starts somewhere.
"There are a number of things that we can do in the short term," Payne said. "It's not either-or. It's both-and."
Payne said we can start tackling violence by talking honestly and frankly, in small groups, about how racism works in our communities and asking ourselves what role we have to play, as individuals, in disrupting inequality.
"The real change, it always comes from those small table conversations," he said.
A plan from the people
There were two more homicides in Macon by the time Mayor Lester Miller and other leaders publicly announced their plan to deal with the violence.
That includes new policing, but also collaboration with the school system, mental health counseling in statistically violent neighborhoods and American Rescue Plan money to be spent, Miller said, where citizens say. There will be public forums soon.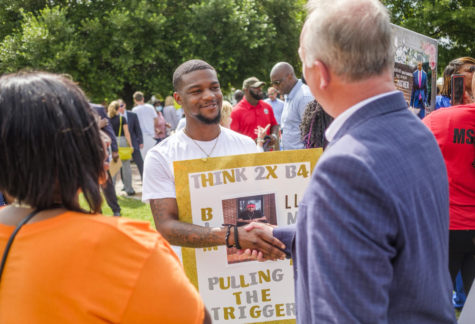 "So yes, we have a plan," Miller said during the press event, with the white columns of Macon City Hall as a backdrop. "But the rest of that plan has to be from the people."
Listening was Shandarius Hillman, whose brother Quinterious was killed in the Avalon Mobile Home Park shooting. Despite his continued grief, what he heard left him optimistic.
"If we all keep coming together — well, I'm not going to say it's going to completely stop, but we can make a difference," he said. "I think we can make a difference."
At the same time, about a mile from City Hall, officers were responding to another homicide, the city's 23rd of the year.