Pride month spotlights history of Macon Pride and how it's grown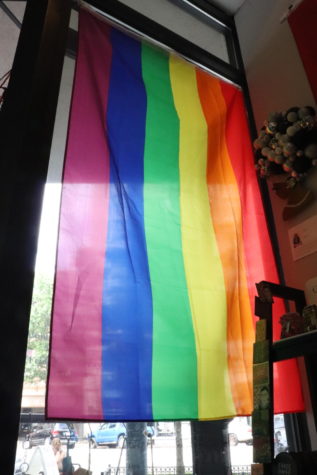 In the window of Travis Jean Emporium hangs a Pride flag. Rays of afternoon sunshine turn to rainbows inside the shop as store owner Scott Mitchell reflects on how much has changed for the LGBTQ community in Macon in just a few decades.
"There was never a place to buy a pride flag in Macon, you know," Mitchell said of when he first moved to Macon. "There was never a place with a pride flag in the window where you would know, 'Oh my gosh, there's a place where I can be myself.'"
Mitchell's store was recently listed in the new "Lavender Book," a database that lists safe spaces for members of the Black LGBTQ community across the country. The community-driven database was released at the end of May by the National Black Justice Coalition in collaboration with the non-profit Out In Tech.
The addition of Travis Jean Emporium to the website comes at the beginning of Pride Month. Mitchell said it represents a lot of growth for Macon Pride and the LGBTQ community, a group that he has been working to grow ever since arriving in Macon in 2009. 
"To be included in that book is such an honor for me," Mitchell said. "I think that it's so important when people visit Macon to know that there's places where they can go."
Christina Leon is the lead organizer and performer for The Tribe Macon, a team of local drag queens that put on shows in Middle Georgia. She said she knew about an original Macon Pride initiative from the 1990s and early 2000s. The earlier organization, however, faded away long ago.
"I don't know much information, I just know it drifted away. I wasn't there during the initial Pride," Leon said. "But Scott has made it his mission to bring it back."
The first iteration of Macon Pride, which operated from around 1998 to 2004, is kept alive only by its website, an HTML page ancient by today's standards. The final post from 2004 states that the group's president at the time, Chris Coggins, is resigning. The site still houses posts about various events held by the group in the early 2000s.
One of these pages features a profile on prominent Macon drag queen Tangerine Summers, one of the few remaining links connecting the original Macon Pride to Mitchell's revival of the group.
"Scott included the Macon drag legend Tangerine Summers, myself, my drag family and on top of that several LGBTQ leaders in the community," Leon said of Mitchell's revival of Macon Pride. "Honestly, the first product was impeccable."
The "first product" Leon references is the Macon Pride Festival organized by Mitchell and Macon Pride in 2019. The festival took place on June 22 and had Tangerine Summers as a featured guest.
It was the first such Pride event in nearly 20 years, and Mitchell is still in awe of the support it garnered.
"I can't even wrap my head around this much support that we're getting, it literally blows my mind," Mitchell said. "The sheer number of people who were not LGBTQ people but wanted to celebrate the community… it was insane just how much love was out there."
Mitchell said that the Pride event became a priority for him after increased violence towards LGBTQ individuals in 2019, with a particular emphasis on the case of Ronald Peters, a man who was harassed with homophobic slurs and killed in a 'hate-motivated' shooting. For Mitchell, it was time for action.
"I remember calling one of my friends who had been talking about some kind of LGBTQ event," Mitchell said. "I said, 'if we don't do this now, then when,' you know? So we planned our first Pride Festival."
Mitchell and his group secured permits and the necessary reservations in a tight window of just two weeks. Even though the initial run of the festival was intended to be a way to gauge Macon's response, the festival was a smash hit.
"It was probably the most efficient last-minute thing I've ever done in my entire life," Leon said with a smile. "I thought when it started raining, people would leave. But the storm passed and I went downstairs to the show… the street was packed. I was shocked that there were so many people."
The success of the festival was a huge leap, officially cementing the return of Macon Pride for the first time since 2004. It was a big deal for a city that has experienced some violence and prejudice against LGBTQ community members in its past, including shootings like that of Elizabeth Davidson in 1993 and even the arrests of drag queens including Tangerine Summers.
"It was a huge success, and we knew then that this was something that was going to be bigger than us," Mitchell said of the planned 2020 festival. "So we formed a committee and started working on the festival for last year, but of course with COVID-19 we had to cancel that one."
The pandemic cancellation of the festival didn't stop Macon Pride, though. Mitchell's group has continued to build upon that 2019 festival's foundation, a fact highlighted by the feature in the Lavender Book. Travis Jean Emporium is the only Macon business featured in the database of safe spaces.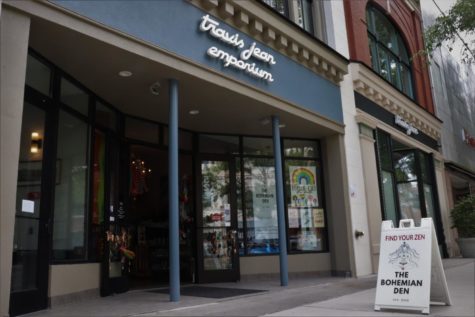 Mitchell said the Lavender Book inclusion is just the beginning of a bigger change in Macon.
"I would love for there to be other people included in the book," Mitchell said. "I think there's a huge shift in businesses and what they're comfortable putting out there. I think you will see in the future more businesses coming out in support of making Macon the most diverse little spot in Middle Georgia."
In addition to the potential for more businesses to be added to the database, Mitchell said that roughly 30 businesses have contacted Macon Pride to sponsor the group. Macon Pride has become incorporated, created a board and is working towards becoming a nonprofit. 
"We're a real entity working on this year's event, which blows my mind compared to anything we ever imagined could happen," Mitchell said. "We went from having this one afternoon event to having a four day event now."
This year's Macon Pride Festival takes place on Sept. 23-26. The organization has also organized the "Dine OUT and Shop OUT" event in downtown Macon, which features Macon businesses donating a portion of their sales to Macon Pride on June 29.
And as for those Pride flags not being found in any windows? That's changed here in Macon, too, according to Leon.
"[Scott's] saying used to be 'You can always find the Macon Pride store, because we're the only store with the rainbow flag.' But that's just not true anymore. So many people are doing it with him, and that's really cool."