Just Curious: Where are Central Georgia's icons now?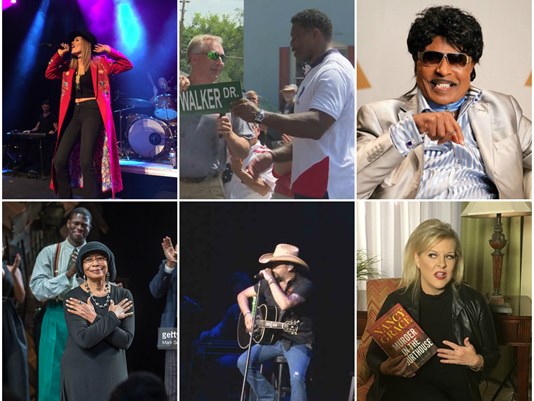 Macon is known for its lengthy list of pop stars, music legends and acting icons who are from the area. We were "Just Curious" about what these celebrities are doing today.
Here are seven icons from Central Georgia and a bit about what has been keeping them busy:
Gregg Allman founded the Allman Brothers Band and introduced Macon to their original style of music. His biography on the Gregg Allman website says he wrote several of the band's most famous songs as well as seven of his own albums. Allman died at age 69 on May 7th and is buried in Rose Hill Cemetery, but his legacy continues. His final solo album Southern Blood was released in September, and the Big House Museum on Vineville Avenue stands as a memorial for both Allman and the band.
Betty Cantrell has her roots in Central Georgia, where she attended Mercer University, according to the "Gateway Macon" website. She was selected to compete in the Miss Georgia pageant and went on to receive the title of Miss America. Today, Cantrell has started her career in country music.
Jason Aldean is yet another large name in the collection of musical artists. The country singer has released seven studio albums and 28 singles, and won the CMA music award for Album of the Year in 2011, according to Biography.com. Aldean is currently on a nationwide tour with several accompanying artists and has recently released a new single titled "They Don't Know."
Little Richard has performed on both local and international stages. His works are some of the greatest trademarks of Macon history, and memories of his active music years are spread around the city. Today the 83-year-old artist has stepped away from the public eye and lives in the musical city of Nashville, according to Rolling Stone.
Comedian and actor Jack McBrayer has appeared in several episodes of Late Night with Conan O'Brien. His article on Biography.com says he played character Kenneth Parcell in the satirical sitcom "30 Rock" from 2006 through 2013. He currently stars as Dr. Ted Goodwin in ABC's The Middle and is voicing Fix it Felix Jr. for the next Wreck it Ralph animated film.
Author Alice Walker was born in Putnam County in 1944 and attended Spelman College, according to the Encyclopedia Britannica. She is the renowned writer of the 1982 book The Color Purple, and she won the LennonOno Grant for Peace in 2010. Today, she is still writing and has authored two new books in the last few years.
Herschel Walker is a football player and a mixed martial artist. He was born in Wrightsville and played football at the University of Georgia, where he won the 1982 Heisman Trophy, according to the Georgia Encyclopedia. Today his focus is on mentoring youth and giving educational talks about mental health.
Macon is known for its rich history, and we are setting out to answer many of the questions we all have about Macon and its surrounding cities.