Folks 'mad and upset' about late trash pickup, commissioner says
Macon-Bibb County Commissioners learned COVID-19 pandemic worker shortages are affecting garbage pickup
Macon-Bibb County Commissioners' phones have been ringing as constituents complain about late garbage pickup.
Mayor Lester Miller said the county is not unique. He recently spoke with other mayors in a meeting with Rep. Sanford Bishop about staffing shortages related to the COVID-19 pandemic.
"For whatever reason people are at home and not at work," Miller said. "We know there's a shortage of workers. You can drive down the street and see 'we're hiring' signs."
Recycling also is behind because they are pulling workers for regular trash routes.
Waste Management, the company the county pays for household garbage removal, is having to train new drivers and is getting behind on routes, County Manager Keith Moffett said.
Often they have to shift crews to cover staff outages.
"They are in the process of doing massive job fairs. They even have a $5,000 signing bonus but they're still having difficulty hiring folks," County Manager Keith Moffett told commissioners.
The company believes they are getting through this phase, he said.
Miller asked that people be patient as the call center wait time is about 5 minutes. Sometimes whole streets are missed, but he advised residents to leave trash bins on the street until the garbage is picked up.
"Certain things are happening that make it more beneficial for people to  be at home," Moffett said. "With that, they're struggling to get people in."
Mayor Pro Tem Seth Clark raised the issue at the conclusion of Tuesday's Committee of the Whole meeting.
"I know that the county is doing everything they can to catch up on that," Clark said.
Commissioner Al Tillman was anxious to learn more about the situation so that he could explain what is happening because it's not the county's fault, he said.
"Folks are just so mad and upset," Tillman told commissioners. "Folks say they've been waiting on a call 45 minutes to an hour and some folks are waiting because, man, when you see your trash piled up, you just want it picked up."
NewTown Macon executive director Josh Rogers said the employment problem is widespread.
"Just about every restaurant and bar in downtown is short on help," Rogers said.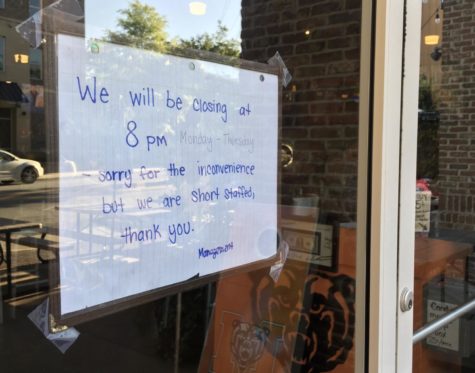 Margarita's in Mercer Village is closing early during the week to give overworked staff a break, according to a sign posted on the door.
Kudzu seafood restaurant owner Lee Clack said he's had to pay premium wages for a temporary dishwasher just to keep his wife from washing all the restaurant's dishes.
Rogers said other owners are working double shifts themselves to fill vacancies.
"I think everyone is shorthanded," he said.
The trash discussion concluded the regular session of the commission meeting at City Hall. All items passed in committee will be up for final approval at the May 4 meeting.
Commissioners went into a brief executive session before taking a field trip to Dean Baldwin aircraft painting under construction at the Middle Georgia Regional Airport.
After lunch, Macon-Bibb County leaders toured the old Brown & Williamson Tobacco plant which is now owned by Industrial Realty Group, or IRG. The company plans to spend $1.5 to $2 million this year dividing part of the 2.1 million-square-foot facility to market to multiple tenants.
View highlights from the meeting in this compilation of Tweets that summarizes actions taken.