Bike Walk Macon Brings Public Art to Historic Greenwood Bottoms
In 1965, Brandon Harris's grandfather opened Harrell's & Son's Barber Shop in Macon's Greenwood Bottoms neighborhood — a community named in honor of Tulsa's "Black Wall Street," also known as Greenwood.
Today, Harris — now a co-owner of the family barbershop — says the historic hub of Black-owned business feels disconnected from the rest of downtown Macon.
Bike Walk Macon, a local nonprofit organization, hopes to change that. On Feb. 27, the group invited volunteer artists to paint Bay Street, which runs next to Harrell's & Son's across Martin Luther King Jr. Boulevard.
"We use paint and creativity and artists to not only make the streets safer, more welcoming but also just create this sense of 'place,' add some creativity, let the neighborhood be a part of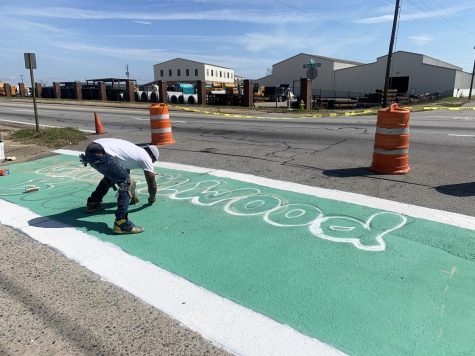 the design," said Rachel Umana, executive director of Bike Walk Macon.
Umana, a 2012 Mercer University graduate, founded Bike Walk Macon in 2015 with the support of a Knight Foundation Emerging City Champions grant. She was inspired to apply for the grant when she learned that one in three Macon residents did not hold a driver's license, yet the city had less than a mile of bike lanes.
"For the past 70 years, we've built streets that only get people where they need to go by taking a car," Umana said. "People are getting around in other ways, not just driving, so how do we make it more comfortable and welcoming if you want to bike, if you want to walk or if you want to take public transportation?"
Harris said that increasing pedestrian access throughout Macon is an important next step for the city.
"If you look at the models of big cities, cars are not the only means or the major means of transportation," Harris said. "I think if we want to grow into a major city … we definitely want to follow those models."
Since its inception, Bike Walk Macon has supported the creation of more than five miles of bike lanes, many miles of trails, and multi-use pathways as well as pedestrian facilities such as crosswalks. The group has worked with the Macon-Bibb County government to champion transportation policies and created programs that increase residents' access to alternate methods of travel, such as bicycles.
It's one such program that brought Bike Walk Macon back to Greenwood Bottoms after collaborating in a 2020 revitalization effort: the Love Your Street project.
Umana received support from the Knight Foundation and Georgia's Pillyr Foundation to launch Love Your Street. The project provides funding for community leaders to implement volunteer-led interventions that increase pedestrian access, such as painting bike signs on roads. The streets all fall within Macon's Urban Core, an area bound by I-75, 7th Street, and the Ocmulgee National Monument, Little Richard Penniman Boulevard, and Emery Highway.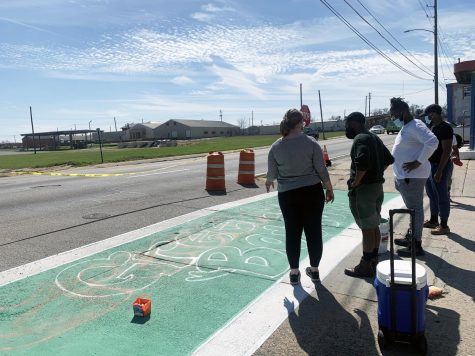 Neighborhoods throughout the Urban Core nominated their streets for Bike Walk Macon to convert into cyclist-friendly walkways. Bay Street was one of four roads selected.
"We worked directly with people from the neighborhood and the business owners to gather ideas," Umana said. "This neighborhood with a really rich history is very close to downtown, but it feels disconnected, and part of that has a lot to do with the infrastructure."
Greenwood Bottoms residents told her that Martin Luther King Jr. Boulevard makes it difficult to walk or bike between the center of downtown and Greenwood Bottoms. By creating public art signaling which parts of the area are pedestrian-friendly, Bike Walk Macon hopes to help bridge the literal and figurative gaps the highway forged.
To Harris, connecting Bay Street with the rest of downtown through public art celebrates a history he feels most of Macon has forgotten.
"Letting people know what's going on down here and the significance of Greenwood Bottoms and, you know, being able to get ready to tell our story is major," he said. "This is kind of unscathed territory down here. We are like a forgotten part of downtown Macon, and I'm just very excited that people are starting to really recognize us and dig for the treasures that we have here on this side of downtown."