Animals adoptions are up, donations are down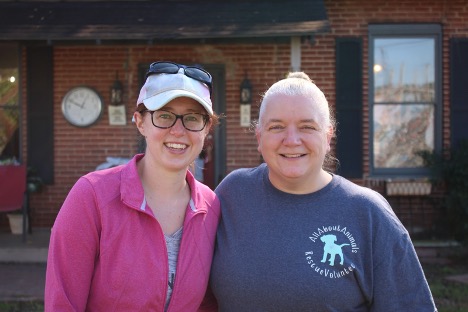 Phoebe Monsour
A typical Saturday for an All About Animals Rescue frequent volunteer, like Haylee Robinson, involves finding that perfect match between human and furry friend.
About six months ago, a woman reached out to All About Animals Rescue through Facebook, and on the day that they were scheduled to stop by, Robinson placed Ellie, a lab mix that hardly anyone would look at, out to greet them in hopes it would be a good fit.
So, the family looked at all the dogs, but in the end, they came back to Ellie. Since then, this family has adopted another dog from the Rescue, and on Nov. 14, they stopped by to show their gratitude for the two new members of their family.
"When you can match up a person and their dog and they're just like, so grateful, that's what it's all about," Robinson said.
Due to the pandemic, volunteering, special events, and monetary donations at All About Animals Rescue, a non-profit, no-kill animal shelter, have slowed down, but adoptions have been up.
"When all the lockdowns kind of started, people were really reaching out to us to foster a lot, and since I am here a lot, I ended up hooking a lot of people up with foster dogs, and I'd say about 75% of the people ended up keeping their foster," Robinson said.
Kristin Wright, the volunteer coordinator for All About Animals, said that they usually hold an event with Subaru in October for National Adopt-a-Shelter-Dog Month. Instead, this year, for every dog adopted in the month of October up to 31 dogs, they gave $100.
"We met that. We've adopted 36 out – well, we adopted more than that – but by the time I turned in my count, it was 36, so we got the 31. We're getting $3,100, so that is a big, big plus," Wright said.
While adoptions are up, COVID-19 has taken its toll on volunteering and donations.
"We have definitely had to take a new approach to volunteering to keep everybody safe, so we've slowed down on letting new ones come in as often as they were before, so it has slowed us down some," Wright said.
Robinson said that at first, the only volunteers allowed were those who came frequently and knew the dogs, but as things started reopening, they began requiring masks. In addition, the business is mostly outdoors, and adopters are encouraged to make appointments.
"So, we're trying to keep everybody safe, but the, you know, the dogs still need the care, that didn't change. They still need to get out. They need to be socialized. They need to be walked," Wright said.
They're still getting blankets and pet care donations, but monetary donations are down. They lost money that they would typically use throughout the year due to the cancellation of their annual Rescue Run fundraising event.
"We will take anything that we think we can use. And we have a lot of puppies right now. So, of course, puppy food cans, puppy food, puppy pads. We need that really bad right now," Wright said.
All About Animals also accepts blankets for the cold season and other pet care items like canned pet food.