Semester Ending Thanksgiving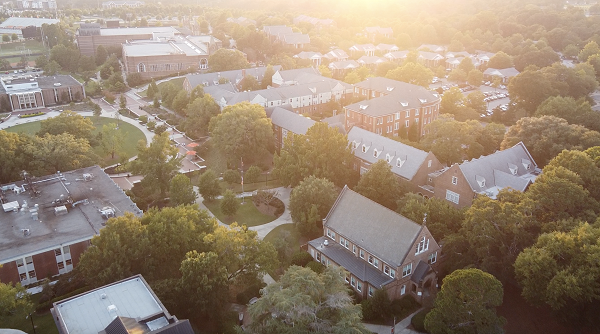 The 2020 year has been nothing short of weird and unordinary. From worldwide pandemic, to social justice movements, to another crazy election year. One thing is for certain, the way people go about their daily lives has changed.
 Mercer University has decided to go about a different way of finishing up the 2020 Fall semester with their faculty, students, and staff. Rather than return to school for finals after the thanksgiving break, students will finish up classes online. This has brought different thoughts about how this school year will unfold for some students. "You know part of me is glad that I won't have to come back for classes, yet another part of me thinks that finishing up classes is going to be a struggle personally." Senior Harrison Frost said.
 "Most of my classes are actually going to be done by the time thanksgiving comes around, so being able to go home and not have to worry much about taking finals is going to be nice." Junior Xavier Perkins said. "I will say though, the week or two before thanksgiving is going to be tough." Perkins said. With most students going home with finals still to be taken, some students are going to be done with classes before thanksgiving. It will be a busy couple of weeks leading up to thanksgiving for some students. That has been something that has been heard around campus by some students as well. 
 Mercer University isn't the only school that will be staying home once students leave the campus for thanksgiving holiday. Other schools around the country such as, The University of Georgia, Clemson University, University of Texas at Austin, and thousands of other schools around the country will follow these fall semester changes as well. 
 In a June 30 email, sent out to the students, faculty, and staff by Mercer University President, William D. Underwood, the school explained the decision to end classes before thanksgiving. There were concerns about traveling home and then returning back to campus. The school felt that it would be safer for students to finish classes at home.
 "You know not having a fall break made this semester feel extremely long and tiring. Not being able to have a single day off during the fall semester made classes even harder this year. Going home to finish classes will be nice though and having a super long Christmas break will be much needed." Frost said. It appears that this early semester ending is a bag of mixed emotions.
On Nov. 3, President Underwood sent an email to students, faculty and staff  congratulating everyone for the campus wide commitment and flexibility to manage through this unusual year. 
"I recognize that the adjustments made in our efforts to navigate COVID-19 have challenged us all," Underwood said. "It is gratifying that, even under these conditions, our University community accepted the challenge of continuing our educational mission while preserving a healthy campus environment, Underwood said.
 The last  day of classes is Tuesday, Nov. 24. Students will take final exams from Dec. 3 thru Dec. 9. Mercer University classes resume on Jan 7, 2021.